Chicago Bears vs. Oakland Raiders: Live Score, Video and Analysis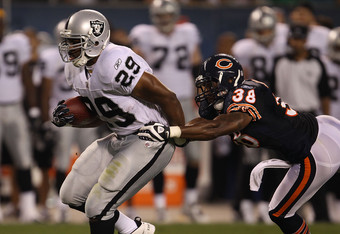 Jonathan Daniel/Getty Images
There were a lot of big plays in today's game, and in the second half, WR Louis Murphy came up with one.
Watch him catch a 47-yard pass from Palmer to set up a Raiders TD.
WOW!!! Thank God that one is over! A rather anti-climactic ending to a game that they should have put away much more easily and much earlier.
As Al Davis always said though, "Just Win Baby!"
See you next week Raider fans!!!
Forte tackled in bounds and Hanie grounds it with four seconds left!!! Ten second run off and that's the ballgame! Raiders win 25-20 as both teams are now 7-4!
Lechler shows why he's the best and punts it out of bouds at the four yard line!! 27 seconds left now as Hanie throws incomplete.
1:56 to go as the Raiders line up and throw to Reece for three yards. Lechler will punt and the D will have to come up big one last time!
Bears take timeout at 2:01 then Bush runs it down to the 2:00 warning. A huge 3rd and 8 coming up for the Raiders.
2:11 as the Bears line up for the onside kick....... Hue takes timeout and we do it again... Raiders recover and maybe that will do it??? We'll see!!
Not so fast as Giordano gets burnt badly by Knox ! And then hits Davis for a touchdown. 25-20 Raiders. Somebody get me off the ledge! Really? I mean what could Giordano have been thinking there? It was 3rd and 18 and he gets beat deep. It's never easy being a Raiders fan!
Timeout Bears as they face 3rd and 16. Raiders about to salt this one away!
25-13 Raiders, as a classy Bears fan, Professor Paul is buying me drink. Don't know if he's congratulating or trying to calm me down!!!
Bush goes up the middle untouched! TOUCHDOWN RAAAAAAYYYYDAAAZZZZZ!!!!!
Big 3rd down with 3:59 remaining...Palmer goes deep to Murphy and it's first and goal RAYDAAAZZZZ!!!!!! Eat it redneck!!!
Phantom flag doesn't matter as Palmer hits Schilens for first down on the next play. Redneck Bears fan really getting to me. Put this thing away boys and shut that idiot up!!
7:11 to go as the Raiders start this drive with Bush for no gain. Then Palmer hits DHB for nine. 3rd and short.
The drive bogs down and Gould hits from 53. 18-13 Raiders. Raiders as usual, letting a team hang around that should have been put away already!
Hanie with a couple nice completions and the Bears are on the move. Raiders playing soft zone on this series.
Fourth down and the Raiders will punt. Lechler booms it over everybody. Wow! 70+
Raiders run Bush for no gain. 2nd and 10. DHB with a sweet catch. First down Raiders! Play under review. This is a catch. No way you can overturn it. Wait a minute, it's the Raiders. Sure they can.... Cue the Jeopardy theme...............................................And of course the call is overturned. Can I remind the league that Al Davis is dead!
Two runs and incompletion and Robbie Gould comes out for a 50 yarder and makes it. 18-10 Raiders.
Hanie with a short completion for a first down and the Bears are on the move.
Big John Henderson with a stop on Barber to start the 4th quarter then Hanie hits Bennett on a hitch and then sneaks for a first down near midfield.
Barber for 15 and that ends the quarter with the score 18-7 for the Raiders!
Not this time for Knox. Mitchell blasts him inside the 20. Nice coverage by the Raiders.
Incomplete and Sea-bass trots out again. Good from 44! Six field goals for Janokowski and it's 18-7 Raiders!
Palmer sacked. 3rd and goal from the 30. Damn!
This article is
What is the duplicate article?
Why is this article offensive?
Where is this article plagiarized from?
Why is this article poorly edited?

Oakland Raiders: Like this team?