Carolina Panthers vs. Indianapolis Colts: Live Score, Video and Analysis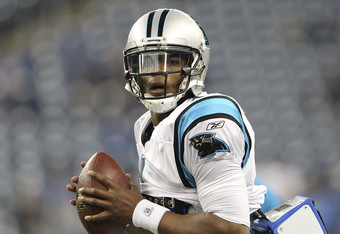 Leon Halip/Getty Images
The Carolina Panthers went to Lucas Oil Stadium carrying a 12-game road losing streak. They left with a one-game win streak and improved their record to 3-8 on the season.
As for Indianapolis, it was another rough game and another step closer to Andrew Luck. The Colts dropped to 0-11, although they played inspired football for much of the game. Curtis Painter threw two costly interceptions late in the game that sealed the win for the Panthers.
Cam Newton was efficient through much of the afternoon completing 20 passes to seven incompletions. He added another rushing touchdown on the season, although it DeAngelo Williams who starred on the ground for much of the afternoon.
The Panthers will travel to face Tampa Bay next will, whereas the Colts will take on New England.
Final score: Panthers 27, Colts 19
Did you see WR Reggie Wayne duck under two defenders and go in for a touchdown earlier?
If not, watch the video here!
Panthers take a knee and will walk away winners. Cam Newton will be a happy camper for a change. Thanks for all of those that joined me throughout the game!
That's your ball game, folks. Sherrod Martin with a heck of a catch in the back of an end zone. Bad teams find ways to lose games, and that's what the Colts just did.
Tamme gets mugged but no call.
First down on 4th-and-5 and the Colts are in business.
Garcon almost made that catch there. Painter put it a bit high.
Whoa. Gamble almost with his second pick of the day.
Can Painter really lead the Colts back?
Colts have plenty of time. Get the feeling that this game is going to come down to whether or not the Colts can convert in the red zone.
Newton makes a smart decision, pulls the ball down and scrambles for about ten yards. He's short of the first down but it forced the Colts to use their last timeout.
Offensive pass interference on Steve Smith. Huge penalty.
Colts going through their timeouts. A first down on this next play for the Panthers would be devastating for the Colts.
A couple of first downs and this is a successful drive for the Panthers.
Dagger. Painter takes a shot deep to Garcon and he under throws it allowing Gamble to make an easy catch.
Colts are still within a score albeit one in which they complete a 2-point conversion.
But the Panthers opt to play it safe and kick the field goal to take a 27-19 lead.
i would have gone for it if I was coaching the Panthers.
Pilares returned a kick last week and almost did again this week.
Kealoha Pilares with a 76-yard kickoff return gives the Panthers great field position.
They didn't get it as Painter made a poor throw.
Horrible tackling by Sherrod Martin. That was terrible.
Reggie Wayne with a sensational catch and run!
That should read "on"' Painter's right arm not in.
Colts are going to have to go away from the ground game now. The game rests in Painter's right arm.
This article is
What is the duplicate article?
Why is this article offensive?
Where is this article plagiarized from?
Why is this article poorly edited?