NBA Trade Speculation: Chris Paul and Stars Who Will Move When Their Teams Tank
November 27, 2011
Patrick McDermott/Getty Images
The ink has yet to dry on the NBA's new collective bargaining agreement, yet the focus has already shifted to the free agent class of 2012.
Not that anyone is waiting to see what happens with the next crop of stars in search of contracts, but rather because these players will make for the tastiest trade fodder around The Association.
As far as picking out who is most likely to move and where, look for these three veterans, all point guards, to come up in conversation as their teams tumble down the standings this season.
Chris Paul, New Orleans Hornets

You'll hear Paul and Dwight Howard mentioned in trade rumors ad nauseum over the coming months, at least until one, or both, of them actually ends up somewhere else.
CP3 is far more likely to move if for no other reason than the Hornets will probably stink this season. New Orleans will be hard-pressed to bring back a host of key free agents, including David West, Carl Landry and Willie Green.
Especially amidst an abbreviated preseason and especially with the team being league-owned. The last thing commissioner David Stern wants to do is weigh down the franchise with expensive contracts that would turn off prospective buyers.
Should that prevent general manager Dell Demps from filling out his roster with good players, the Hornets may be left with a bare-bones squad thrown to the wolves of the Western Conference—the good ones, not the ones in Minnesota.
Such incessant losing will hardly convince Paul to re-up with the team in 2012, leaving the front office with little choice but to get as much value as they can for their franchise star rather than allowing him to walk for nothing in return.
Steve Nash, Phoenix Suns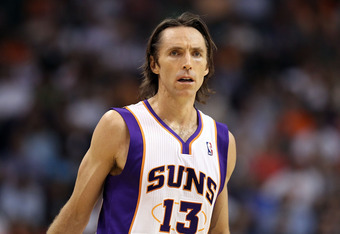 Christian Petersen/Getty Images
The crowd in the Western Conference, particularly in the up-and-coming Pacific Division, figures to leave the Suns on the outside of the winners' circle looking in. Chances are, Nash, who will turn 38 mid-season, won't want to wait around while general manager Lance Blanks and owner Robert Sarver finally realize that the franchise is in need of a full-blown rebuilding project.
And once they do, it's even more doubtful that Nash will want to partake, seeing as how he's yet to so much as play in the NBA Finals in his illustrious career, much less win a ring.
Don't be surprised, then, when things take a turn for the worse in the Valley of the Sun and the sands begin to rumble with word that Ol' Nashy Boy wants out of Phoenix. The Lakers and the Heat could use a point guard of Nash's incredible acumen to boost their title hopes, though coming up with a satisfactory package of picks and players for the Suns will be a chore for both.
Not that they won't try, and not that Nash won't push his own front office to make a deal when push comes to shove.
Andre Miller, Denver Nuggets
Andre Miller may not be the sexiest name on the trade market, but he may be the best and most realistic option for playoff contenders looking to bolster their backcourts.
The Nuggets have already lost free agents Kenyon Martin, J.R. Smith and Wilson Chandler to the Chinese Basketball Association and may have trouble convincing Nene and Arron Afflalo to sign on the dotted line, seeing as how they no longer have a franchise star around whom to build.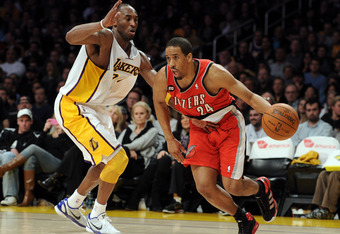 Harry How/Getty Images
Miller has long had a good working relationship with Denver head coach George Karl, but that won't likely be enough to keep him happy if and when things go south in the Mile High City.
Miller won't likely pull a Carmelo Anthony and force the Nuggets front office to send him elsewhere, though with his 36th birthday coming during the season, he'd likely prefer to chase a championship elsewhere.
As with Nash in Phoenix, look for the title-contending vultures to start hovering around the Pepsi Center once it's clear that Denver doesn't have what it takes to play late into the spring.