Steelers vs. Chiefs Sunday Night Football: Live Score, Video and Analysis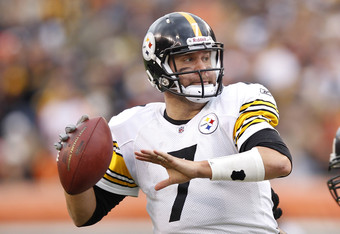 Joe Robbins/Getty Images
Did you miss the pre-game scuffle between these two teams?
If not, watch the video here!
Keenan Lewis comes away with the game saving interception.
Steelers win, 13-9.
Tyler Palko threw his third interception tonight.
The Chiefs made little effort to catch that.
The Chiefs pick up another first down on this drive.
Branden Albert is down.
Tyler Palko playing the best football he has played since becoming the Chiefs starter. Let's see if he finishes it in heroic style.
This is bad clock management by the Chiefs.
Two minutes left.
The Chiefs have ran the ball a couple of times. Very interesting play calling to say the least. You have to wonder if Bill Muir has a trick play up his sleeve, like a flea-flicker or a crazy wildcat play, coming up.
The Chiefs have the ball back.
It looks like this could be Kansas City's last chance to come up with something on offense.
Tyler Palko's time to shine would be right now.
The Steelers running game has been very sloppy in this half. They need to make some adjustments if they want to make the playoffs and not be a one-and-done team.
Had it not been for that close catch on third down, they would have punted again.
Yet another scuffle after the play. These two teams do not like each other. Both teams would hate to lose this game.
Crucial third down play. Jackie Battle ran into Anthony Becht. A guaranteed first down, but Becht tackles his own teammate.
Ryan Succop makes a 40-yard field goal to cut the deficit to four again.
13-9 Steelers
Here is a very interesting Tweet from Stats. Take it for what it's worth.
#Steelers haven't blown a 7-point lead in the 4th QTR to lose since a 27-24 OT defeat to #Chiefs at Arrowhead Stadium on 11/22/09. #NFL.
Huge catch by the rookie Jonathan Baldwin at the 30.
Since the first quarter, this seems to be the best drive by the Chiefs.
The Steelers defense looks worn out.
That pass to Dwayne Bowe is a play the Pittsburgh Steelers ran quite a lot tonight. Good call by Bill Muir.
The Steelers get a second chance after drawing a running into the kicker penalty.
You have to wonder if Todd Haley is even considering Ricky Stanzi at this point with his team only down by a touchdown in the fourth quarter.
Tamba Hali, who was just flagged for offsides, is trying to do anything he can to get to Ben Roethlisberger and is struggling. Let's see if the Chiefs can do something in the fourth quarter after a scoreless third quarter.
The Chiefs had a big play opportunity open up as Tyler Palko had Dwayne Bowe on a play. Ike Taylor mis-timed his jump, giving Bowe a chance to catch the ball, but he didn't.
Dick LeBeau deserves some credit. Even though the Chiefs made progress on this drive, it wasn't much improvement. The Steelers defense has dominated this game.
The Chiefs tried to sneak it in on third-and-1 on a wildcat play, but struggled.
The Chiefs came back and got a first down on a fake-punt run. Chiefs play-calling getting a little aggressive now.
Palko and the Chiefs had a fast-paced offense early in the game. Everyone is now tired and don't have as much energy as they did at the beginning. You have to wonder if the Chiefs try the fast-paced offense again.
Ben Roethlisberger wanted to draw the Chiefs offsides on fourth down. That doesn't seem to work as much these days in the NFL.
Tyler Palko will come back out again. Fans in the stadium are not going to be happy if he does come back out and lead the Chiefs to another pointless drive.
Pressure got to Palko on third down. The Chiefs don't appear to be making any improvements.
Kyle Orton could be everyone's favorite Chiefs player next week.
Travis Daniels ends the Steelers drive with an interception!
Roethlisberger did not see Daniels at all.
Now, can Kansas City do something? That is the million dollar question.
The Chiefs have scored only one touchdown in the last three games, prior to tonight.
Roethlisberger and the Steelers starting this half off and are doing well moving the football. The Chiefs defense has no answer so far.
Shaun Suisham ends the half by making a 49-yard field goal.
Steelers 13-6
It seems like Roethlisberger is the only one who can escape the pressure when it looks like he is about to get sacked and things are about to fall apart in the pocket.
This article is
What is the duplicate article?
Why is this article offensive?
Where is this article plagiarized from?
Why is this article poorly edited?

Kansas City Chiefs: Like this team?