5 Things We Learned About the Wolverines' Win Against the Buckeyes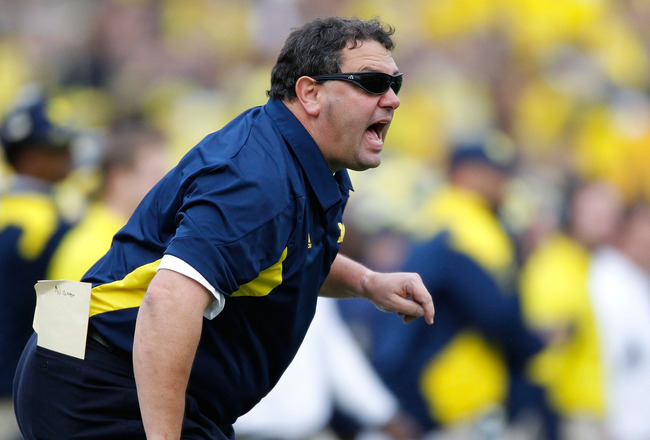 Gregory Shamus/Getty Images
The seven-year drought is over!
Michigan beat Ohio State for the first time since 2003 and won its 10th game for the first time since 2006. With their 10th win, the Wolverines are at least eligible for a BCS at-large bid.
The game wasn't pretty from a defensive standpoint, and Michigan's coverage in the secondary broke down on several occasions. The defense gave up 368 yards (236 pass/132 rush) and 34 points to an Ohio State offense that had struggled all season.
Had Braxton Miller completed one more pass, Michigan might be left to wonder what might have been. However, a win is a win, and I'm sure Brady Hoke and Co. will take it—especially against the hated Buckeyes.
Denard Robinson had a great day and gave the Wolverines just enough to come out on top. Robinson gained a total of 336 yards and accounted for all five Michigan touchdowns. Fitz Toussaint recorded his third straight 100-yard game with 121 yards on 20 carries, and Ohio native Kevin Koger led Michigan with four catches including a touchdown grab.
It has to be a relief to finally take one from OSU, but what did we learn from Michigan's biggest victory in five seasons?
Let's start with...
Denard Robinson Is a Better Passer in the Pocket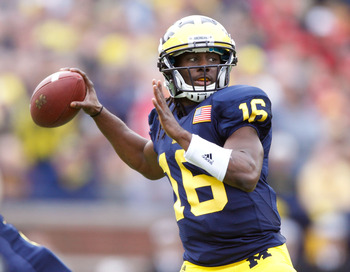 Gregory Shamus/Getty Images
Am I the only one on the planet who never expected this type of a passing performance by Denard Robinson? At one point today, Denard completed 11 consecutive passes against the Buckeye defense.
When he has his feet set and shoulders squared, he's actually pretty accurate. When he tries to throw on the run, accuracy goes out the window.
Robinson completed 14 of 17 passes for an efficient 166 yards and three touchdowns. More importantly, he did not throw an interception.
He's not a pocket passer, and it would be insane to try to turn him into one, but Robinson did pass Tom Brady for sole possession of seventh place on Michigan's all-time passing touchdowns list.
Robinson accounted for 336 total yards and five total touchdowns against Ohio State.
The Defensive Secondary Still Needs a Lot of Work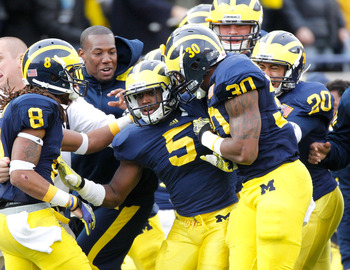 Gregory Shamus/Getty Images
The secondary got beat repeatedly today, but Braxton Miller missed a handful of wide-open receivers. If the Buckeye quarterback would have been a little more accurate, Michigan could have easily given up at least two more scores through the air.
The Wolverines dodged some bullets, but today showed that the Michigan defense isn't quite as elite as everybody thought it was. Elite defenses don't get beat that consistently by an offense that had struggled all season, rivalry game or not.
Still, the job Greg Mattison has done with the defense has been nothing short of impressive.
Fitz Toussaint Is the Real Deal
Gregory Shamus/Getty Images
With 121 yards on 20 carries against Ohio State, Fitzgerald Toussaint recorded his fifth 100-yard game of the season. He's rushed for at least 120 yards in each of the last three games.
He reminds me a lot of Mike Hart, but he might be a little bit more elusive. Still, he's not scared to run between the tackles and pick up yards the hard way. His emergence has taken a lot of pressure off of Denard Robinson, and he's definitely the real deal.
Could he be an early Heisman hopeful in 2012? Maybe.
Ball Security Continues to Be an Issue for Michigan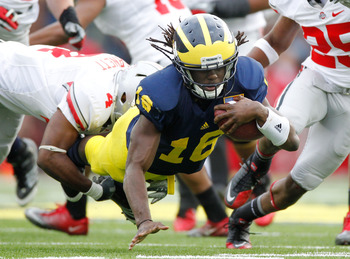 Gregory Shamus/Getty Images
The Wolverines fumbled the ball five times against Ohio State today, but they were lucky to only lose one of those. However, that lost fumble cost Michigan seven points and allowed Ohio State to take a 17-16 lead.
Robinson had two of those fumbles, which were the only blemishes on an otherwise stellar performance. Michigan should feel very lucky to escape with the win after being so careless with the ball today.
Hoke and Borges Continue to Play to Denard's Strength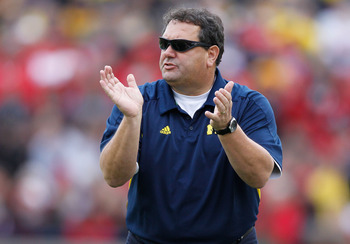 Gregory Shamus/Getty Images
When this season began, Brady Hoke indicated that he would have liked for Denard to run the ball less than he did under Rich Rodriguez's spread offense. However, Hoke and offensive coordinator Al Borges have realized that Denard is the most dangerous when he's given the ability to make plays with his legs.
When the Wolverines have needed wins against Nebraska and Ohio State, Borges has called more option plays, and Robinson has carried the ball a total of 49 times the last two weeks. He has 253 rush yards and four touchdowns in the Wolverines' last two games. At the same time, he's 25 for 35 as a passer with 346 yards, five touchdowns, and just one interception.
If Michigan is going to notch its 11th win of the season, Hoke and Borges will have to continue to rely on Robinson's play-making ability from the spread.
Keep Reading

Michigan Wolverines Football: Like this team?