Kansas vs. Missouri: Live Score, Highlights and Analysis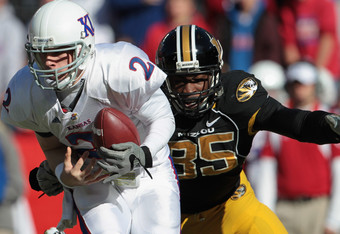 Jamie Squire/Getty Images
The Missouri Tigers will play host to the Kansas Jayhawks in yet another Border War game at Arrowhead Stadium later this afternoon.
Mizzou has won their last two games and are trying to finish the season with a 7-5 record.
KU comes into the game at 2-9 and they will be trying to get a win for struggling second-year coach Turner Gill.
Stay tuned here for the latest updates, highlights and analysis of this big game.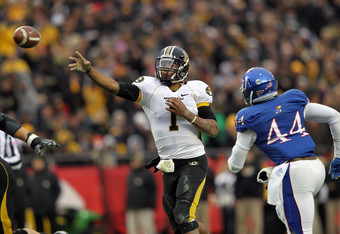 Mizzou runs the time out to win the game 2011 Border War against Kansas by the score of 24-10. Missouri finishes the regular season with a 7-5 record, and will be waiting to hear what bowl game they will be playing in while KU finishes at 2-10. Thanks everyone for following the live feed of the game! Take care!
Missouri picks off Webb for the second time today, as Kansas commits their third turnover of the game. Mizzou ball with just over four minutes left and a 14-point lead.
Big sack for the Tigers defense. Fourth and 28 for KU inside Mizzou territory with 4:28 left in the game, down by 14 points.
First down Kansas, as they now have the ball inside the 20, with less than seven minutes to go in the game.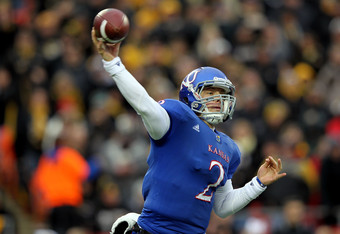 KU with a long drive deep into Missouri territory. It's not fourth down and short for the Jayhawks around the Mizzou 20-yard-line.
Trey Barrow misses a 27-yard field goal attempt after the Tigers failed to get the ball into the endzone for the first time in the second half. The score remains 24-10 Missouri with 13:40 to go in regulation.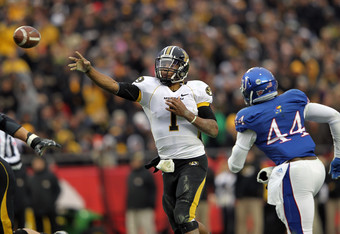 Touchdown Mizzou as James Franklin hits Marcus Lucas in stride for a 53-yard bomb to put the Tigers up 24-10 with 14:52 left in the game. Franklin is now six of six for 128 yards and two touchdowns to go along with no interceptions in the second half.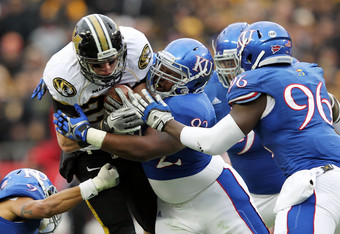 After three quarters, Missouri is out-gaining Kansas by a 263-79 margin in total yards. If this continues in the fourth, it will be an easy win for the Tigers.
Kansas punts it back again and Missouri is now moving the ball down the field again, nearly into KU territory as the third quarter comes to an end with MU up 17-10 on the Jayhawks.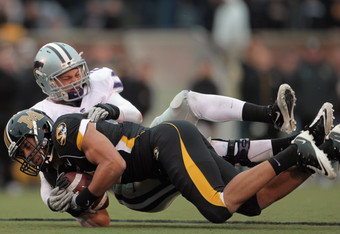 James Franklin with a 25-yard strike to Wes Kemp to give the Tigers their first lead of the game. 17-10 Mizzou with 5:34 to go in the third period.
Kansas is driving the ball down the field with ease as they are now into Mizzou territory with just under 10 minutes to play in the third.
Missouri with a big TD run by Kendial Lawrence after a failed punt attempt by Kansas. All tied up now at 10 with just over 12 minutes to go in the third.
Some quick first-half stats to mull over:
Total Yards: Missouri 127, Kansas 60
Rushing Yards: Missouri 75, Kansas 37
Turnovers: Missouri 3, Kansas 1
Stay tuned right here for what should be an exciting second half to this game!
Kansas is up 10-3 as we head to half-time. There's a big upset brewing in Kansas City today.
Trey Barrow's field goal makes it 10-3 Kansas in the second quarter.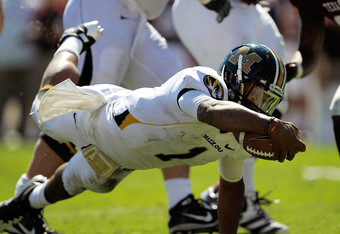 Missouri is really moving the ball down the field on this drive. It started in their own territory and they now have it inside the KU 10-yard-line. First and goal Tigers.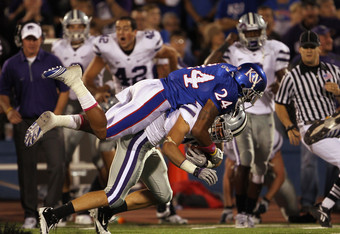 KU's Bradley McDougald picks off James Franklin and brings it back for a touchdown. Franklin has now thrown three interceptions already in this game, and we are only in the first half. Kansas now up 10-0 about halfway through the second quarter.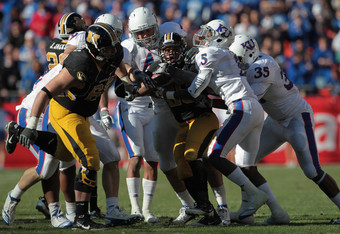 Big run by Missouri's De'Vion Moore gets it to around the Kansas 40-yard-line. First down Tigers.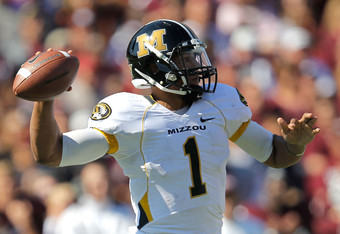 James Franklin picked off again deep in their own territory, but Missouri defense holds KU to just a field goal. Kansas up 3-0 early in the second quarter.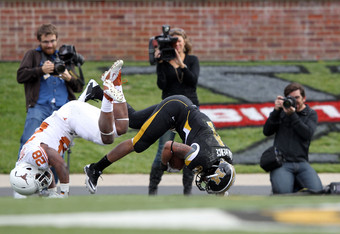 The first quarter ends with a short run by MU RB Kendial Lawrence. Still no score in this one.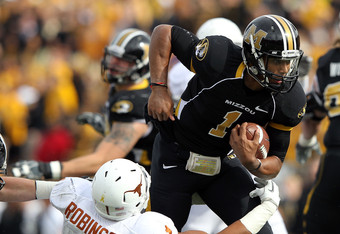 Franklin picked off by Kansas. First down Jayhawks deep in their own territory.
Kansas punts it back to Mizzou once again and James Franklin and Co. will take over just outside their own 30-yard-line with 3:32 to go in the first.
Another stalled drive for the Tigers. Kansas gets the ball back again midway through the first period with still no score.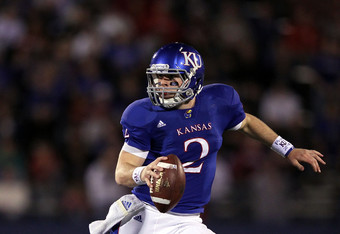 Mizzou's Xavier Gooden picks off Jordan Webb for the game's first turnover. Missouri takes over in good field position with just under 10 minutes to go in the first quarter.
The Jayhawks promptly give the ball back to Mizzou with a three and out of their own. Mizzou's offense will start their second drive at their own 20 in early first quarter action.
This article is
What is the duplicate article?
Why is this article offensive?
Where is this article plagiarized from?
Why is this article poorly edited?

Missouri Tigers Football: Like this team?