NBA Free Agency 2011: Thaddeus Young and 3 Stars Who Will Stay Home
November 26, 2011
Marc Serota/Getty Images
With the NBA lockout coming to an end, the shortened offseason will explode in the upcoming days. As we learned from the NFL lockout earlier this year, a lot can happen in the matter of just a few days.
Trades and free agency will come fast and furious, but some players in the midst of it all just want to re-sign with their current team.
While there is no such thing as loyalty anymore in the age of free agency, these players will end up staying home in hopes of winning with their current squads.
Thaddeus Young: The Philadelphia 76ers realize the kind of talent they have with restricted free agent Thaddeus Young. They won't allow him to walk away.
Head coach Doug Collins had Young playing basketball the right way last year for the first time in his career. It's that new lease on his basketball life that will keep young in Philadelphia.
Young was coming off the bench last season, but his improved shooting percentage and rebounding will make him a starter in Collins' system.
Marc Gasol: The Memphis Grizzlies were the surprise team of the NBA last season, and a heavy share of the responsibility falls on the shoulders of center Marc Gasol.
The fourth-year player from Spain has really come into his own as a strong defensive presence down low for the Grizzlies. While some may question his brother Pau's toughness, they won't question Marc's.
While the market will be vast for a center of his caliber, the Grizzlies will lock up their key to another possible run at a championship.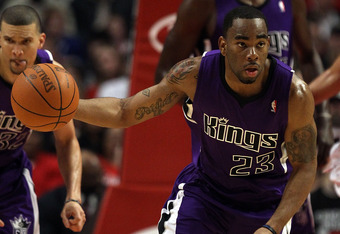 Jonathan Daniel/Getty Images
Marcus Thornton: The Sacramento Kings are one the youngest teams in the NBA, but that doesn't mean they can't win right now. They have the attitude and talent—all Sacramento needs is a solid group of veterans.
With free agency, Kings' management can bring in a few veteran players to help keep players like DeMarcus Cousins out of trouble. They can also lock up younger players who can flat out play the game, like Marcus Thornton.
After an injury to guard Tyreke Evans last season, Thornton showed he could run the show by averaging 21 points, three assists and four rebounds per game. If the Kings pass on Thornton, every team in the NBA will want a shot.
Check back for more on the National Basketball Association as it comes, and check out Bleacher Report's NBA Page to get your fill of all things basketball.