Steelers vs. Chiefs Sunday Night Football: Live Reaction, News and Analysis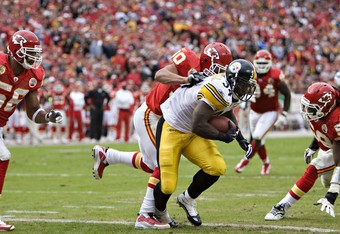 Wesley Hitt/Getty Images
The Pittsburgh Steelers (7-3) travel to Arrowhead Stadium to take on the Kansas City Chiefs (4-6) on NBC's Sunday Night Football.
Many believe the Steelers will come in and take care of business early on and not make this much of a game, but you shouldn't always believe what you hear.
Arrowhead Stadium is a tough place to play, and the Chiefs usually play better in front of a raucous crowd at home.
The big storyline around this game will be the health of Steelers quarterback Ben Roethlisberger. Roethlisberger suffered a broken thumb on November 13th in the Steelers' 24-17 win against division rival Cincinnati. Since then, he has had the luxury of a bye week to get the thumb closer to feeling better.
The Steelers need a win to avoid falling two games back, basically. Luckily for Pittsburgh, they are 3-0 in their last three years after a bye and have won all three matchups by an average of 21.3 points.
If the Chiefs want any chance to win, they need to get pressure on Roethlisberger. The Steelers are 12-8 since 2008 when they allow four or more sacks. Tamba Hali will need another big day like he did last week in getting three sacks on Tom Brady.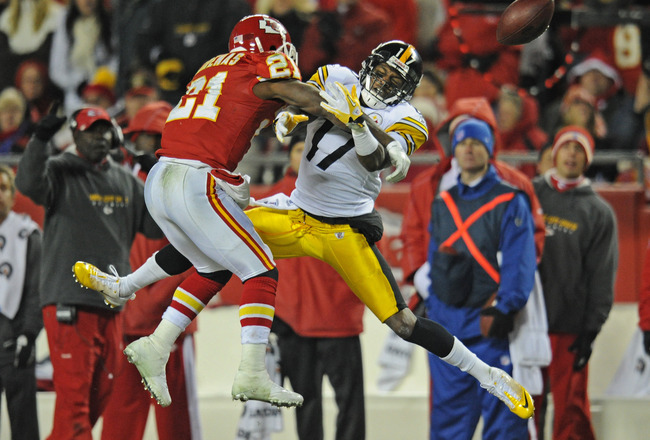 The Kansas City Chiefs almost pulled out one of the ugliest wins in recent memory tonight. The Chiefs trailing 13-9 after turning the ball over three times and punting three times in their first nine possessions actually had a chance to win this game on their tenth and final possession.
Tyler Palko heard boos from the raucous Chiefs crowd all night after struggling to find receivers and making bad decisions in throwing two nonsense interceptions in the first half. He also fumbled a snap on the second possession. But, the ball was in his hands at the end of the game to lead the Chiefs to a victory and end a drought of scoring only one touchdown in the last 44 offensive possessions.
Palko led the Chiefs down the field in actually making some good passes to keep the drive alive, but his star receiver Dwayne Bowe sold him out in the end.
The Chiefs were on second down with less than a minute to go inside the 50, and Bowe called for the ball deep. Palko heaved one up there, but the pass was picked off by Steelers corner Keenan Lewis. The throw originally looked to be overthrown, but on replay it was clear the blame should be put on Bowe.
Bowe jumped in the air, but didn't even put either of his arms up to catch the ball or at least deflect it. The result was an interception that sealed the Steelers 13-9 victory in Arrowhead Stadium on Sunday night.
The pass was the third interception by Palko for the game as it was his second straight three interception game in as many starts.
Palko finished the game 18 for 28 with 167 yards and zero touchdowns and three picks. He's now thrown for six interceptions in two weeks,,and now the Chiefs have the decision to start Palko or Kyle Orton next week in Chicago.
If Kansas City had anything to hold their head up high after this game it was the defense.
The Chiefs defense shutout the Steelers in the second half in forcing three punts after an interception by corner Travis Daniels on the opening possession of the second half.
The first half the Steelers scored 10 of their 13 points with good field possession following Palko's interceptions.
The first score was a 21-yard field goal by Shaun Suisham which tied the game at three.
The second which was the following possession, ended with a short touchdown pass to tight end Weslye Saunders. That gave Pittsburgh a 10-3 lead.
Kicker Shaun Suisham kicked a 49-yarder as time expired before half to extend the Steelers lead to 13-6.
Both Chiefs scores in the first half came off the foot of Ryan Succop. He nailed a 41-yarder on the Chiefs first possession and a 49-yarder on their last possession in the first half.
Succop, scored the only points in the second half with a 40-yarder on the Chiefs' second to last possession.
Pittsburgh could only muster 290 yards of total offense for the game.
Ben Roethlisberger started the game for the Steelers with a broken finger, and ended up 21 for 31 with 193 yards and one touchdown and one interception.
The Chiefs held Steelers running back Rashard Mendenhall to only 57 yards on 17 carries.
If it wasn't for this Chiefs defense this game would have been out of hand early. And speaking of early in the game, the Steelers suffered an unfortunate loss, as FS Troy Polamalu left the game in the first quarter with a head injury. He is currently being evaluated. If you didn't see the play, you can below
Pittsburgh (8-3) hosts division rival Cincinnati next week while Kansas City (4-7) travels to Soldier Field to take on Chicago.
This article is
What is the duplicate article?
Why is this article offensive?
Where is this article plagiarized from?
Why is this article poorly edited?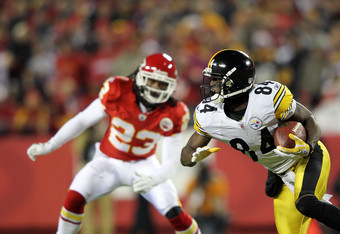 The Chiefs defense is keeping this game closer than it should be through the first half of play.
The Chiefs have committed three turnovers on six possessions and have given Pittsburgh great field position almost everytime.
The 13-6 halftime score is much closer than this game should be right now.
Defensive lineman Tamba Hali forced a fumble on Steelers back Mwelde Moore on the Chiefs' 2-yard line on the Steelers' first possession in which Kansas City recovered in the endzone.
Two of the other three drives the Steelers scored was due to a short field they inherited by picking off Tyler Palko twice.
They scored on their third possession to tie the game at 3, and the fourth possession on a Roethlisberger touchdown pass to tight end Wesley Saunders to give Pittsburgh a 10-3 lead.
Steelers kicker Shaun Suisham kicked his second field goal of the game as time expired for the half to give the Steelers the 13-6 lead.
Defensive Coordinator Romeo Crenell has to be pleased with how well this defense has played. Pittsburgh has been held to only 169 total yards with 116 of those passing and only 53 rushing.
The Chiefs have done a great job on third down as well in holding Pittsburgh to 1 for 6.
If the Chiefs offense continues to struggle, the defense will have to keep this game from getting out of hand.
This article is
What is the duplicate article?
Why is this article offensive?
Where is this article plagiarized from?
Why is this article poorly edited?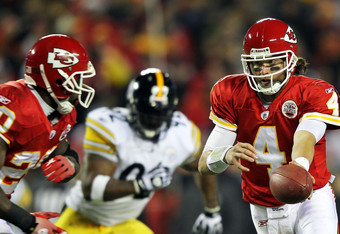 The Kansas City Chiefs have to be rethinking their decision to make Kyle Orton inactive for tonight's game.
Pittsburgh native and Chiefs current quarterback Tyler Palko turned the ball over on three straight possessions after leading the Chiefs down the field to score on a field goal on the game's opening possession.
On the Chiefs second possession, Palko fumbled the snap from center on third down and Steelers defender Brett Keisel recovered.
On the Chiefs third possession, Palked threw a pick on a horrible pass that was at least 15-20 yards underthrown to receiver Steve Breaston. Steelers corner Ike Taylor picked the pass off and returned it to the Chiefs' 7-yard line.
On the fourth Chiefs possession, Palko once again was picked off in a horrible pass to no one. I'm not sure who he was throwing the ball to and Steelers corner Ryan Mundy picked off the pass.
So far Palko is 6 for 9 with 56 yards and two interceptions and we're not even to halftime yet.
If you head coach Todd Haley you have to be second guessing not having Orton to go to since the defense is keeping the Chiefs in this game.
This article is
What is the duplicate article?
Why is this article offensive?
Where is this article plagiarized from?
Why is this article poorly edited?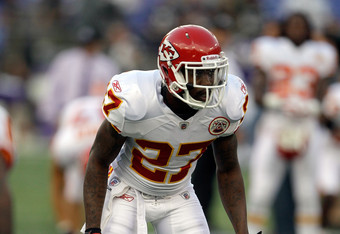 Kyle Orton is the only surprise on this games inactive report. Outside of Orton, there's not really much surprise that we didn't already suspect.
For you fantasy football owners, this list probably made your night much easier. You shouldn't have to change anything in your line-up.
Pittsburgh is without four defensive players and three offensive.
Kansas City will be without four offensive players and three defensive players including safety Donald Washington.
Here's the links to the two twitter accounts from the respective team's that are reporting the inactive report:
https://twitter.com/#!/steelers/status/140941680818917376
https://twitter.com/#!/JoshLooney/status/140942619361546240
Pittsburgh inactives: QB Dennis Dixon, WR Arnaz Battle, T Jamon Meredith, DE Al Woods, NT Chris Hoke, LB Sylvester Stevenson, LB LaMarr Woodley
Kansas City inactives: QB Kyle Orton, TE Jake O'Connell, G Ryan Lilja, DE Brandon Bair, RB Jerrell Powe, LB Demorrio Williams, S Donald Washington
This article is
What is the duplicate article?
Why is this article offensive?
Where is this article plagiarized from?
Why is this article poorly edited?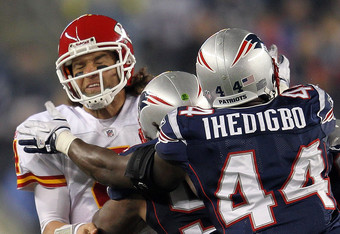 The Kansas City Chiefs are making a huge mistake by starting Tyler Palko over newly acquired quarterback Kyle Orton.
The Chiefs can't afford to get down by too much early and force a late comeback against a very good Steelers defense. They also can't afford to lose due to losing ground in a tight AFC West division race.
The Steelers defense only gives up a stingy 17.9 points per game. That ranks fourth in the entire league. The Steelers pass defense ranks second, while their rush defense ranks sixth.
Compare that to the Chiefs offense that scores only 14.4 points per game. That ranks 29th out of 32 teams. The Chiefs pass offense ranks 27th in only averaging 184.9 yards per game in the air, while their rush offense ranks ninth in gaining 124.5 yards per game on the ground.
Those stats tell us all we need to know.
Palko struggled against a horrible New England Patriots defense last week on Monday Night Football where he only completed 65 percent of his passes and threw three interceptions. He also was sacked three times as well.
Why does the Chiefs coaching staff think he will do any better against a superior Steelers defense?
The Chiefs have almost the exact same scenario as the Raiders did with Carson Palmer and Kyle Boller. The Raiders struggled against this very same Chiefs team when Boller threw three interceptions in the game. He was benched for Palmer in the second half.
We all know Orton is going to take over this offense next week, so my question is why delay the inevitable?
Why put Orton in a situation like Palmer and make him come back in a game when his team's back is against the wall? Why not just start off strong with Orton?
Don't give me the excuse that he's not familiar with this offense either. He's been in the league long enough to know how to make plays. After all how long in his lifetime has Orton played football? This is nothing new to him.
Kansas City should have gave themselves a chance early in this game and started Orton. This could come back and bite them.
This article is
What is the duplicate article?
Why is this article offensive?
Where is this article plagiarized from?
Why is this article poorly edited?

Pittsburgh Steelers: Like this team?