Top ten wrestling moments of the year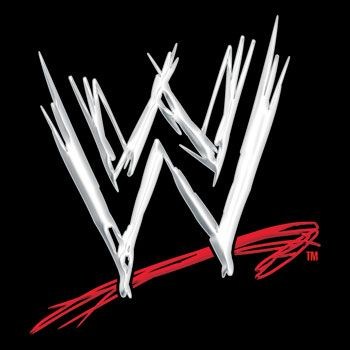 In this slide show I'm counting down all of the best moments that happened in the wrestling world this year. The biggest matches, the biggest rivalries, and the biggest returns in World Wrestling Entertainment (WWE) and Total Nonstop Action (TNA). You will see all the biggest moments from the beginning to the end of the year.
No. 10: Mick Foley Jumps to TNA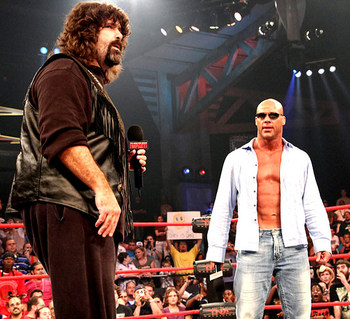 One of the most surprising moments this year. After he quit his broadcast position in the WWE, Foley went on to become the "executive shareholder in TNA."
No. 9: Shawn Micheals vs. Ric Flair at Wrestlemania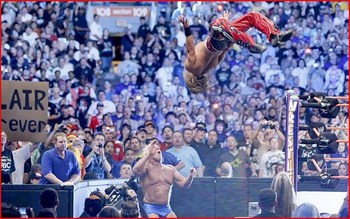 Arguably one of the greatest matches this year. These guys showed that two of the best veterans can still go!
No. 8: Ric Flair's Farewell Address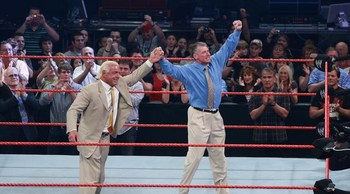 The next night Ric Flair said goodbye to his friends and fans in an emotional farewell address.
No. 7: John Cena Returns at Royal Rumble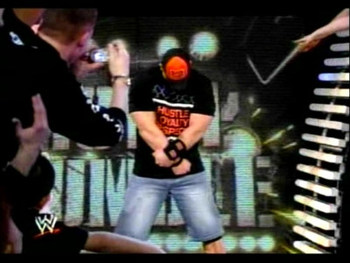 John Cena comes back from his injured shoulder to win the Royal Rumble.
No. 6: Jeff Hardy Jumps Off Stage
With the WWE title match coming up against Jeff Hardy and Randy Orton, Hardy felt that he had to get extreme and show Orton he meant business.
No. 5: Jeff Jarrett Returns to TNA to Face Kurt Angle
Jeff came back to put a stop to all the bad things that Kurt Angle has been saying about him and his company.
No. 4: Undertaker Sends Edge Straight to Hell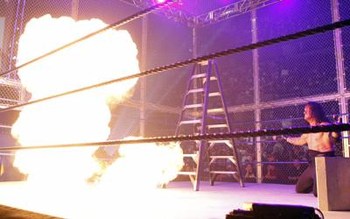 After nearly a year of beating the hell out of each other their rivalry ended at SummerSlam in a hell in a cell match.
No. 3: Chris Jericho's Stellar Year
Out of everyone in the wrestling business Chris Jericho had the best year. He went from having the best feud of the year with Shawn Michaels to becoming world heavyweight champion twice, also winning the Slammy for superstar of the year.
No. 2: Edge Returns Becomes WWE Championship
The ultimate opportunist struck again at the survivor series, taking advantage of a fallen Triple H and Vladimir Kozlov, and taking Jeff Hardy's place in a triple threat match for the WWE title.
No. 1: Jeff Hardy Finally Wins the BIG ONE!

After nearly a decade of coming so close, Jeff Hardy finally won the WWE title at Armageddon, proving all of the critics wrong.
Keep Reading