Mario Manningham Injury: Updates on Giants WR's Week 12 Status and Fantasy Value
November 25, 2011
Thearon W. Henderson/Getty Images
The New York Giants receiving corps can't shake the injury bug.
Mario Manningham's knee injury continues to be an issue. With the Giants taking on the Saints on Monday Night Football this week, the Giants can't afford to be at less than full strength.
UPDATE: Sunday, Nov. 27 at 3:40 p.m. EDT
While his status for Monday's game against New Orleans is still questionable, Mario Manningham could be making some progress and possibly even play. 
According to Ohm Youngmisuk of ESPN New York, Manningham did travel with the team and looks to be a game-time decision.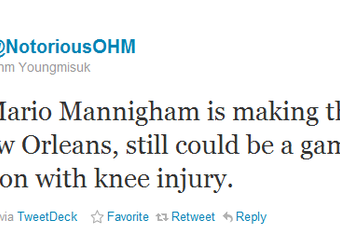 Obviously anything can change and we will have to wait to see how his knee responds when he is warming up, but things sound more optimistic today than they did yesterday. 
Update: Saturday, November 26th at 1:41 p.m. EST
The Star-Ledger's Mike Garafolo doesn't paint a bright picture of Manningham's chances of playing this week. He's reportedly still not practicing and as Garafolo points out, Manningham's optimism isn't translating to a visible recovery.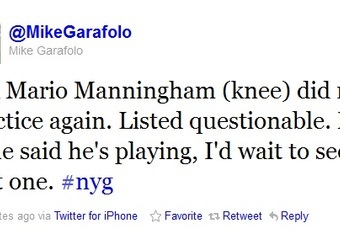 Manningham did not practice, according to Jeff Roberts of The Record.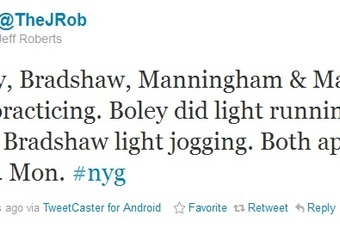 With the Cowboys pulling out a late victory against the Dolphins on Thanksgiving, Dallas is 7-4. The 6-4 Giants would fall a game back if they can't pull out the upset on the road against Drew Brees and the Saints.
After suffering back-to-back losses, the Giants can't afford to drop their third in a row. If Manningham can't go, it's going to make their uphill battle an even steeper climb.
Luckily, Manningham has an extra day to recover. Unfortunately, this tweet from Jeff Roberts of The Record doesn't paint a bright picture of the status of Manningham's injury.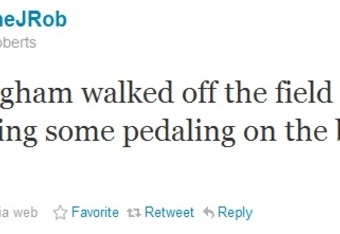 Manningham is a fringe starter in fantasy when he's healthy. Sustaining an injury like this makes him far too risky to give the start.
Regardless of whether or not Manningham is able to make a miraculous recovery or not, you need to explore other options.
Be sure to check back for the latest on Manningham's status leading up to Monday Night Football.