Roy Williams: Why the North Carolina Coach Is Better Than Duke's Coach K
November 25, 2011
Streeter Lecka/Getty Images
North Carolina Tar Heels head coach Roy Williams and Duke Blue Devils head coach Mike Krzyzewski are, without a doubt, the best two active coaches in college basketball.
With numerous awards, six NCAA championships and 18 Final Fours between them, the two ACC coaches and rivals are the greatest head men in the country.
The two men are enshrined in both the Naismith Memorial Basketball Hall of Fame and the National Collegiate Basketball Hall of Fame.
Krzyzewski has been named Coach of the Year by various awarding bodies 12 times since 1984; Williams has been named Coach of the Year 14 times since 1990.
Krzyzewski holds a career winning percentage of .762 (.788 while at Duke). Williams matches it with a career winning percentage of .798 (.784 while at North Carolina). 
Although they are closely matched, one of them is slightly better. I'm here to tell you the better coach is North Carolina's Roy Williams.
Krzyzewski—more famously known as Coach K—is undeniably a star. He is the winningest coach in NCAA Division I basketball history, with 907 wins, and his resume, from his Duke debut in 1980 to the present, simply cannot be beat.
Since 1980, Coach K has won four championships, appeared in 11 Final Fours and won 12 ACC seasonal championships.
Coach K derives his success, in part, from sticking with one program for such a long time. Just as a franchise ballplayer is rare at the professional level, a franchise coach is atypical at the college level.
Roy Williams, on the other hand, was named North Carolina's head coach after taking the Kansas Jayhawks to the NCAA tournament championship game in 2003—23 years after Coach K's Duke debut.
With a 32-year tenure and growing, Coach K has been Duke's leader four times longer than Williams has held the head coaching position at North Carolina.
That said, using the multiplier four as a basis of predicting what Williams would have done at North Carolina in 32 years, given his performance after eight years, the following statistics may be calculated:
Raw Data: In the eight years since joining the Tar Heels as their head coach, Williams has won two championships, appeared in three Final Fours and won five ACC seasonal championships.
Projection: Through eight years, Williams is on pace to win eight national championships, appear in 12 Final Fours and win 20 ACC seasonal championships by his 32nd year.
All things equal, after a 32-year, one-team tenure, Williams will win four more championships, appear in one more Final Four and win eight more ACC seasonal championships than Krzyzewski.
Something has to be said about Krzyzewski's longevity at one university. That achievement is outstanding and has allowed him to compile a massive amount of wins, playoff accomplishments and honors.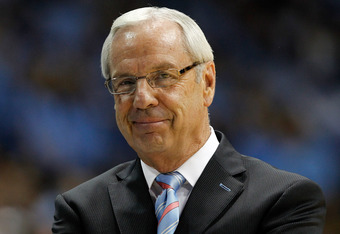 Streeter Lecka/Getty Images
However, there is a reason why Williams has twice been named Coach of the Year by the Associated Press, while Krzyzewski hasn't yet been recognized.
There is also a reason why Williams has won two Henry Iba Awards—presented by the U.S. Basketball Writers Association for College Basketball Coach of the Year—and Krzyzewski hasn't yet won any.
There is a reason why Forbes Magazine named Williams America's Best Basketball Coach in 2009 and why Sporting News named Williams their Coach of the Decade for the 2000s.
That reason is simple.
Roy Williams is the best college basketball coach in the country—even better than Coach K.