Steelers vs. Chiefs: Preview, Key Matchup and Prediction
November 25, 2011
Wesley Hitt/Getty Images
The Pittsburgh Steelers will travel to KC in Week 12 to take on the Kansas City Chiefs in a matchup of playoff teams from a season ago.
The Steelers are currently sitting at 7-3, as they will be coming off their bye week.
Kansas City has lost their last three games and are looking for a big victory this weekend in order to save their season.
This game will mark the first time that both teams have played each other since the Chiefs pulled off a shocking upset of Pittsburgh during the '09 season.
When Kansas City Has The Ball
Even though KC just signed former Bronco Kyle Orton earlier this week, journeyman QB Tyler Palko will likely start for the second straight week.
Palko and the current Chiefs' rushing attack struggled mightily against the Pats defense, which should bode well for the Steelers this week.
When Palko isn't handing the ball off, he will look to get the ball to the Killer B's in wideouts Dwayne Bowe, Steve Breaston and Jonathan Baldwin.
When Pittsburgh Has The Ball
The Steelers have one of the better QBs in the AFC in veteran Ben Roethlisberger.
Roethlisberger has already lead his franchise to two Super Bowl victories and is part of a strong air attack that includes receivers Mike Wallace and Antonio Brown.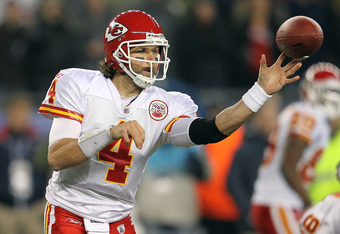 Jim Rogash/Getty Images
In the running game, RB Rashard Mendenhall is the go-to guy for the Steelers offense, as he has already rushed for 517 yards and six touchdowns this season.
When Kansas City Is on Defense
The Chiefs defense has been very disappointing this year.
They have given an average of 25.2 points per game, which puts them at 25th in the league in that category.
Their pass rush has also struggled mightily this season, as it has only yielded 12 sacks in 10 games so far in '11.
Linebackers Tamba Hali and Derrick Johnson will need to have big days for KC if they are going to upset the Steelers this weekend.
When Pittsburgh Is On Defense
The Steelers once again have one of the best defensive units in the entire league.
They gave up just under 18 points per game and only allow about 280 total yards of offense per contest as well.
The KC offense will definitely have their hands full against the likes of James Harrison, Troy Polamalu and LaMarr Woodley if he returns from injury this week.
Key Matchup: Ben Roethlisbeger vs. the KC Secondary
The Chiefs will likely have problems scoring points in this game, which means that their defense will have to play well for the entire four quarters.
Even if they are able to get some pressure on Roethlisberger, I don't see it affecting the Steelers offense too much unless the secondary is doing their job in this one.
For KC, the difference between a possible upset and a blowout could fall on the shoulders of their defensive backfield in this contest.
Prediction: Steelers 24, Chiefs 14
I think that this game will be closer than some might expect, but the Steelers will still come away with the victory in the end.
I see the Chiefs hanging with Pittsburgh in the first half, only to see Big Ben take over in the second half with Palko potentially getting replaced by Kyle Orton at some point as well.