Panthers vs. Colts: In-Depth Preview
November 25, 2011
Leon Halip/Getty Images
The Colts and Panthers may have the two worst records in the NFL right now, but their seasons tell two entirely different stories. 
The Colts' season has been shrouded by the cloud of Peyton Manning's injury and the prospects of selecting Stanford quarterback Andrew Luck in the upcoming NFL Draft. 
The Panthers may have higher spirits and more fan support than any 2-8 team I've witnessed in recent memory. It goes to prove what the value of having a franchise quarterback like Cam Newton has in today's NFL. 
Carolina's Offense vs. Indianapolis' Defense
The Panthers offense undoubtedly has huge amounts of potential. With Cam Newton at quarterback and a few solid supporting weapons, this offense can attack you anywhere, which will make it unstoppable at times. 
The Colts don't have a corner that can shut down Steve Smith and while I've always been a fan of Antoine Bethea, I see Smith having a big game in the Panthers' vertically attacking scheme.
Starting cornerback Jacob Lacey isn't nearly athletic enough to take on the tough task of covering Steve Smith. And opposite Lacey, Jerraud Powers has been getting burned all season, with little safety help outside of Bethea. 
The Panthers' tight ends and running backs will also create problems for the Colts in coverage, particularly if Jeremy Shockey is playing at full strength.
Linebackers Kavell Conner and Phillip Wheeler are liabilities in coverage and strong safety David Caldwell would be overmatched against either Shockey or Greg Olsen.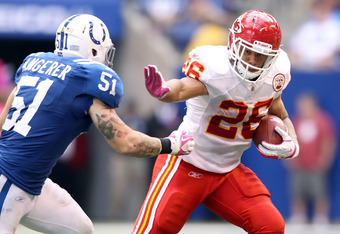 Andy Lyons/Getty Images
The Colts will be vulnerable to the pass all day and lack a playmaker in the secondary that will take advantage of Cam Newton's youth and vulnerability to making a blatantly ill-conceived pass. 
The Colts' defensive ends, Robert Mathis and Dwight Freeney, present the only formidable threat to disrupting this offense. Cam Newton takes a very deep drop and is often late to step up in the pocket. 
The weak link for Carolina is Byron Bell, who is filling in at right tackle. Robert Mathis will be able to abuse Bell if the Panthers don't give him help. If either edge rusher can capitalize and force a fumble on a blindside hit, it will be huge for the defense. 
The Colts run defense is weak, but underrated. Pat Angerer is a heady linebacker who plays with great instincts and leads the league in tackles right now. Defensive tackles Fili Moala and Antonio Johnson aren't easy to push around either. 
The Panthers haven't been very effective with their interior rushing attack, so expect them to try to get the Colts' defensive ends upfield and find the gap off tackle to try and break off the occasional big run. 
Indianapolis' Offense vs. Carolina's Defense
The Colts will need to commit to the run game against Carolina, especially if Joseph Addai plays. The Panthers lack any depth whatsoever in their front seven, due to a slew of injuries that truly can't be explained. 
James Anderson is a ball hawk, but outside of the talented linebacker, there is no healthy talent at the position.
Greg Hardy and Charles Johnson do a solid job of controlling the edge, but they can't play perfectly on every play and with no real help behind them, the Panthers are consistently gashed for long runs. 
Rookies Terrell McClain and Sione Fua man the heart of the defensive line, but their lack of experience has become a pitfall of the defense. They need to learn the mental side of the NFL game and play far more consistently. 
Charles Godfrey has been the glue that keeps the defense from completely dismantling. He is a high-energy player who gives his all on every down. He flies into the backfield with reckless abandon and blows up more plays than the backup linebackers that have been serving the Panthers since pro bowler Jon Beason and fellow linebacker Thomas Davis were knocked out for the season. 
In the pass game, the Colts will find it much harder to attack the Panthers defense. Chris Gamble has played like an elite corner this season and will likely keep Reggie Wayne in check considering the Colts' quarterback situation. 
Indianapolis will have to do most of its damage on screens and matchups with the Panthers' lesser cornerbacks. Pierre Garcon has played well and can beat Captain Munnerlyn and Darius Butler on any given play. If Painter is able to connect, the Colts may be able to get their offense rolling a bit. 
Projected Score: Panthers - 30, Colts - 14
Confidence Against the Spread (CAR -3.5): 60% for Panthers to Cover
The Panthers have too much offensive firepower for the Colts to contain and while the Panthers are banged up on defense, the Colts don't have enough of a running attack to take advantage. They also lack a field general that can keep the Panthers from loading up the box in obvious running situations.