Michael Jordan: The Flu Game
November 24, 2011
Brian Bahr/Getty Images
1997 NBA FINALS-GAME 5: Chicago Bulls @ Utah Jazz
Time to get ill with a man so sick.
By Tim David Harvey
PREGAME
To remember the world's greatest, let's take a trip.  No, not to Chicago.  Let's hop in the DeLorean and go back to 1997.  GREAT SCOTT!  We are going back to a time when Bon Jovi was cool and Bill Clinton ruled—the '90s. 
Now strap yourself in as we may just be witnessing one of the most impressive performances in NBA history by the greatest of all time, Michael Jordan. 
There's nothing like a bit of nostalgia.
By '95 (after a brief foray in the sticks playing baseball) the G.O.A.T was back in the herd.  The Jay Hova of basketball returned in November, confidently wearing number 45 for the red and white. 
The Windy City no longer felt so cold.  Chicago must have thought Christmas had come early. 
Jordan's presence stampeded the Bulls to the NBA Finals to make sweet music with Utah Jazz stars Karl Malone and John Stockton.  A year later, M.J. would send Utah to bed with "the last shot," but this year it was all about the flu shots.  Michael was sick, but it was the Jazz who would die.
First QUARTER
Here tips off an epic clash for the decade.  This is Utah's first trip in franchise history to the NBA Finals, and after coming back from being down 0-2, we are all square after the coolest square of them all, John Stockton, broke the triangle by stealing the ball, and maybe the series, off Michael Jordan in Game Four. 
Still, the greatest ever has the greatest sidekick to his right by the name of Scottie, riding in the sidecar, ready to motor on until there is nothing left.
Brian Bahr/Getty Images
The Zen Master is in control looking like a biology teacher, ready to school the opposition on the professions of good basketball.  Now, as for Dennis Rodman, just like NBA Live '96, it's anybody's guess what his hair color is. 
Meanwhile, for Utah, the Delta Centre's home crowd sixth man is pumped.  Malone and Stockton, the greatest pick-and-roll duo of all time, are ready.  Byron Russell is even beginning to realize how bad he's going to get it.  It's on, but yet something feels wrong.
Let Marv Albert (who really shouldn't stand so close to Bill Walton) tell it: "(Jordan) is suffering from flu-like symptoms."  Marv has a list of things Jordan hasn't done. 
No sleep, no food, no shoot around, no practice, but do the Bulls have hope?
Jordan looks physically shaken as he slowly drives to the basket, losing the ball, but then he gets it back himself fading away from the corner.  Jordan's not out of this one.  Still for the G.O.A.T., it's up and down. 
A few plays later, Jordan is the one left looking a bit shaky from his crossover.  He looks worse for wear when he throws up a shot too high off the glass.
Jordan's under the weather and the forecast for the Windy City Bulls doesn't look good.  It's 18-8 with three minutes to go in the first to the sound of the Jazz.  Timeout. 
Second QUARTER
To close out the first, Jordan was riding the pine instead of tweaking the twine.  He's sweating like it was deep in the fourth, but leaving it all on the court.  Now, from half court, Jordan drives the lane and dribbles the ball around in such a way that it's like he isn't even aware there's a defender trying to keep up with him.
Could Jordan be OK?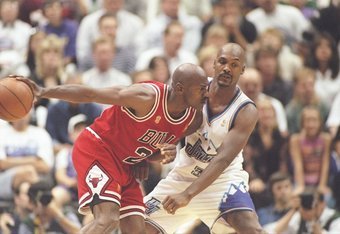 Brian Bahr/Getty Images
M.J. then goes to the line and hits two free throws, but he looks as animated in this position as an early '90s computer game player.  Back and forth a few times later, it's Luc Longley who provides some color, dunking hard after Jordan's post and dish.  I guess Longley wasn't that bad after all.
As for Jordan, the ill man gets even warmer with a crossover and fade away from deep for his tenth point in the second.  He really is sick. 
'What a play' is one of Marv Albert's other infamous catchphrases.  After Jordan steals the ball and runs the floor, finding Scottie, Pippen misses the rebound only to have it dunked home by M.J. 
Now did that sequence of offensive events deserve Marv's one liner?  YES!  Within four, the half is Utah's, but the game is still Jordan's.
Third QUARTER
Ahmad Rashad is telling us about how we got the first smile from Jordan at halftime.  Are we talking about that infamous killer smile?  It's time for Jordan's murder game.  Pippen paces with 13, but right now it's Jordan's stamina that impresses.
Stockton and Malone are working the pick-and-roll.  "Stalone" are dominating, rocking the Bulls, but these stags won't heed or roll over.  Jordan keeps feeding Longley but it's time for M.J. to eat too.  With five minutes to go in the third and nothing in the bank this quarter, Jordan drives, steps, airs and lays up for the tie. 
Brian Williams and Malone are going at it.  The refs are showing no love for the Bulls center.  So he gets his own on a thunderous solo one-hander, showing that he belongs, staring down everybody on the floor and at home watching.  Tonight Bison Dele lives on.  Rest in peace, big man.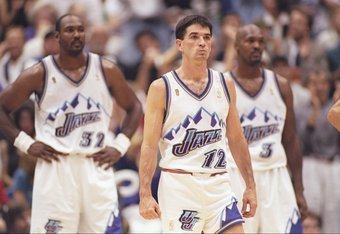 Brian Bahr/Getty Images
Fourth QUARTER
A white towel is draped over a slumped M.J. to end the third.  In this final act, everyone knows he's about to throw the towel away, not in. 
Jordan hits from the corner to cut it to five.  Then everyone collapses and stands watching the almost fainting M.J. fade away like it was a practice shot.  To continue this hot streak, the burnt out and exhausted Jordan assists Kukoc for three, and then hits his own three after giving the most obvious ball fake in the history of the NBA.
Jordan ties the game but shows no emotion.  It's almost like he doesn't care, but he's drained. As he staggers back to the bench for some time out, he takes no fluids, no high fives.  The game and his health are on the line. 
Back in the action, Jordan gives his own trademark dream shake, loosens up Russell and fades away from him.  Get used to it.  Chicago 79, Utah 77. 
Like a prisoner on the phone behind glass on visiting day, we have five minutes.  Jordan's working Russell, shaking him off before missing.  Is he rushing?  Jordan's fighting everything, but all the Utah players are feeling the ill effects of M.J.  He's spreading the floor, but Utah isn't about to wave any white flags yet.
The game's been deadlocked at 81 for two minutes, with a minute and some change to go.
Stockton hits what looks like the biggest shot of the series, but then with what seems like ease, Jordan drives into the paint for that signature, fade-away floater of his. 
He looks real uncomfortable now.  Is it the game or the flu?  This is getting hard for Jordan who can't shrug this one off.  Now with Malone at the line, the Delta Centre crowd is chanting "M-V-P," the Mailman's praises now being delivered Michael's way.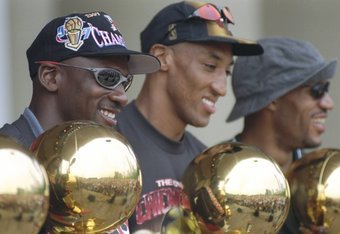 Matthew Stockman/Getty Images
With two minutes to go, Bill Walton sees Jordan clapping for the ball, but Walton's a commentator now and his silky smooth passing son isn't old enough yet.  Some tense moments pass. 
Then, with less than a minute, the ball finds Jordan's hands as he stops and bends over.  This isn't because of how he's feeling though, this is tradition.  No icer yet; he's fouled so it's time to get this the easy way.  Jordan's body language shows he's had enough; maybe he's more frustrated that he can't win this game the usual way, but then…
…he quickly gets the rebound off his own miss, resets the play, and then with 25 to go, reloads with a trey.  There's some ice in that tray, too.  Time to take it to the fridge in Chick's honor.  It's over!  With the last timeout called, Jordan and his 38 points fall into Pippen's arms as he carries his captain back to the bench. 
Nothing but heart and iconic images.  Except for some garbage free throw time that was all she wrote.  Bulls 90, Jazz 88.  Now the rest is history as Chicago take Game Six, the series and the championship.  It's the story of a hero.
POSTGAME
In retrospect, Jordan may not have looked great during this legendary game, but hindsight can be a beautiful thing and the ending was more than a good look.  Sure, in the list of all time classic M.J. performances, this may not have looked as pretty as his two-handed switch layup against the Lakers.  Talib Kweli would call this game a beautiful struggle. 
Sure, this M.J. domination was not as easy as his shrug against Portland but it was still a go- hard, trailblazing effort as Jordan was burning up in more ways than one, using his shoulders to carry his team and his burdens.
Overall, just like these two performances, or the shot over Craig Ehlo, or that shot the following year, this '97 performance lies right next to these other great M.J. moments in the classic NBA history books.  Just like all the other best Jordan chapters written, this page-turning performance when M.J. felt at death's door lives on just like Jordan's eternal legacy.