Thanksgiving Special: 1 Thing Each Franchise Is Thankful For
Leon Halip/Getty Images
Today is the fourth Thursday of November, which means that it's Thanksgiving. There are things that happen in life that are not always easy to deal with.
In some ways, an NFL franchise is similar to a human being. The franchises also have their ups and downs, but just like for people, there is more often than not, always something positive that they can hold on to even if everything is going down the drain.
I am very thankful that I have had the honor of working with Adam Odekirk, who is the co-writer of this slideshow. We wish you all a Happy Thanksgiving!
Buffalo Bills: Head Coach Chan Gailey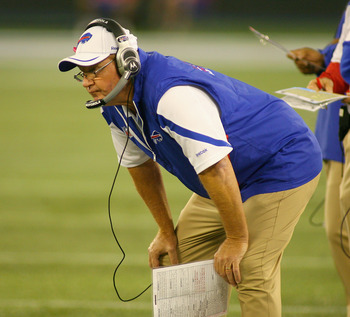 Rick Stewart/Getty Images
The Buffalo Bills are in a losing streak right now, but there is no doubt that the team has improved tremendously since last season. I give Chan Gailey the credit for that.
All football players in the NFL are good football players. The key is to keep them motivated and come up with clever schemes that utilize the players in the best possible way, and the head coach has been doing just that this season.
And for all the Buffalo fans out there: From a psychology perspective, there is no such thing as a hot hand, so the losing streak might end before you know it.
Miami Dolphins: The New Found Spark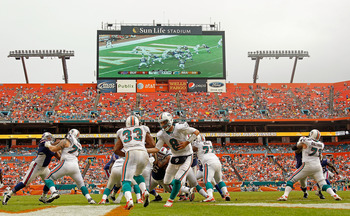 Mike Ehrmann/Getty Images
It's hard to tell what made the difference, but somehow the Miami Dolphins decided to play good football again. It might have been Reggie Bush's comment about sucking or it might have been something else.
Some fans disapprove of the fact that the team should even be winning games this year. They had come to acceptance of the "Suck for Luck" campaign, and it's not exactly going their way anymore.
One thing is for certain. There's not a football player on this planet that enjoys losing games, so they are very happy that the team is now back on track.
New England Patriots: Tom Brady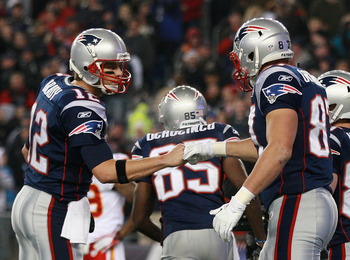 Jim Rogash/Getty Images
It is amazing that the New England Patriots is close to locking up a playoff spot. The team basically has no running game and a far from adequate defense.
Enter Tom Brady. Brady is arguably the best quarterback to ever play the game and he is on pace to beat Dan Marino's record for most passing yards in a season.
He has thrown more interceptions this year than we are accustomed to seeing, but he still plays at a fantastic level. He is the reason why the Patriots are always contenders.
New York Jets: Head Coach Rex Ryan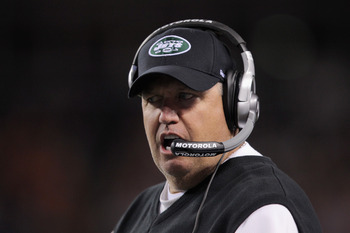 Doug Pensinger/Getty Images
Love him or hate him, Rex Ryan brings excitement to the NFL. He is eccentric and loud and always seems to make the Jets contenders.
The fact of the matter is that the Jets are a bit off of being as good as they pretend to be, but the team is still a decent side. Fans now go to the New Meadowlands with hope that this might be the year that Sexy Rexy leads the team to the Super Bowl.
Baltimore Ravens: That Joe Flacco Is Not Forced To Throw His Arm Off Every Game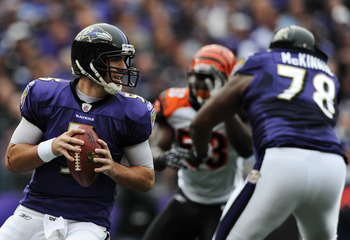 Patrick Smith/Getty Images
The Baltimore Ravens are known around the NFL for smash-mouth football. A couple of weeks ago, the game plan was to let Joe Flacco throw the ball so often that I was afraid it would fall off. Also, the Ravens predictably lost the game due to the game plan.
In order to win games, the team must play to its strengths. The team should be great at running the ball. Ray Rice is a fantastic ball carrier and Vonta Leach is the best fullback in the league. It also helps to have a guy named Ray Lewis on defense.
Cincinnati Bengals: That Carson Palmer Was Traded for an Insane Amount of Draft Picks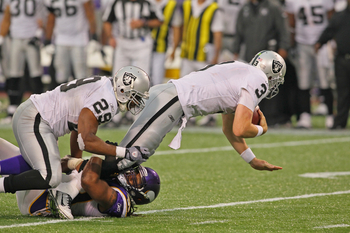 Adam Bettcher/Getty Images
Carson Palmer is currently playing good football for the Oakland Raiders. However, he was set to retire because he no longer wanted to play for the Cincinnati Bengals, and the team's owner refused to trade him.
That was before Oakland Raiders' quarterback, Jason Campbell was injured. The Raiders offered the Bengals two first-round draft picks along with a third draft pick that will either be a first or second-round draft pick, depending on how well the Raiders do.
What a deal for a player that was by all means worthless to the organization! It doesn't hurt that Andy Dalton is coming along nicely either.
Cleveland Browns: Joe Haden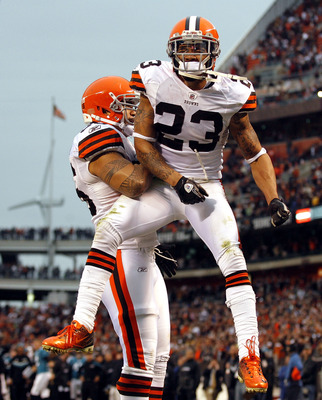 Matt Sullivan/Getty Images
Second-year pro Joe Haden is one of the big reasons why Cleveland's pass defense has been so tough to beat this season.
The organization undoubtedly made the right decision to take him off the draft board with the seventh pick overall in the 2010 NFL Draft.
He is a force to be reckoned with, and opposing quarterbacks would rather not throw his way. Because although he hasn't intercepted a lot of passes this season, he sure knows how to defend them.
Pittsburgh Steelers: The 6 Super Bowl Wins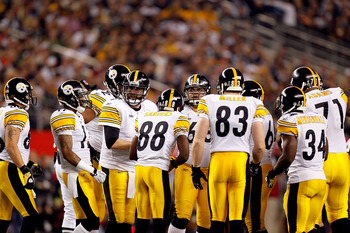 Kevin C. Cox/Getty Images
The Pittsburgh Steelers has now won six Super Bowls, which is the most in the NFL. The organization has traditionally been one of the classiest in the league, and they always seem to find the right personnel.
The last time the team won was in 2008 against the Arizona Cardinals, and the game was a thrilling adventure right till the end.
Although the Steelers lost last season's Super Bowl, it must be reassuring that the organization always has the team ready to compete.
Houston Texans: That Peyton Manning Missed a Season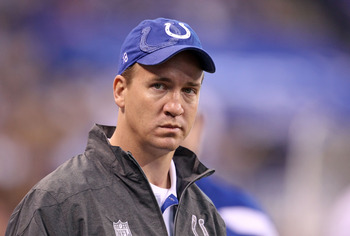 Andy Lyons/Getty Images
It's sad to say but the only way that the AFC South could be won by Houston was for their arch nemesis in Indy to miss the season. That may not be completely fair as the Texans defense has improved, but should the Texans hold on and win the division there will always be a "yeah, but…" from outsiders.
Regardless of what outsiders say, a playoff berth is always earned by the team on the field, but that doesn't mean that a little help isn't sometimes appreciated. The Texans should be thankful that they do not have a healthy Peyton Manning charging from behind and threatening their division lead while Matt Leinart gets up to speed.
Indianapolis Colts: Peyton Manning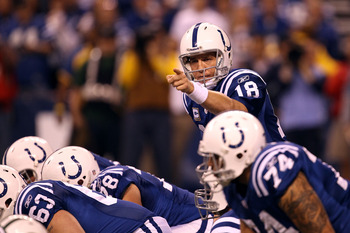 Jonathan Daniel/Getty Images
The performance of the Indianapolis Colts this season has given rise to the general opinion that Peyton Manning may be the only reason that the Colts have won any of their games for the past decade.
Since that is proving to be harder and harder to dispute every game, the Colts should be thankful for not only all that Manning has given this franchise to date but also the fact that he has a strong desire to come back.
This team doesn't need to change too much besides getting healthy again and they are going to return as legitimate playoff threat again next year.
Jacksonville Jaguars: Maurice Jones-Drew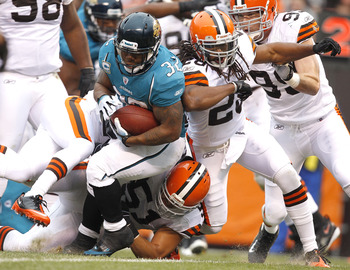 Matt Sullivan/Getty Images
Jones-Drew has a lot of respect around the league but probably not all the credit and praise that he deserves. He has been the one constant for the Jaguars and always a huge reason for their success (when they have it) year in and year out.
Jaguars fans should be thankful that he has been mostly durable throughout his career and has never caused a problem in the locker room or with the media. He is a classy player and hopefully one who is rewarded with a great team to help him continue to be solid producer in the NFL for years to come.
Tennesse Titans: That Matt Hasselbeck Is Not Donovan McNabb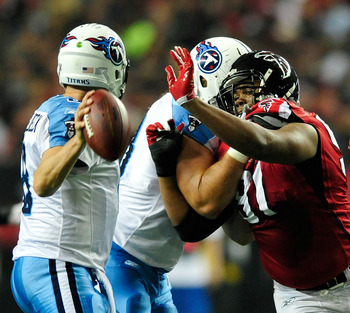 Grant Halverson/Getty Images
Many believed that Matt Hasselbeck was just being brought in to keep the seat warm for Jake Locker at QB in Tennessee. He would play a few games and likely be forced to bow out like McNabb in Minnesota and make way for the first round "future of the franchise."
Luckily for Titans fans, Hasselbeck had other ideas. He has played shockingly effective football and kept the Titans relevant in the AFC while Chris Johnson finished counting his new piggy bank contents. The Titans should be thankful that Matt Hasselbeck still plans on being a good player in this league longer than they had originally planned for him to be.
Denver Broncos: John Elway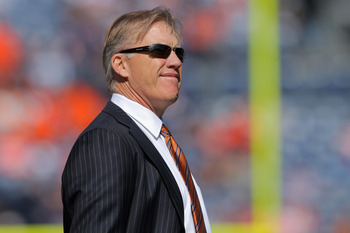 Doug Pensinger/Getty Images
The Denver Broncos have been searching for someone to take them back to the promise land since John Elway retired. After a near miss with a loss to Pittsburgh in the 2005 AFC Championship Game, they are now a team in flux, still searching for a savior.
Who better than the man himself, John Elway, to reinsert himself into the mix as the team's VP of Football Operations and lead them again (this time from the front office) to Super Bowl glory.
Denver fans should be thankful that they have someone who spent his entire career as a Bronco calling the shots with this team. Elway has been through the lean times and the great times and is showing signs of being a very capable NFL executive.
Kansas City Chiefs: Arrowhead Stadium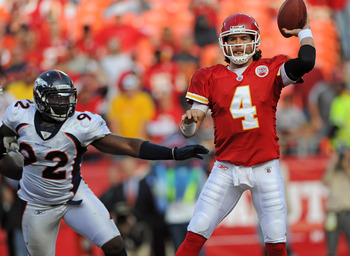 Peter Aiken/Getty Images
Apart from last years' surprise playoff run, things in KC have been pretty forgettable in recent memory. Chronic injuries and underperforming have plagued this team but one thing still shines for the organization: Arrowhead Stadium.
After a pricey (but sorely needed) renovation, the venue now boasts top notch amenities but still carries with it the aura of being one of the toughest home-field advantages in the NFL. Kansas City is a true "must experience" in terms of tailgating and despite the team's performance, Arrowhead is the crown jewel of the organization.
Oakland Raiders: Al Davis
Ezra Shaw/Getty Images
I know that most tributes to Al Davis were done shortly after his passing, but since the sad loss of a football legend is still such a recent occurrence, the Raiders need to take time again to be thankful for their creator and leader.
Fans should be thankful that Davis created one of the most sought after brands in professional sports. In good times and bad times, Raider Nation is always proud and vocal, and they know that even though most hate to admit this, the NFL is more interesting when the Raiders are good.
A lot of that had to do with Mr. Davis himself, but something tells me that everything the Raiders were built to stand for will continue to be celebrated long after his passing.
San Diego Chargers: Philip Rivers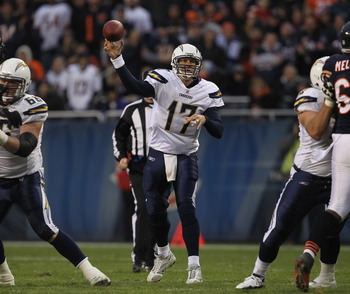 Jonathan Daniel/Getty Images
That may seem odd right now considering this is by far the least impressive season to date for Rivers, but what else does this team have?
Without Rivers the Chargers would never be legitimate contenders for the AFC title, but with him they start most seasons as serious contenders. Sometimes the bad has to come in with the good, but this low point for Rivers does not define his career as a whole.
Chargers fans need to be thankful that they still have him and remember that it may be one game, one quarter or one play before the Chargers turn it on and Rivers becomes unstoppable.
Dallas Cowboys: That They Are Still Considered America's Team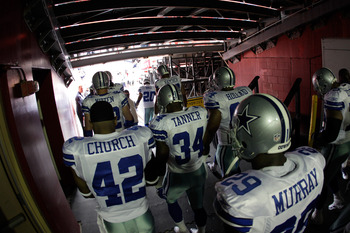 Rob Carr/Getty Images
The Dallas Cowboys hasn't won a lot recently, but the team is still considered to be America's team. That has a lot to do with the fact that the Cowboys are tied with the Pittsburgh Steelers for appearing in the most Super Bowls.
There is hope for the organization that hasn't won the Super Bowl since 1995. Dez Bryant has proven to be a very capable wide receiver and other young players are also doing well.
The NFC East is highly inconsistent this year, so the Cowboys might even make it to the playoffs. Who knew a couple of weeks ago?
New York Giants: That the NFC East Is Wide Open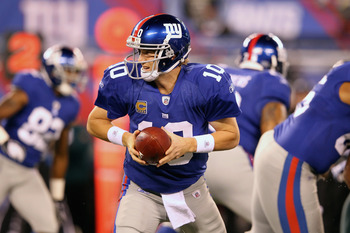 Al Bello/Getty Images
The New York Giants' fanbase was divided before this season started. Did the team have enough talent to make it to the playoffs?
So far so good. The team has won six games so far this season and is tied for the NFC East lead with the Dallas Cowboys.
The Giants will surely hope to avoid another late-season collapse as they have suffered the last two seasons. Also, if there is another collapse this year, I am afraid Tom Coughlin has coached his last season for the Giants.
Change isn't always so bad, is it?
Philadelphia Eagles: That Vince Young Will Never Say Dream Team Again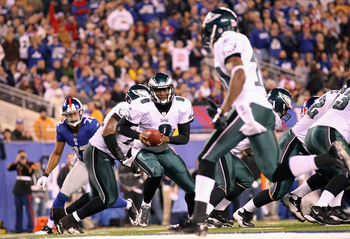 Al Bello/Getty Images
During the preseason, backup quarterback Vince Young, was interviewed by the media on what he thought about all the new free-agent signings. He answered that he thought the team now resembled a dream team
There was a lot of hype, but the Eagles have not lived up to it this season. It was very predictable that it wouldn't – The team just should have taken a look at the New York Jets or the Miami Heat. Dream Teams tend to fall short eventually.
I find this amusing because I wrote an article predicting it before the season started.
However, since the NFC East is a crazy league right now, the Eagles are in the same situation as the Cowboys — the team might actually make it to the playoffs.
Washington Redskins: That the 2012 NFL Draft Isn't Too Far Away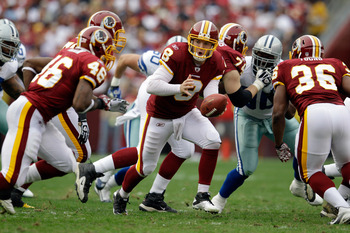 Rob Carr/Getty Images
The team looked ever so promising when the season started, but I suppose it just wasn't meant to be. Mike Shanahan benches quarterbacks almost as frequently as running backs, and that's saying something.
Rex Grossman is now back on the field as the starter for the Redskins after holding the clipboard for a few weeks. It doesn't seem to make much difference who starts at quarterback for the team. John Beck and Rex Grossman are just as bad in my eyes.
However, there is light at the end up the tunnel. The 2012 NFL Draft has a deep class of solid quarterbacks, and it is very likely that the Washington Redskins will look to the draft to solve their trouble at quarterback.
Chicago Bears: Devin Hester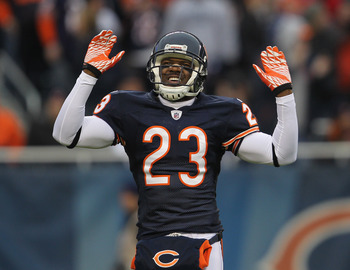 Jonathan Daniel/Getty Images
It almost sounds a bit absurd to name a special teams player as the one that the organization has to be thankful for. Fortunately, it's not because the team is so bad, but because of the excitement this brilliant player brings to the field.
Personally, I don't understand why people don't always just kick the ball out of bounds on punts. In some cases, it might even be a good decision to take the penalty and kick it out of bounds on kickoffs, too. That's how good Devin Hester is.
He is now just two touchdowns away from holding the record for most non-offensive touchdowns in the NFL, which Hall of Fame cornerback Deion Sanders, currently holds. That's some pretty nice company.
Detroit Lions: Martin Mayhew and Jim Schwartz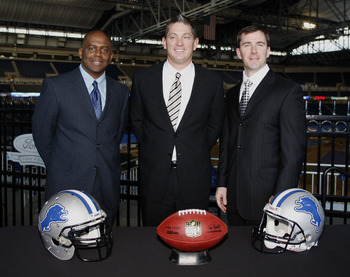 Gregory Shamus/Getty Images
What a turnaround! It wasn't very long ago that the Detroit Lions were the face of shame in the NFL. It's hard to be so bad that you go 0-16 during a season, but the Indianapolis Colts look like a team that might do the same this year.
Martin Mayhew has done a fantastic job at gathering the right personnel in Detroit. Ndamukong Suh is one of the draft picks that has made the most impact.
And Jim Schwartz is doing a great job at organizing the personnel on the field. Detroit has played several games this year that have been nothing short of terrific. In fact, I'd say the team is one of my favorite to watch right now.
Green Bay Packers: Lambeau Field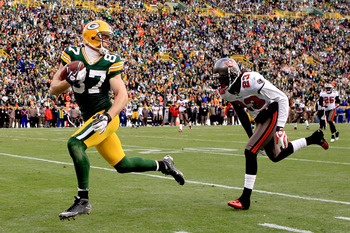 Matthew Stockman/Getty Images
Players come and go and coaches come and go, but what always remains is Lambeau Field. In a discussion about home-field advantage, I don't think there is any question that when Green Bay plays at home, it makes a difference.
It might not look like it makes a world of difference right now, since Aaron Rodgers is outgunning every opponent that the team bumps into, but believe me — opposing teams fear Lambeau Field, and even more so during the winter.
Minnesota Vikings: Adrian Peterson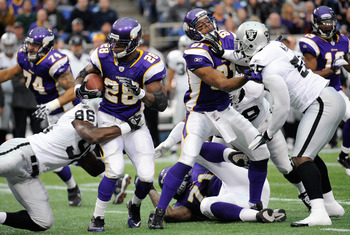 Hannah Foslien/Getty Images
The Minnesota Vikings are blessed to have a brilliant running back like Adrian Peterson. He is as durable as they come and there's not really any need to question his abilities.
Since we have all concluded that Donovan McNabb is as washed up as it gets, it is time to see what Christian Ponder can do. Personally, I was one of the people that thought it was a good decision to take him in the first round, and he is doing well so far.
Anyway, when you have a rookie quarterback on the field, it certainly helps to have a stellar running game. Let's just hope that it doesn't take the Minnesota Vikings too long to compete again, so that All Day's services will not have gone to waste.
Atlanta Falcons: That Michael Vick Is an Eagle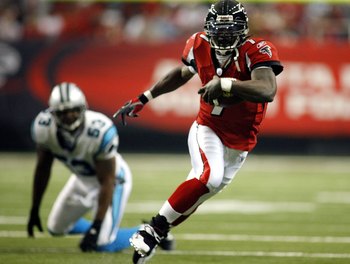 Marc Serota/Getty Images
This is not meant to be a huge indictment of Michael Vick, but the simple truth is that the marriage between the Atlanta Falcons and Vick was an unmitigated disaster and both parties are lucky to have moved on from it.
In the wake of the Vick Scandal, the Falcons struggled mightily to rebound from the disarray that the split had caused. However, a few good decisions led to creating the most promising Falcons (maybe ever).
Without Vick moving on, the team would likely not have Mike Smith on the sidelines coaching Matt Ryan. The Falcons are not thankful for the negativity around Vick leaving, they are thankful for the glorious rebirth of the franchise afterwards.
Carolina Panthers: Cam Newton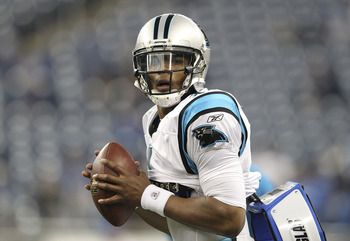 Leon Halip/Getty Images
There is an old saying that there is "no such thing as bad publicity," and Cam Newton may be a living testament to that. Newton was widely scrutinized and in many cases criticized coming out of Auburn.
Add to that the pressure of being a No. 1 overall draft pick and there were plenty of reasons to expect Newton not to flourish in the NFL. That has proven to be anything but the case.
The Carolina Panthers should be thankful that they now have perhaps the biggest star power that their franchise has ever had on a roster. Newton is as talented a young player as there is in the league and has bright days ahead in Carolina.
New Orleans Saints: The City of New Orleans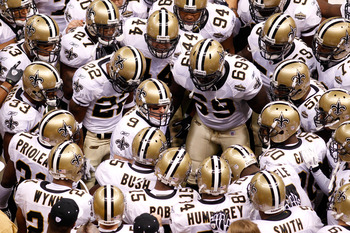 Chris Graythen/Getty Images
There is not a city in the NFL right now that is more deserving of a team like the Saints than New Orleans. Post-Katrina New Orleans was a tragic site to behold for anyone who had ever been there and could see what the Crescent City had been reduced to.
Add to that despair the knowledge that the Saints were perennial losers, and it is odd that the city turned to the Saints for some kind of distraction and hoped that better days were to come. Well the city did and they have been richly rewarded.
The Saints fed off of the dreams that New Orleans residents had about someday being able to cheer and brag about where they were from. They took that energy and have now emerged as a perennial power in the NFC.
The Saints should be thankful everyday that they get to play in front of the great people of New Orleans.
Tampa Bay Buccaneers: Head Coach Raheem Morris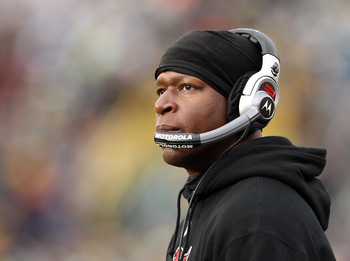 Elsa/Getty Images
When the Buccaneers decided to fire Jon Gruden, there was a lot of trepidation on the part of Buccaneers fans. They grew increasingly nervous when young defensive coordinator Raheem Morris was tabbed as the new head coach.
Flash forward to now and Morris has proven to be an excellent choice (their current skid aside) for the franchise. His energy and philosophy have turned the culture among the Bucs back to winning and along with his emerging star Josh Freeman at QB, their prospects look bright.
Tampa Bay should be thankful that Morris is leading their team onto the field every Sunday.
Arizona Cardinals: Larry Fitzgerald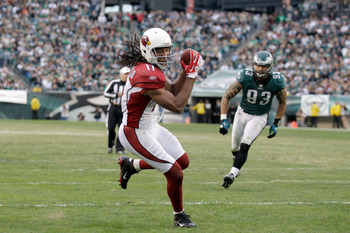 Rob Carr/Getty Images
Until now, the only thing that has remained constant with the Arizona Cardinals on the field from their near miss in the Super Bowl, is that Larry Fitzgerald is still arguably the best receiver in football.
The Cardinals and their fans should be thankful that, whoever is playing quarterback has an increased chance of success by virtue of the fact that Fitzgerald is one of their targets. Sometimes it isn't always easy for Fitzgerald to shine in Arizona, but when he does it's easy to see why he commands so much respect.
San Francisco 49ers: Jim Harbaugh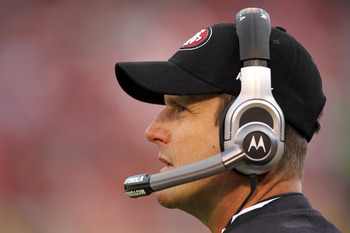 Ezra Shaw/Getty Images
The long suffering fans on the 49ers have to be thankful that Harbaugh walked in and restored the respectability of this franchise almost immediately. Not only that but he did it with essentially the same roster that was failing prior to his arrival.
Harbaugh and the 49ers are looking more and more like a very tough out come playoff time and a team that nobody wants to face in San Francisco. 49ers fans can also rejoice because if the road to the Super Bowl in the NFC goes through a different city other than Green Bay, it will likely be the "City by the Bay" in California.
Seattle Seahawks: That Winning the Division Guarantees a Home Playoff Game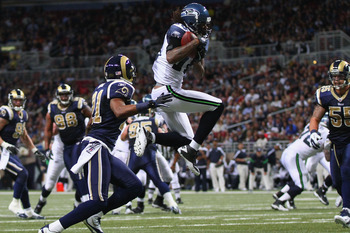 Dilip Vishwanat/Getty Images
In a season where not much is going right for the Seahawks most of the time, the fans can be thankful that they had one glorious night in Seattle last year during the playoffs.
It looks as though the NFC West will be won with a record far better than last year's but that does not change the fact that Pete Carroll and company have a division title and playoff win on their resume. It is certainly something to help build off of and if Carroll finds a quarterback the good days may return again soon.
St. Louis Rams: Sam Bradford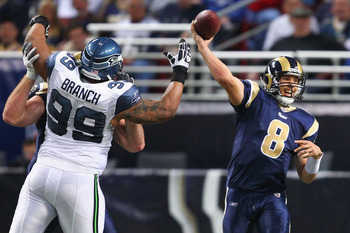 Dilip Vishwanat/Getty Images
Bradford and the Rams struggled to live up to the hype and expectations set for them this season to date, but that should not scare fans away from Bradford.
When the city of St. Louis comes down from the frenzy brought on by the World Series, they can be thankful that No. 8 is still leading their team on the turf and will be for many years to come. The division looks like it is not going to be as easily winnable as it has been in the past, but the Rams can say that they potentially boast the best quarterback and that should help going forward.
Keep Reading