NFL Week 12 Picks: Spread, Straight and Over/Under
November 24, 2011
Ezra Shaw/Getty Images
Week 11 treated my picks pretty well, finally providing results consistent with my season averages following a couple of down weeks.  I ended 10-4 straight up, 8-6 against the spread and 7-7 on over/under.  That performance puts my yearly numbers at:
Straight:  109-51 (68 percent)
Spread:  95-65 (60 percent)
O/U:  84-76 (53 percent)
That pulls my season total average to exactly 60 percent overall. 
With so many picks already in the books, it makes it difficult to swing that number too far at this point in the season.  If I am able to pull that number up to 65 percent by the end of the year then that would be considered a respectable finish in my eyes.
Let's get right into some game selections for Week 12 which will feature three Thanksgiving Day games.
Green Bay Packers (-6.5) @ Detroit Lions (O/U = 56)
In a classic Thanksgiving Day rivalry, these NFC North foes meet for the first time this season as Detroit looks to put a halt to Green Bay's seemingly unstoppable run.  In last season's final matchup between the two, the Lions defense was able to knock phenom Aaron Rodgers out of the match, and sneak away with a 7-3 victory at Ford Field. 
The Pack will undoubtedly be looking for a little payback in this game, which, for the first time in a long time, holds some serious playoff implications for Motown.  Though the Lions will be treating this one like a must-win, the Packers have appeared just too strong to be stopped by anybody, and picking against them while on a run like this would be hard to justify.
Leon Halip/Getty Images
Straight: Green Bay
Spread: Green Bay
O/U:  Over
Miami Dolphins (+7) @ Dallas Cowboys (O/U = 44)
Miami has now rattled off three consecutive wins following an 0-7 start, and surprised a lot of people, including myself, with last week's 35-8 beat down of the sinking Bills.  The Cowboys have also tallied three in a row after escaping with a narrow victory in overtime in Week 11 against a Redskins bunch that were a large underdog coming in. 
Dallas' offense has looked much improved since implementing rookie back DeMarco Murray full-time, and the combination of this offensive firepower and the home-field advantage will likely provide too large a hurdle for a rejuvenated Phins squad to overcome.  Make it four in a row for the Cowboys.
Spread: Dallas
Straight: Dallas
O/U: Over
San Francisco 49ers (+3) @ Baltimore Ravens (O/U = 38.5)
The Niners continue to roll, sporting eight straight wins entering this contest against an inconsistent Ravens bunch, who managed to pull out a win against a good Bengals team last week after losing to a mediocre Seahawk group just one week before. 
The Baltimore offense has been truly hit-or-miss all year, and going up against the best run defense in the league does not offer much hope for a team struggling to find their offensive niche behind a deceiving 7-3 record.  By all accounts this one appears to by this week's "Game of the Week" and will no doubt provide some fireworks in the form of big hits and defensive plays. 
San Fran have proven that they can withstand offenses more consistent than this Ravens O, and continue to make their case for best team in the NFC with a road victory here.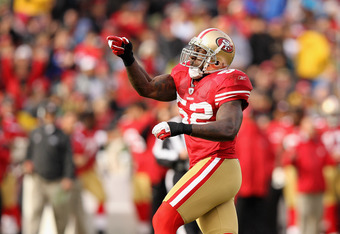 Ezra Shaw/Getty Images
Straight: San Francisco
Spread: San Francisco
O/U: Under
Minnesota Vikings (+9.5) @ Atlanta Falcons (O/U = 44.5)
Nobody besides Green Bay and New Orleans have shown the ability to beat the Falcons in their own stadium in recent history, and the Vikings are surely not in the same tax bracket as those talented squads. 
With Adrian Peterson below 100 percent, the Minny offense will not have near enough firepower to keep up with Matty Ice and Atlanta, who look to stay afloat in the NFC South race as well as the Wild Card standings.  The Vikes have a very low chance of standing in their way at this time.
Straight: Atlanta
Spread: Atlanta
O/U: Over
Cleveland Browns (+7.5) @ Cincinnati Bengals (O/U = 37.5)
In this battle for Ohio, the Bengals look to bounce back after impressive showings against both Pittsburgh and Baltimore the past two weeks in a couple of close losses.  Cinci must be grateful to match up against the runt of the division after seeing the true teeth of the AFC North against their last two foes. 
Cleveland are ranked No. 1 in passing defense coming in, but that number is partially inflated when you take into account that many times teams are running the ball to run out the clock rather than having to go to the air to achieve victory against the Browns. 
That being said, Joe Haden is one of the better corners in football, and without A.J. Green to fall back on rookie QB Andy Dalton will have to bring his A-game to expose this Cleveland defense on the way to victory.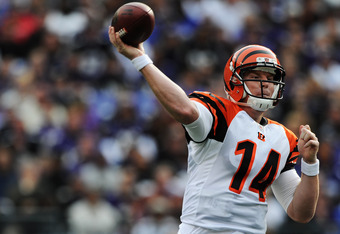 Patrick Smith/Getty Images
Straight: Cincinnati
Spread: Cincinnati
O/U: Under
Buffalo Bills (+8) @ New York Jets (O/U = 42.5)
The Bills began the season as everyone's AFC sweetheart after starting off the year 4-1, but have since lost four of five while looking noticeably inept offensively.  Starting RB Fred Jackson has been placed on Injured Reserve following a leg injury in last week's loss to Miami, which means second year RB C.J. Spiller will be thrust into the forefront of the Bills offensive attack. 
The Jet defense is not a good opponent for a feeling-out process of this type, and it's likely the Bills offense will be able to get even less production now.  Fitzpatrick's group have very swiftly moved from hero to zero.
Straight: New York
Spread: New York
O/U: Under
Tampa Bay Buccaneers (+3) @ Tennessee Titans (O/U = 42)
The Bucs are on a four-game skid as they travel to Tennessee for this Week 12 matchup with the Titans.  Chris Johnson was unable to maintain the momentum he built in a big game against Carolina in Week 10, tallying only 13 yards on 12 carries last week against Atlanta. 
Tampa's defense has been awful against both the run and pass to this point, so it's likely that Johnson will be able to put on a show if he comes ready to play, a mindset he has failed to provide in many of Tennessee's games this season.  Tampa could pull an upset here to start a fresh win streak, but Tennessee should have what it takes to get it done against Raheem Morris' underachieving group.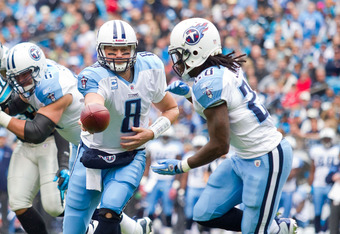 Brian A. Westerholt/Getty Images
Straight: Tennessee
Spread: Tennessee
O/U: Over
Arizona Cardinals (+3) @ St. Louis Rams (O/U = 40.5)
This stinker pitting the three-win Cardinals against the two-win Rams probably takes the cake for this week's "Stinker Of The Week."  Arizona showed some promise in a victory against Philly in Week 10, but were thwarted by the stingy D of the 49ers last week. 
The Rams will surely be looking to avenge an overtime loss to AZ in Week 9, a matchup in which they blew a game-winning field goal and allowed a game-winning kick return by rookie Patrick Peterson on the ensuing kickoff to lose in ugly fashion. 
It's always hard to decide which bad team will play worse, so instead, take this fire in St. Louis' stomach to be enough of a push for them to pull out a W at home.
Straight: St. Louis
Spread: St Louis
O/U: Over
Houston Texans (-3) @ Jacksonville Jaguars (O/U = 37.5) 
The Texans took a monster blow in Week 10, losing QB Matt Schaub for the season to injury.  A bye week last week gave backup Matt Lienart a chance to take a lot of reps with the first team offense, and adding star WR Andre Johnson to the lineup should help to mask this downgrade against a pitiful Jaguars team. 
Regardless of that side of the ball, the real force propelling this Houston team to a 7-3 record has been their defense, and rookie QB Blaine Gabbert will likely have a long day.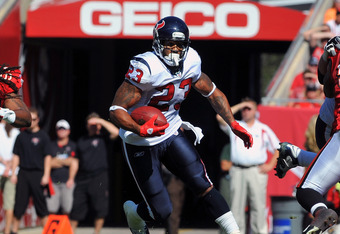 Al Messerschmidt/Getty Images
Straight: Houston
Spread: Houston
O/U: Under
Carolina Panthers (-3.5) @ Indianapolis Colts (O/U = 44.5)
Carolina proved two things in last week's 49-35 loss to Detroit:  yes, their offense is that good, and yes, their defense is that bad. 
Say what you will about the defensive side of the ball, but rookie QB Cam Newton continues to exceed expectations, and a less-than-stellar Indy defense will likely play victim to a show by the athletic newcomer to the league.  The Colts have fully established themselves as the worst team in the league this season sans Manning, and things don't get any better for them here. 
Straight: Carolina
Spread: Carolina
O/U: Over
Washington Redskins (+4) @ Seattle Seahawks (O/U = 37)
The Redskins showed some fight in last week's OT loss to Dallas that has been absent from their play for the majority of the season.  It's not likely they will be able to carry that momentum very far lacking a true leader at QB, and the Seahawks' 12th man of a crowd will likely wreak havoc on Rex Grossman's play-calling ability at the line of scrimmage.  The Redskins get rained on in this one against Seattle who have finally found some stability in RB Marshawn Lynch.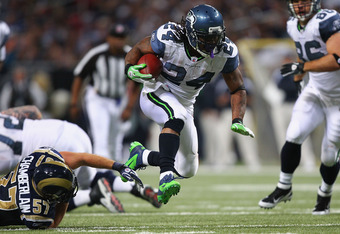 Dilip Vishwanat/Getty Images
Straight: Seattle
Spread: Seattle
O/U: Under
Chicago Bears (+4.5) @ Oakland Raiders (O/U = 41.5)
The Raiders have strung together two wins coming in on the strength of Carson Palmer running a well-balanced offense with exceptional poise for a player who came in cold just mere weeks ago. 
The Bears have impressed so far this season, but will be without QB Jay Cutler for the foreseeable future due to a thumb injury.  Backup Caleb Hanie will feel the pressure in the Black Hole and will be lucky to come out with some dignity, let alone a victory.  The black and silver run continues in this one.
Straight: Oakland
Spread: Oakland
O/U: Under
New England Patriots (-4) @ Philadelphia Eagles (O/U = 47)
The Patriots offense have found their stride as of late, aided in large part by the talented young TE Rob Gronkowski.  The Eagles have found themselves grasping at straws on their way to a disappointing 4-6 record thus far, and it is still unclear whether they will be led at QB by Michael Vick, who missed last week with a rib injury, or Vince Young, who filled in for Vick respectably and provided a surprising win over a talented Giants team in Week 11. 
This game has a lot of storylines and should provide some offensive fireworks, regardless of who is under center for Philadelphia.  Whoever it is will be overmatched by Tom Brady on the other side of the ball, so it's likely the Eagles will not rush to return Vick before he's ready.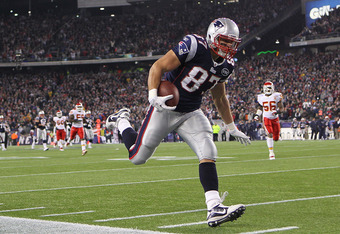 Jim Rogash/Getty Images
Straight: New England
Spread: New England
O/U: Over
Denver Broncos (+6.5) @ San Diego Chargers (O/U = 43.5)
Tim Tebow continues to produce results, leading the Broncos to yet another victory against the stout Jets D on Thursday night in Week 11.  The Chargers find themselves on a five-game losing streak entering this one, and the frustration level for Philip Rivers and Norv Turner has to be reaching a tipping point. 
If they can't pull this one out against Denver, then expect to see Turner's name on the hot seat pretty quickly after game time.  The pressure is on in this one, and SD steps up to take home a much-needed victory in a hard-fought AFC West battle.
Straight: San Diego
Spread: Denver
O/U: Over
Pittsburgh Steelers (-10.5) @ Kansas City Chiefs (O/U = 39.5)
Pittsburgh look to come off of their bye week with a flourish against a KC team who, similarly to the Texans, have lost their starting quarterback to injury.  Backup Tyler Palko will have his hands full with this hard-hitting defense who have had a week of rest and film study to figure out how to break down his game, and potentially his bones. 
Unfortunately for the Chiefs, the only thing Palko will be winning here is sympathy from the fans after he takes what is sure to be a major pounding.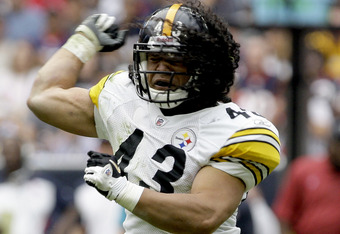 Thomas B. Shea/Getty Images
Straight: Pittsburgh
Spread: Pittsburgh
O/U: Under
New York Giants (+7) @ New Orleans Saints (O/U = 51)
An exciting MNF game features two good teams this week, matching up the 6-4 first place Giants with the 7-3 first place Saints.  New York has dropped two straight heading in and needs to tally a victory to remain in control of the NFC East with the Cowboys ready to take the reigns of the division. 
Quarterback Drew Brees has been able to find a multitude of targets this year on a team led in receptions by, surprisingly enough, RB Darren Sproles and TE Jimmy Graham rather than a wide receiver.  The Giants will be able to keep it close, but Brees takes his game to another level in prime time, and will continue to do so here.
Straight: New Orleans
Spread: New York
O/U: Over
In a week riddled with playoff implications, backup QBs and tryptophan (Google it), you really can't go wrong.  Unless of course you are stuck with that Arizona vs. St. Louis broadcast.  Either way, each and every football fan will be treated to some great Turkey Day games, and won't have much to complain about following another exciting week in the NFL.