NFL Predictions: 10 Scenarios in Which Indianapolis Colts Finally Win a Game
Andy Lyons/Getty Images
The Indianapolis Colts have been without franchise quarterback Peyton Manning for the 2011 season, and what a difference it has made.
The perennial playoff contenders have slumped to an abysmal 0-10 record, and have shown no sign that they will actually win a game at all this year.
With six more games remaining, here is a look at 10 scenarios in which the Colts may change their fortunes and make sure they don't finish the season winless.
Curtis Painter Turns His Form Around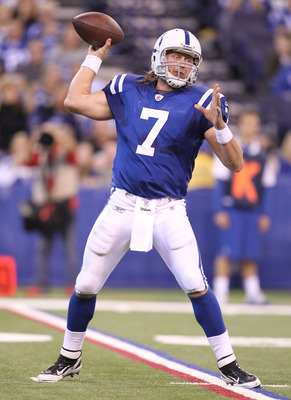 Andy Lyons/Getty Images
No one really expected Colts backup quarterback Curtis Painter to do much this season.
But even so, after replacing Kerry Collins in Week 4, Painter really should have shown a bit more by now.
He has actually been getting worse in recent weeks, and the chance of his form turning around enough to win football games looks slim to none at this stage.
Chance of a win with Curtis Painter: 15 percent
Dan Orlovsky Gets the Quarterback Job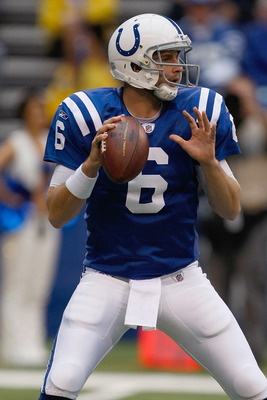 Scott Boehm/Getty Images
The Colts other quarterback with the absence of Peyton Manning is seven-year veteran Dan Orlovsky.
Orlovsky has looked decent in his limited game time so far this season.
At 0-10 the Colts have nothing to lose and Orlovsky may get his chance to start a game in the near future.
Chance of a win with Dan Orlovsky: 25 percent
Peyton Manning Returns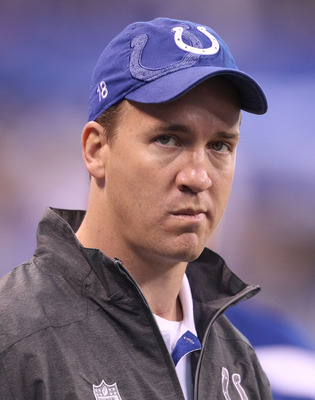 Andy Lyons/Getty Images
Despite there being almost no chance of a return to the field this season, Peyton Manning has remained active on the Colts roster.
Manning is recovering slowly from spinal fusion surgery, but a comeback this season has not been completely ruled out.
If he was to miraculously return—even though there is no point risking it—the Colts chance of a win would obviously increase greatly.
Chance of a win with Peyton Manning: 75 percent (But the chance of Manning returning: 1 percent)
A Look Ahead to the Coming Weeks
Andy Lyons/Getty Images
After looking at who might lead the Colts to a potential win, it is now time to look at who a win might come against.
The Colts seem destined to see out this season in very mediocre fashion, however, there are still six more games left for the Colts. That's six more chances to win.
The following slides look at their chance of a win in each of those games.
Chance of a Colts win this season: 20 percent
Week 12 vs. Carolina Panthers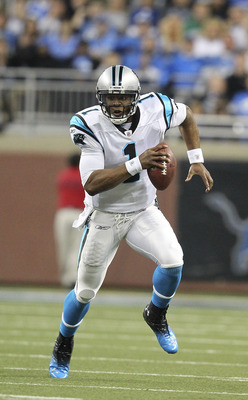 Leon Halip/Getty Images
This game looks like it will be the Colts best chance for a win this season.
The Panthers, who have won just twice this year, have struggled with injuries and as result have a suspect defense.
Whether or not the Colts can exploit that is another matter.
But at their own stadium, this will be a great opportunity for the Colts to finally get a win on the board.
Chance of a Colts win: 50 percent
Week 13 vs. New England Patriots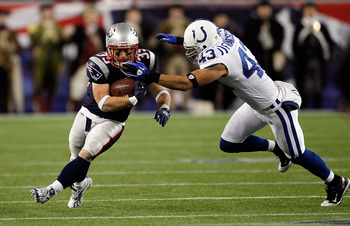 Jim Rogash/Getty Images
A trip to New England in December is just what the Colts don't need.
The Patriots, one of the most consistent teams in the NFL in recent years, are leading the AFC East and charging toward another postseason appearance.
These two teams have fought many classic battles over the last decade, but this is a different Colts side and they have virtually no chance of a win at Gillette Stadium.
Chance of a Colts win: 5 percent
Week 14 vs. Baltimore Ravens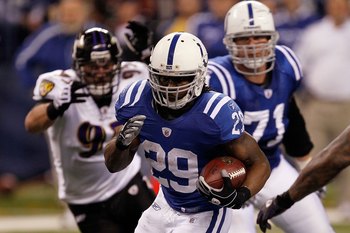 Jonathan Daniel/Getty Images
The schedule doesn't get any easier for the Colts, as they head to Baltimore in Week 14.
The Ravens currently lead a strong AFC North division, and are undefeated at home so far this season.
They have been a bit inconsistent at times but have found a way to win most of their games.
This is another game that will be an almost impossible task for the Colts.
Chance of a Colts win: 10 percent
Week 15 vs. Tennessee Titans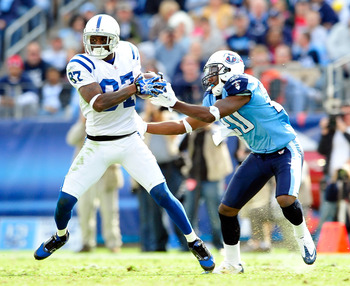 Grant Halverson/Getty Images
The good news for the Colts is that they will be back in their own stadium for this AFC South matchup, after two tough weeks on the road.
The Colts could possibly have a chance in this game—the Titans lack a running game at the moment and have a talented, but inconsistent, defense.
However, the Titans will likely be pushing hard for a Wild Card spot at this point of season, whereas the Colts will have nothing but pride to play for.
Chance of a Colts win: 20 percent
Week 16 vs. Houston Texans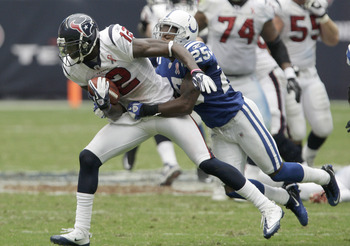 Thomas B. Shea/Getty Images
The Colts will host another AFC South game in Week 16, this time against current division leaders the Houston Texans.
It remains to be seen how the Texans will get on without quarterback Matt Schaub, who has been lost for the season with injury.
If they do hit some bad form, the Colts may sense an upset here, but the Texans are still full of enough talented players that should get them another win.
Chance of a Colts win: 15 percent
Week 17 vs Jacksonville Jaguars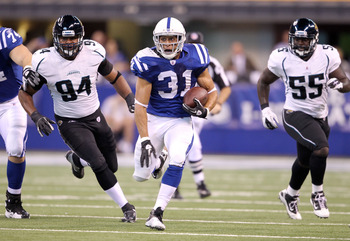 Andy Lyons/Getty Images
Despite playing on the road for their final game of the season, the Colts' trip to Jacksonville looks like their best chance for a win outside of the Panthers game.
The Jaguars have shown very little this season and are operating with rookie quarterback Blaine Gabbert, who has led them to a 3-7 record.
This game will mean little for both teams, other than division bragging rights, but if the Colts are still searching for a win it will take on much greater importance as they will definitely not want to finish the season winless.
Chance of a Colts win: 40%
Keep Reading

Indianapolis Colts: Like this team?