Clemson vs South Carolina: Live Score, Highlights and Analysis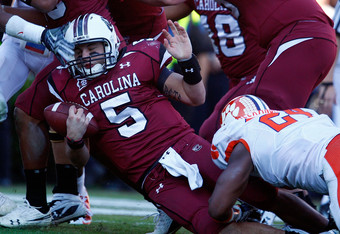 Scott Halleran/Getty Images
As if the state of South Carolina wasn't already split down the middle, rivalry week has to come along and light the fuse. This rivalry would be one of the longest continuous wars in the country if it wasn't for the forced hiatus from 1903 to 1909.
The story is well known—USC fans began walking around Columbia with a cartoon poster of a Gamecock catching a Tiger by the tail and the Clemson boys told the South Carolina boys to take it down. After their request was denied, the Clemson military men went to unstack their weapons. Cooler heads prevailed, and after a few minor fisticuffs the rivalry was allowed to cool for six years.
Over 100 years later, not much has changed. This year, both teams are ranked, with identical records and as much talent as this matchup has ever seen.
Clemson wants to rebound from a loss to lowly NC State, and South Carolina is coming off a tune-up with The Citadel.
South Carolina has won the last two battles while Clemson holds the overall lead.
South Carolina is missing Marcus Lattimore, Clemson is missing a defense.
This is looking to be the best rivalry game we have seen in years, with guaranteed fireworks. Tune in Saturday at 7:45 EST for live score, highlights and analysis.
Streeter Lecka/Getty Images
Clemson 13, Carolina 34 Final
Clemson was outmatched, outcoached and outplayed. Connor Shaw was flawless and Alshon Jeffery was as good as advertised. Stephen Gilmore locked Sammy Watkins down and the front 4 of USC climbed all over Clemson's porous offensive line.
For Carolina it makes it 3 years in a row. For Clemson that is unacceptable.
At the beginning of the year Dabo said that if anybody was going to beat Clemson they had better do it this year because Clemson has a chance to be pretty good in coming years.
On the whole Clemson has exceeded our expectations. On an individual game basis, they have fallen very short.
Carolina and Clemson are both trending upward. Unfortunately for Clemson, Carolina is doing it faster.
After Georgia Tech's loss to UGA it certainly does feel a lot like 2009.
Clemson 13, Carolina 34 3:00 left in the game
Dropped passes and the lack of an offensive line has doomed Clemson. Tahj Boyd has played poorly for sure, but his offensive line has not helped. Jadeveon Clowney is going to scare offensive lines for years to come. He sure doesn't look like a freshman. Ingram has gotten his hands all over Boyd tonight.
Clemson 13, USC 33 4:20 left in the game
Sammy Watkins just got up limping. Not good. On the plus side Jaron Brown just laid out a Shaq Wilson. Unfortunatley it was nullfied by an illegal formation.
Clemson 13, USC 33 5:20 left in the game
Thousands of television sets in thousands of Clemson households just went off.
Tajh Boyd has been trying to throw interceptions for 3 games straight and finally got one that cost Clemson their thin, ephemeral hopes. DeVonte Holloman's interception led directly to an Alshon Jeffery touchdown and the inevitable bad taste of a 3rd straight defeat at the hands of a rival.
Clemson 13, USC 27 6:30 left in the game
Connor Shaw has been spectacular. He has thrown and run a veteran. Even if Clemson's defense had not made him look like John Elway he still would have had a fantastic game.
Clemson makes a stand and forces a 4th down but Clemson is now down by two whole touchdowns.
Clemson 13, USC 24
The writing is on the wall. Clemson is spent and Carolina is taking advantage. Shaw just ripped off run followed by a run by Kenny Miles and a catch by Bruce Ellington. This would be where Clemson would step up, but they don't seem able to do that.
Clemson 13, USC 24 13:48 left in the 4th quarter
Chad Morris just lit into his offensive line. Catanzaro nailed the field goal. Now Clemson is only down by...oh yeah 2 scores still.
Clemson 10, USC 24 end of 3rd quarter
Ingram again. Boyd got sacked...again. Clemson's offensive line just cannot stop the USC front four. Catanzaro is going to try a field goal which will do nothing to help Clemson.
Clemson 10, USC 24 1:30 left in the 3rd
Clemson is finally going to get good field position on a short USC kick. It hasn't mattered yet. Where is Dwayne Allen?
Clemson 10 USC 24 2:00 left in the 3rd quarter
USC's defense came up big again. Although Clemson converted on a 4th down the next 3 plays went nowhere. If there are so many defenders rushing then shouldn't somebody be open? Connor Shaw goes back to work...
Clemson 10, USC 24 7:15 left in the 3rd quarter
A huge stop by the Clemson defense gives the stagnant Clemson offense another chance. At the beginning of the season Chad Morris was being talked about for all kinds of vacant jobs around the country. On the plus side I think Clemson will get another few seasons to prove that his offense doesn't take only 9 games to figure out.
Clemson 10, USC 24
I am beginning to come to the conclusion that Boyd is just not a very good quarterback. He wasted an excellent kickoff return from Andre Ellington by running into the waiting arms of Devin Taylor on 3rd down. Whatever magic he conjured in the early season has clearly worn off.
Clemson 10, USC 24 left in the 3rd quarter
Clemson never seems to learn from its mistakes. If Rory Anderson torched my defense for 55 yards I would probably figure out a way to stop him. Not Clemson. Anderson gets the subsequent touchdown pass as well. With the way USC's defense is playing, this is looking bleak for Clemson.
Clemson 10, USC 17 12:16 left in the first half
Clemson looks like a comedy of errors all of a sudden. Boyd is not a mobile quarterback. USC's defense is getting the best of Clemson and Sammy Watkins has been rendered inert. Penalties and dumb plays are killing Clemson.
Clemson 10, USC 17 beginning of the 3rd quarter.
Wow USC dominated the first half stats. Thats scary for the second half. Maybe Clemson made some adjustments. They have been a second half team all year.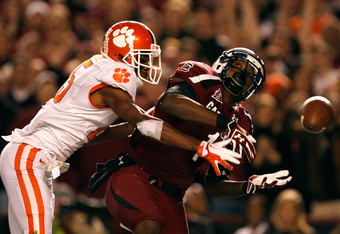 Streeter Lecka/Getty Images
Clemson 10, USC 17 Halftime
If Clemson could play defense all game like they played the last minute of the half they could be a good team. They had three negative plays that crushed USC's hopes to score again before the half.
Both of these teams are playing well. Sammy Watkins has been fairly irrelevant and except for that touchdown, so had Dwayne Allen. The Clemson running game is doing surprisingly well especially Andre Ellington. If Clemson can get him involved it might open up the passing game for Clemson.
Conor Shaw has a million yards rushing in the first half and if it's not broken, don't fix it. USC is moving the ball well and the offensive line is giving Shaw all kinds of time. Alshon Jeffrey is back which will keep USC multi-dimensional and Clemson off balance. If USC keeps exploiting the young Clemson defense they're going to win this game.
Players of the half:
Clemson defense, Andre Branch
Clemson Offense, Andre Ellington
USC Offense, Connor Shaw
USC Defense, USC Secondary. You eliminate Sammy Watkins...you get kudos in my book.
Clemson 10 USC 17 1:30 left in the first half
Clemson's hopes for an 80 yard touchdown drive took a hit with an intentional grounding penalty. Boyd looks rattled and hurried. Clemson's offensive line just isn't giving him enough time. Boyd is not mobile enough to get out of a situation like that.
Clemson gave it back with plenty of time for Carolina to score.
Clemson 10 USC 17 1:55 left in 2nd quarter
I could take a moment to laud the prescience of the previous post but I won't. Shaw runs for a 15 yard touchdown and looks really good doing it. It was a 65 yard drive that was beautifully executed. Carolina is going to enjoy having Jeffery back.
Clemson 10 USC 10 5:14 left in the 2nd quarter
A squib kick is always good for field position. Benton gives USC the ball at the yard line on a shank kick.
Dang Shaw can run. Clemson can't stop him.
Or anyone else for that matter. Kenny Miles picks up a huge first down on a 4th down conversion that keeps this scoring drive alive.
Clemson 10, USC 10 6:19 left in 2nd Quarter
Tie ball game. One of the ugliest plays this year could have gone for a touchdown if Boyd had just caught the football. DeAndre Hopkins took the toss and was supposed to go back to Tajh Boyd as a receiver. Hopkins almost went down well behind the line of scrimmage but decided instead to throw the ball in the air for anybody to grab it. Clemson was fortunate it wasn't intercepted but it bounced off Boyds hands instead. If he had caught it it could have been huge. Good defense by the Gamecocks is the reason why it only went for 3. Catanzaro is emerging as a heck of a kicker.
Clemson 7, USC 10 7:00 left in the first quarter
Terrence Campbell chop block sent Carolina back 15 yards. Then a block in the back nullified a good run by Kenny Miles. Carolina then botched a kick which put Clemson right in scoring position. More mistakes on USC's part than Clemson's proficiency caused this swing.
Clemson 7, USC 10
Alshon Jeffery is out. That is not good for USC. Of course with Clemson's run defense it might not mean anything at all.
Clemson 7, USC 10 11:32 left in the 2nd Quarter
Clemson scores on Dwayne Allen catch. Boyd looks like he might settle down and make a game of it. Clemson still needs to play some defense or scoring does you no good. USC is still clicking on offense so this might turn into a fun to watch shootout.
Clemson 0, USC 10 13:00 in 2nd quarter
Clemson running game starting to heat up. 13 yards for Mike Bellamy and 9 more for Ellington. Clemson starting to move methodically. Nothing flashy but solid football.
Clemson 0 USC 10, 1:55 left in the first quarter
That was a huge stop by Andre Branch. He is the only one getting to Shaw and to get an open field tackle on Brandon Wilds like that shows some serious athleticism. Maybe Clemson can do something with it now.
This article is
What is the duplicate article?
Why is this article offensive?
Where is this article plagiarized from?
Why is this article poorly edited?

South Carolina Football: Like this team?