No Curtains for Caleb: How Backup Hanie Will Perform for the Bears
November 24, 2011
Jonathan Daniel/Getty Images
When reports of quarterback Jay Cutler possibly being out for the season due to a broken thumb surfaced, every Chicago Bears fan's heart skipped a beat.
It's true. Inevitably, the former Pro Bowler has successfully underwent surgery on his right thumb, and no exact timetable for his return has been set. The fracture, as it was stated, is called a "Bennett's Fracture," which is usually suspected to be fully healed within a matter of six weeks.
In the meanwhile, backup Caleb Hanie, who we saw some of in the 2010 NFC Championship game, will attempt to fill Cutler's shoes. Or cleats, in this manner.
Hanie has performed well in his limited playing time; appearing in the past trio of years in preseason and playing great. Granted, that was against fellow backups and third-stringers.
However, the Colorado State product was put up against the to-be Super Bowl Champions in 2010, as aforementioned. Hanie was third in the quarterback slot of Chicago's depth chart, therefore receiving minimal snaps in the upcoming weeks.
Upon entering the game following an abysmal outing from Todd Collins, the 6'2" Hanie went to work. Completing 13-of-20 passes for 153 yards, Hanie breathed life into the scoreless Bears offense. We all know how the game turned out, though. 
Still, that's a damn good outing from a third string player under center against the best team in the NFL.
Fortunately, Coach Lovie Smith has submitted a vote of confidence for the young Hanie, meeting with the 26-year-old and stating, "You're our guy."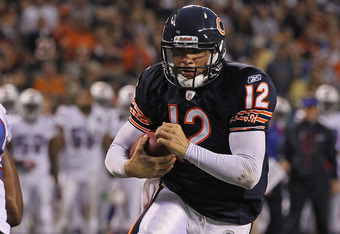 Jonathan Daniel/Getty Images
With a softer schedule than what Chicago has faced up to this point, it seems to be a decent time for a catastrophe to occur. 
Many fans believe that Hanie just needs to be a game manager; that the running game will basically be the Bears' only source of offense.
Well, you'll be proved wrong. 
Hanie will perform with flying colors.
When Hanie was recruited by Chicago scouts, it was of their interest to find a quarterback with a strong arm, leadership, and some mobility with enough talent to progress as a developmental player. Hanie went undrafted, was signed by the Bears, and immediately was on the chopping block.
Hanie, however, outplayed expectations on his way to earning a roster spot. Ever since that point on, Hanie has continued to impress the coaching staff in multiple ways.
If you notice, Hanie has never said a word wrong in his stint in Chicago. His emotions are let loose on the field, yet kept in check. 
Under Hanie's belt is three years of experience with year two in Mike Martz's system ongoing. Not only is that a positive, but obviously improves his chances of maintaining the starting role until Cutler returns.
Furthermore, Hanie is virtually fearless on the gridiron. Whether or not Cutler has contributed to that trait, it's an awesome thing to possess while being thrust into this situation.
The Dallas, Texas native has earned his way into the position he's in now. He'll make every opportunity of it. Becoming a free agent next year, this may be his one shot.
Not only will Hanie manage football games, but he may win a couple for the Chicago Bears.