Did You See That? Sports' Top Defining Moments of 2008, from Beginning to End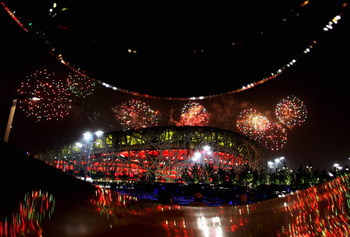 This year was a difficult time for many people because of the nation's financial crisis. But sports always have the power to bring joy and imagination for the people. The people didn't stop witnessing some of sports' most breathtaking moments and accomplishments.
As we wind down towards the end of the year, it is time to reflect on 2008's greatest sports moments.
We saw David topple Goliath in Super Bowl XLII. We saw magic during March Madness. We saw Green, not Gold, holding the Larry O'Brien Trophy. We saw 08.08.08 as bringing the world together for three weeks. It marked the beginning of eight gold medals. We saw a Lightning Bolt strike gold three times. And gold was the sweet color of Redemption.
Now it's time to find the Most Defining Moments of 2008. Every month had something buzzing in the air, and this slideshow reflects the best moments for each month. Goodbye 2008, hello 2009!
January 1: Capital One Bowl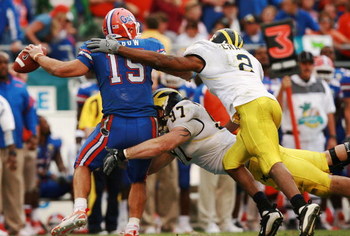 The first day of a brand new year kicked off with a thrilling Capital One Bowl, with Heisman winner Tim Tebow and the No. 12 Florida Gators against the Michigan Wolverines. It was the last game for Michigan coach Lloyd Carr, who was retiring after the season. It was a high scoring back-and-forth affair, but Michigan prevailed in a 41-35 victory over Florida. The Wolverines amassed 524 yards of total offense, and Chad Henne was the game MVP, throwing for 373 yards, three TDs, and two INTs.
January 7: LSU Are National Champions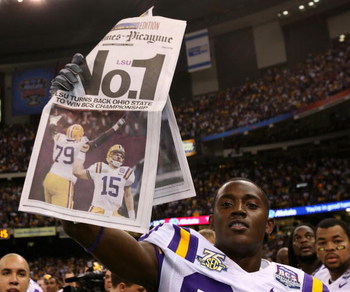 The 2008 BCS National Championship game featured the No. 1 Ohio State Buckeyes vs. the No. 2 LSU Tigers, although Ohio State was considered the underdog in this game. After the Buckeyes blitzed to a 10-0 lead, the Tigers answered with 31 unanswered points and never looked back on their way towards a 38-24 victory.
January 20: NFC Championship Game—Packers Vs. Giants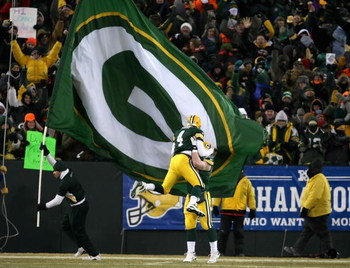 Brett Favre celebrates a touchdown for Green Bay. However, the Giants would go on to defeat the Packers 24-21 in overtime, which ended Favre's career as a Packer.
February 3: NYG Shock the World, NE Patriots in Super Bowl XLII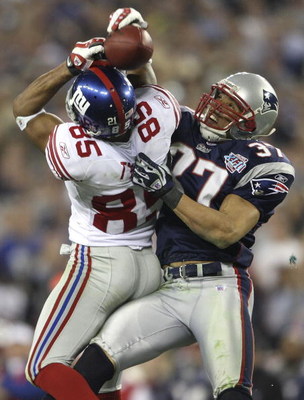 David met Goliath when the G-Men went up against the heavily favored and then undefeated New England Patriots. The Giants, who were two-touchdown underdogs, kept it close by trailing only 7-3 going into the decisive quarter. After touchdowns by both teams, the Giants were down 14-10 and needed a score. On third down, Eli Manning avoided a sure sack and completed a pass to David Tyree, who pinned the ball to his helmet while hitting the ground. Four players later, Manning threw a strike to Plaxico Burress for the decisive score, 17-14, shocking the sports world.
March Madness: Stephen Curry Leads Cinderella Story Davidson to Elite Eight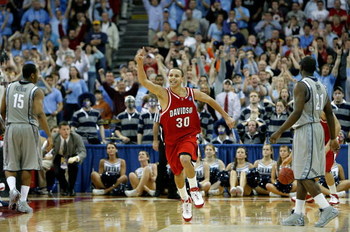 Davidson entered the NCAA tournament as the 10th seed, led by Stephen Curry, who had a first round matchup against seventh-seed Gonzaga. Curry scored 40 points and led Davidson to a 82-76 victory. Against second-seed Georgetown, Davidson trailed by as much as 17 points, but Curry scored 25 second half points and Davidson stunned Georgetown 74-70. Curry then scored 33 points against third-seed Wisconson, as Davidson throttled Wisconson 73-56. But Davidson's run ended when Kansas won 59-57 and held Curry to "only" 25 points.
April 7: Kansas Beats Memphis in OT Thriller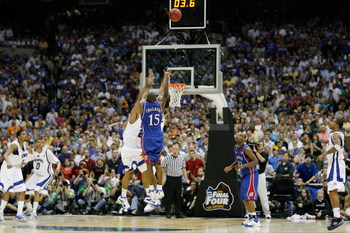 The Memphis Tigers led by nine and were 2:12 away from defeating the Kansas Jayhawks for the National Championship. But Kansas intentionally fouled Memphis, and the Tigers missed four of five critical free throws, allowing Mario Chalmers to hit a three-pointer with 2.1 seconds left to tie the game at 63-63. Kansas dominated the overtime en route to a 75-68 victory and a National Championship.
April 20-May 4: Hawks Push Celtics to the Limit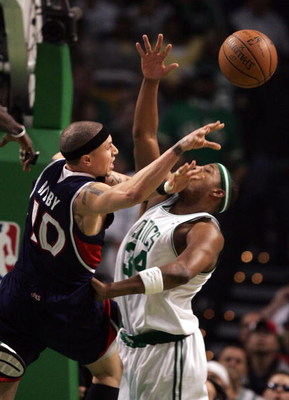 The dominant Celtics blew out the Hawks in the first two games and looked ready for a sweep. But the Hawks showed grit and determination and won two close games at home. After the Celtics won Game Five, the Hawks won Game Six to force a Game Seven in Boston. But the Celtics made sure there would be no upset, as they romped the Hawks in the decisive game to move on to the next round.
May 10: Greg Maddux Gets 350th Win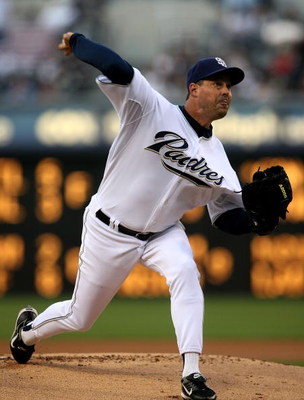 Greg Maddux pitched his 350th win against the Colorado Rockies, becoming the ninth player in MLB history to reach that plateau. It was his fifth try, and he allowed an unearned run and three hits to get a 3-2 victory. Trevor Hoffman also recorded his 530th save in the same game, which extended his MLB saves record.
May 18: Pierce-LeBron in Bird-Dominique-like Battle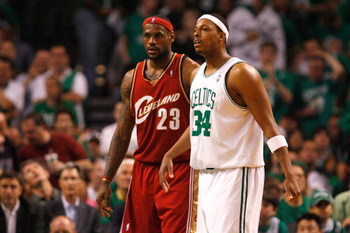 What was supposed to be Cleveland Cavaliers vs. Boston Celtics in Game Seven turned into LeBron James vs. Paul Pierce in an epic showdown between two stars. The game was a back and forth affair throughout, with Pierce and James matching each other shot for shot. James finished with 45 points, while Pierce finished with 41, but the Celtics ultimately won Game Seven, 97-92, to advance to the Eastern Conference Finals.
May 19: Cancer Survivor Jon Lester Pitches No-Hitter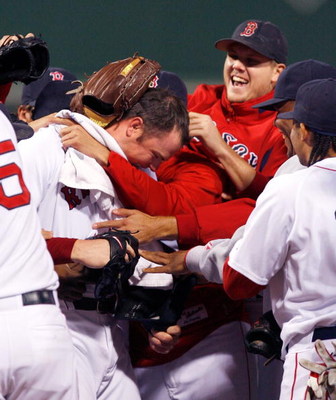 Two years after surviving cancer, Jon Lester thew a no-hitter, blanking the Kansas City Royals, 7-0. He threw 130 pitches, allowing only two walks while striking out nine. He ended the game on a 94-mph fastball. He was also the winning pitcher in Game Four that clinched the 2007 World Series.
June 4: Red Wings Beat Penguins for Stanley Cup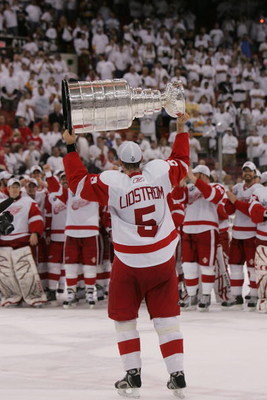 After losing a thrilling triple-overtime match at home against Sidney Crosby and the Pittsburgh Penguins, the Red Wings played a perfect road game in Pittsburgh and won 3-2 to claim the Stanley Cup. The Wings last brought the cup to Detroit in 2002. Henrik Zetterberg was named MVP, while Nicklas Lidstrom (holding cup) became the first captain from Europe to lift the cup.
June 9: Ken Griffey Jr. Hits 600th HR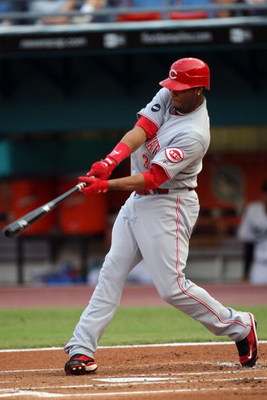 Ken Griffey Jr. hit his 600th home run against the Florida Marlins on a 3-1 pitch from Mark Hendrickson. He is one of five players to have hit 600 career home runs. Unfortunately, there was little fanfare for his accomplishment due to the steroid era.
June 16: Tiger Wins U.S. Open Golf Championship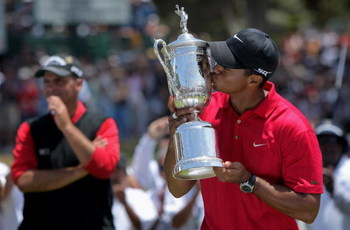 Tiger Woods battled injury in his left knee to win the U.S. Open Golf Championship, which gave him 14 major championships and 65 PGA Tour victories. He defeated Rocco Mediate in an 18-hole playoff. It was revealed that Woods would require ACL surgery, which caused him to miss the rest of the golf season.
June 18: Celtics Crush Lakers En Route to Championship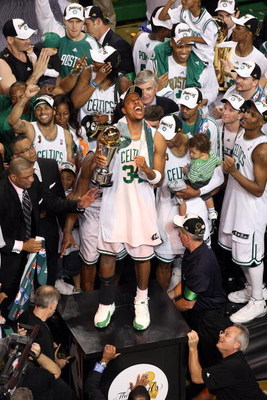 The Boston Celtics became a perennial team with the acquisition of Ray Allen and Kevin Garnett. They were 66-16 in the regular season and set up a Celtic-Laker rematch. But the Celtics played with intensity and stingy defense and easily handled the Los Angeles Lakers in Game Six. The Celtics crushed the Lakers 131-92 en route to the franchise's 17th NBA championship, and Paul Pierce was named MVP.
June 25: Fresno St. Shocks Georgia in CWS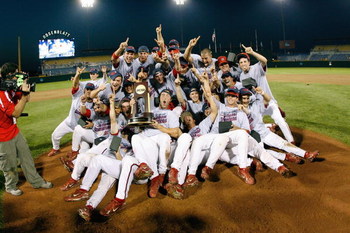 The Fresno St. Bulldogs met up with the No. 8 Georgia Bulldogs in the finals of the CWS. After losing the first game to Georgia 7-6, Fresno St. stormed back to win their elimination game 19-10 and cruised to a 6-1 victory in the final. With a record of 42-29, Fresno St. became the lowest seed and the team with the most losses to win a CWS.
June 28: NBA Draft Day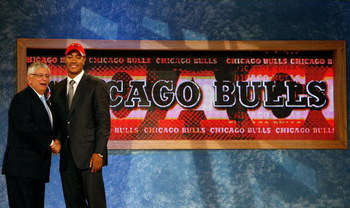 The 2008 NBA draft featured some of the best and most exciting prospects to come out of college. The Chicago Bulls, who had a 1.7 percent chance of landing the top pick, selected Derrick Rose out of Memphis, while Miami selected Michael Beasley from Kansas St. O.J. Mayo was traded to Memphis for Kevin Love.
July: Brett Favre Announces Unretirement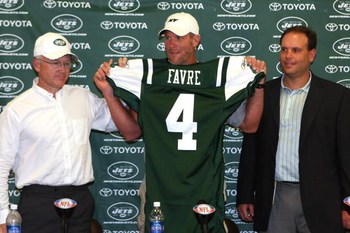 After retiring from the NFL in March, Brett Favre was mulling a return over the summer. Finally, in July, Brett Favre announced his intentions for a comeback. However, the Green Bay Packers announced that they have moved on with Aaron Rodgers as their quarterback. The Packers traded to the NY Jets on Aug. 6. The Jets are currently 9-5 and are in the playoff hunt, while the Packers have already been eliminated from playoff contention.
July 6: Nadal Defeats Federer in Epic Wimbledon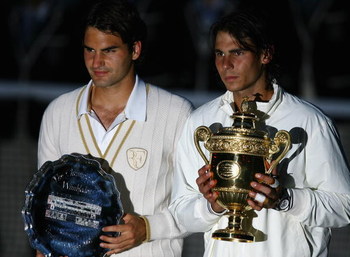 Rafael Nadal ended Roger Federer's five-consecutive title streak at Wimbledon in a match hailed as the greatest match ever by several analysts. At four hours and 48 minutes, it was the longest final in Wimbledon history. After Nadal had won the first two sets, Federer took the next two in tiebreaks, setting up an extremely tight fifth set. Nadal eventually prevailed in a breathtaking 6-4, 6-4, 6-7(5), 6-7(8), 9-7 victory.
August 8: Beijing Opening Ceremony for Summer Olympics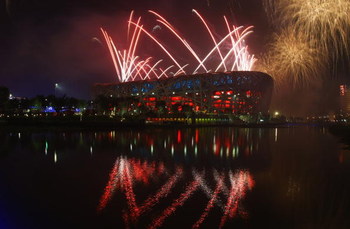 08.08.08 brought the world together in Beijing for the 2008 Beijing Summer Olympics. China kicked off the Summer Olympics with the greatest display ever at an Olympic Opening Ceremony. In what most considered to be China's coming home party, the ceremony contained a dazzling array of fireworks and cultural routines. It was reported that China spent over $100 million on the ceremony and featured over 15,000 performers.
August 17: Phelps Swims to Eight Gold Medals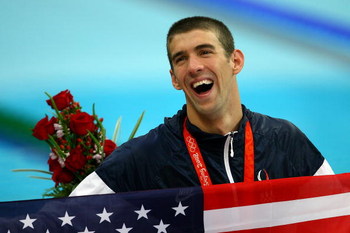 Michael Phelps won his eighth gold medal when his team won the 400-meter Medley. He didn't win, however, without facing some adversity. In the 4 x 100 meter freestyle relay, teammate anchor Jason Lezak trailed by half a body length in the final relay before beating out the French team by .08 seconds. Phelps won his fourth gold medal in the 200-meter butterfly despite his goggles filling up with water. He then won his seventh gold medal in his most thrilling finish, when he beat out Milorad Cavic in the 100-meter butterfly by 1/100 of a second. Magical.
August 16: Lightning Bolt Strikes Gold Thrice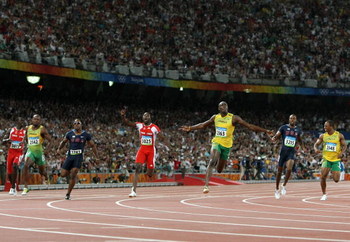 Usain Bolt is insanely fast. In his first Olympic games, Bolt shattered the 100-meter world record by running 9.69 seconds, which would have been faster had he not slowed down to pound his chest. He also set a NWR in the 200-meter and the 4 x 100 meter relay and quickly shot to international stardom.
August 24: Redeem Team Brings Home Gold
Following a disappointing campaign at FIBA and in Athens, the U.S. team revamped their training and commitment, and began their quest for redemption. Led by Dwyane Wade, LeBron James, and Kobe Bryant, the "Redeem Team" cruised through their first seven games and into the Gold Medal game. There, they faced a stiff test against Spain, but eventually won 118-107 to reclaim the gold medal for the United States.
September 9: Federer Bounces Back to Win U.S. Open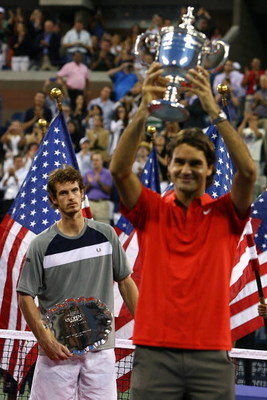 Many believed Roger Federer's career was on the decline when he failed to win any of the first three Grand Slams, especially Wimbledon. But Federer found his form against Andy Murray in the U.S. Open, defeating him in the final 6-2, 7-5, 6-2. It was Federer's 13th Grand Slam title, one short of Pete Sampras's record.
September 13: Francisco Rodriguez Breaks Saves Record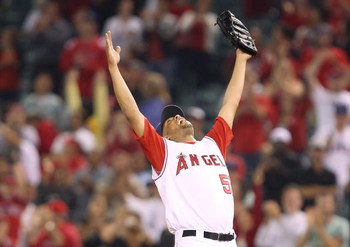 Francisco Rodriguez, or "K-Rod," broke the saves record when he recorded his 58th save, surpassing Bobby Thigpen's 57 saves. He eventually finished with 62 saves, becoming the first closer to reach 60 saves.
October 5: Cubs Swept, Curse Continues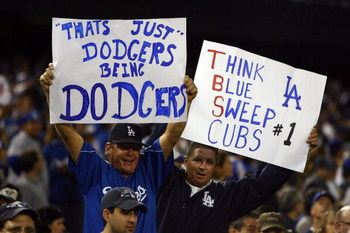 The Chicago Cubs had the second-best record with 97 wins and looked ready for a championship run. But the Cubs had no bite against the Dodgers; the pitching and defense faltered while the offense sputtered. The Dodgers made all of the right plays and embarrassed the Cubs into another playoff exit. 100 years and counting, Chicago Cub fans.
October 29: Phillies Rain on Rays for World Series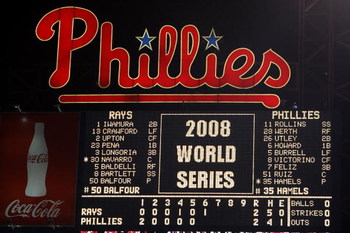 The losingest team won the longest game to be World Series Champions. The Philadelphia Phillies, who have the most losses in MLB history, beat the Tampa Bay Rays 4-3 in Game Five to win the series 4-1. Game Five started two days earlier but was delayed by rain, marking the first time a World Series game was suspended. The Phillies finally won in a three-inning sprint to the finish line.
November 16: Jimmie Johnson Three-Peats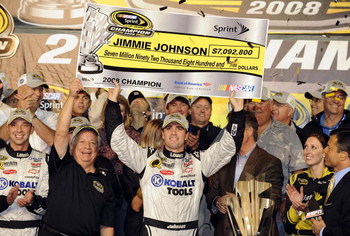 Jimmie Johnson won the NASCAR Spring Cup Series championships for the third consecutive year. He became only the second driver in NASCAR history to win the championship three straight times. There is no doubt that Johnson is the most dominant driver today.
November 16: Unlucky 13-13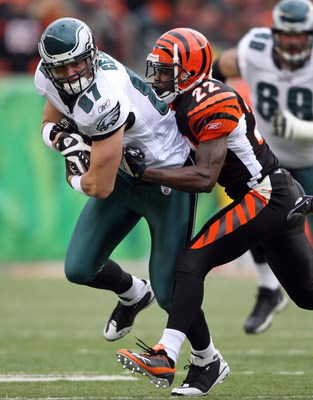 The Philadelphia Eagles and Cincinnati Bengals were deadlocked 13-13 after overtime, and Donovan McNabb was getting ready for double OT. Fortunately for him, given how terrible he played, there was none, but he was criticized for not knowing the rules. It was the first tie since Nov. 10, 2002, when the Falcons and Steelers tied 34-34.
December 6: De La Hoya Loses to Manny Pacquiao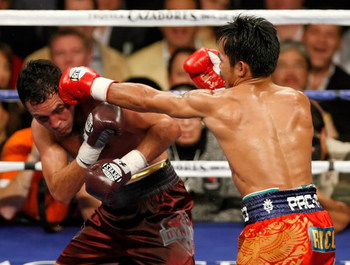 Manny Pacquiao defeated De La Hoya after eight rounds, possibly ending De La Hoya's career. The fight was never in doubt after the first round; Pacquiao was faster and quicker than De La Hoya. Hoya could not land any big or effective punches and could not react to Pacquiao's attacks. At age 35, De La Hoya may have seen his last fight.
December 17: Chris Paul Steals Record
Chris Paul set a new NBA record by recording at least one steal for 106 consecutive games, beating the old record by one. He also led to Hornets to a 90-83 come-from-behind victory over the San Antonio Spurs.
December 19: Brandon Roy Lights Up Suns
Brandon Roy lit up the Phoenix Suns by scoring a career-high 52 points, including the go-ahead three-pointer that put Portland in front. He is clearly the future of this Portland franchise, and not Greg Oden. Oddly enough, it is only the second highest total in franchise history; Damon Stoudamire holds that mark with 54 points.
December 25: Celtics Vs. Lakers Rematch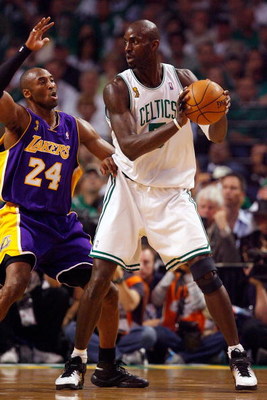 It hasn't happened yet, but there is much hype surrounding the rematch between the Boston Celtics at Los Angeles Lakers on Christmas Day. Despite being a Laker fan, I am predicting a Celtics victory. The Lakers still play soft and poor defense. Rajon Rondo will be pushing the ball and finding the open players in transition. Ray Allen will get a lot of open shots, just like he did in the Finals, while Paul Pierce and KG will hold their own. The bench is also much improved and more physical than the Lakers bench. Kobe and the Lakers offense will keep them in it for most of the game, but the Celtics defense will clamp down in the end. Score: Celtics 108, Lakers 98
Merry Christmas!
Keep Reading