NBA Lockout: The NBA Should Become Like the English Premier League
November 24, 2011
Patrick McDermott/Getty Images
After Billy Hunter and the NBAPA decertified, the chances of a season dwindled to very small odds. Decertification is a long process, and with its conclusion being settled in the courts, we can be sure that a verdict will not be reached for quite some time.
Instead of keeping the NBA model exactly how it is, why not blow up the league itself? The NBA should look across the pond and see what soccer leagues have been doing for years now. They should create a Division One, which fields the top eight teams in each conference, and a Division Two, which has the bottom seven teams in each conference.
The top 16 teams would play for the title after playing a 58-game regular season. They would be seeded based on their regular season records.
This idea would make the basketball better, while also bringing in more profits. Think about it—only the top 16 teams would play each other, making for quality basketball every night.
Based on last year's records, these 16 teams would be in Division One:
Western Conference: San Antonio Spurs, Los Angeles Lakers, Dallas Mavericks, Oklahoma City Thunder, Denver Nuggets, Portland Trailblazers, New Orleans Hornets and Memphis Grizzlies
Eastern Conference: Chicago Bulls, Miami Heat, Boston Celtics, Orlando Magic, Atlanta Hawks, New York Knicks, Philadelphia 76ers and Indiana Pacers
These teams would be seeded one to eight respectively, and the NBA playoffs would remain intact. The champion of Division One would win the NBA Finals.
Now, how would a team be relegated down?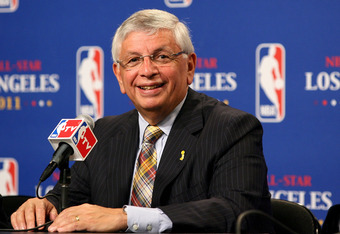 Jeff Golden/Getty Images
In the playoffs, the lowest two seeds in each conference to lose in the first round would be sent to Division Two, while the highest two teams in each conference of Division Two would be sent up to Division One for the next year.
For example, the New Orleans Hornets and Portland Trailblazers would be sent to Division Two from the West, while the Philadelphia 76ers and Indiana Pacers would be sent to Division Two from the East.
How would the NBA determine which Division Two teams move up to Division One?
Division Two would complete a similar playoff, with the last two teams surviving from each conference being guaranteed a chance to move up.
With there being seven teams in each conference in Division Two, only the top four teams in the West and East would play in the playoff for a chance to reach Division One and win a Division Two championship.
The draft would be similar to the NBA's current system, with the Division Two teams having a lottery to determine the spot where each team picks. The Division Two teams would be placed exactly how they are currently.
Trades could be made within divisions, so a Division One team could trade its draft picks and players to a Division Two team, and vice versa.
What do you think about this idea? Give your comments, criticisms and thoughts about this proposed system.