Washington Redskins: But Seriously, They Should Cut DeAngelo Hall
November 24, 2011
Patrick McDermott/Getty Images
After a rough week on the football field in which the Washington Redskins lost in overtime to the Dallas Cowboys by a field goal, DeAngelo Hall said it was all his fault and that the team should cut him.
I couldn't agree more. 
In fact, I think they should have cut him last year. It was absurd they let Carlos Rogers, who is currently playing like one of the best corners in football, go in free agency and kept DeAngelo Hall. Hall's "ability" has mostly been built on highlight-reel interceptions and his propensity to talk to the camera.
You know a corner is doing well in a game when you don't hear his name. I hear Hall's all too often.
The eighth overall draft pick by the Atlanta Falcons in the 2004 draft, Hall has miraculously made the Pro Bowl three times. He may have come up with some game-changing interceptions in his career, but Hall is often victimized by game-changing grabs since wide receivers routinely beat him. The Falcons decided to sell high, and rightfully so, trading him to the Raiders for second and fifth-round picks in 2008. 
Hall quickly bombed out in Oakland, starting only eight games before being released because "he failed to adapt to the Raiders' man-to-man style of defense and was regularly beaten by opposition receivers during the opening half of the season." 
The Oakland Raiders let JaMarcus Russell stick around for three years. They barely tolerated Hall for half a season. 
But lets look at the bigger picture. It's one thing to say that Hall hasn't played well the last year and a half, but it's another to say he's always been a bad corner. Using the profootballfocus.com premium database, a site that grades every player on every play, we can see his performance compared to his peers since 2008.
In 2008, Hall played for both Oakland and Washington, as previously mentioned. In his eight-game stint with Oakland, he managed to be the 109th ranked cornerback out of a qualifying 114.
After he was released and joined Washington, he was able to perform fairly well, finishing 25th among cornerbacks with a positive grading in coverage and run stopping. He allowed only 56.1 percent of throws to be completed in his coverage for a total 691 yards. 
2009 was not as kind to Hall. He earned a slightly subpar grade in coverage, ending up 55th out of 107 cornerbacks. However, he was just plain bad in run coverage, being ranked the absolute worst corner in run-stopping on the season.
He allowed 56.1 percent of passes to be caught for a total of 401 yards. He also missed three games, which makes that number slightly lower than it should be. It was slightly below average cornerback play for the season, but it was not horrendous. 
2010 showed a sharp decline for the cornerback. While he improved in run-stopping, Hall allowed a league-high eight touchdowns. Four of his six interceptions that led to his Pro Bowl selection were in one game.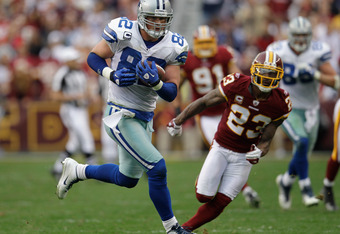 Rob Carr/Getty Images
Hall allowed a 73.7 percent of passes to be completed on him and allowed 965 yards in coverage, good for second worst in the league. Quarterbacks had an average rating of 105.8 when throwing at Hall.
Think about that for a second—DeAngelo Hall made every quarterback in the league look like Aaron Rodgers. 
Through 10 games this season, Hall has already allowed 636 yards to receivers in his coverage. That's on pace for more yards than he even allowed last year. He's allowing an incredible 14.5 yards per reception on top of having allowed two touchdowns and only grabbing one pick.
For a cornerback that is feast or famine, that's a whole lot of famine. Quarterbacks are averaging a 115.3 quarterback rating against Hall this season. That's against quarterbacks like Kevin Kolb, Sam Bradford, Alex Smith and Ryan Fitzpatrick, all of whom are not having what anyone would call "superb" years.
You could say the same of Hall. He currently ranks 82nd out of 104 cornerbacks in overall ranking. If you look at his coverage grade, he's 97th.
Hall was at one time a solid corner. However, his play has declined significantly over the last four years, and it's time to start rethinking his membership on the Washington Redskins. There's no doubt he is a liability to the Skins secondary at this point.
In fact, it makes me question his desire to stay in Washington, given that he said he "should be cut." It wouldn't be the first time a player stopped trying in order to get cut, get more money and go to a competitive team. 
There's also his contract structure to take into account. Hall is $5 million against the Skins' cap this season, and that rises to $6.5 in 2012, $8 in 2013 and $9.5 in 2014. That's top corner money, and Hall might not even deserve league average.
There's no way he will make it to 2015 and become an unrestricted free agent at that point. The Skins will cut him way before then unless his play dramatically increases. 
I say cut him now. It will save Dan Snyder the money he loves to blow in free agency. They still have Kevin Barnes who plays the slot, but it would interesting to see his abilities on the outside.
Byron Westbrook is another option. It would be fairly hard for any of them to be a downgrade considering just how bad Hall has been playing, so really the only thing to gain is money. 
If the Skins don't cut him, they should trade him as soon as the season is over. There are a lot of cornerback-hungry teams out there, and his hype will surely be enough to snag a relatively good pick. Either way, Hall's play is indicative of a soon to be ex-Redskin.