Alabama vs. Auburn: Live Blog, Highlights and Analysis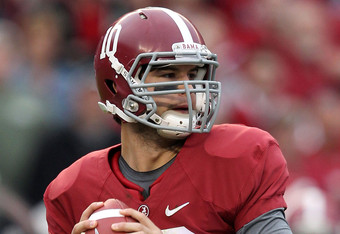 Mike Zarrilli/Getty Images
Alabama 42-Auburn 14 FINAL SCORE
Trent Richardson: 27 carries for 203 yards rushing
A.J. McCarron: 18/23 for 184 yards and three TD's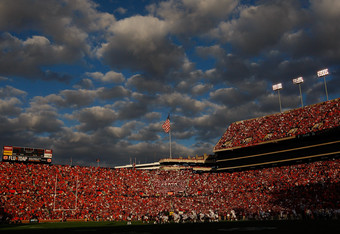 Final score: Alabama 42, Auburn 14
Alabama wins Iron Bowl LXXVI
Alabama has made their case for the #2 spot in the country. Only time will tell if that case will stand up in BCS "court."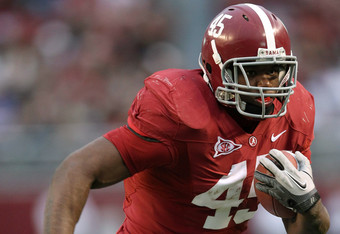 Jalston Fowler 15-yard rush for a TOUCHDOWN ALABAMA! (Set up by a 57-yard Richardson carry.)
Alabama 42, Auburn 14 with 6:40 left in the 4th.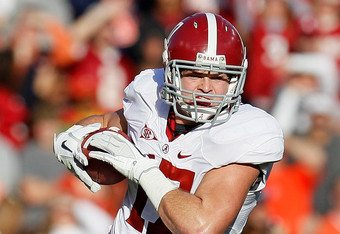 Milliner, pick-6. TOUCHDOWN ALABAMA! 2-point conversion GOOD! Alabama 35, Auburn 14 with 14:38 left in the 4th quarter.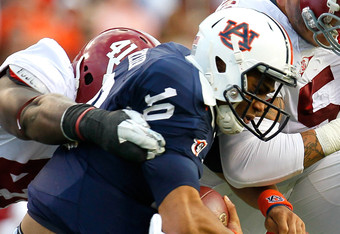 Auburn misses a fourth-down conversion. 'Bama takes over at the Auburn 47.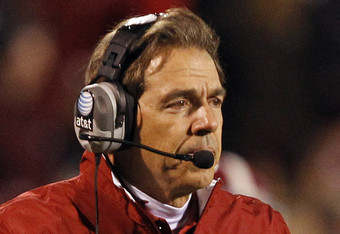 Alabama Timeout to avoid 12-men penalty. 5:38 left in the 3rd.
Another huge kickoff return by Auburn. At least this one didn't go all the way to the house.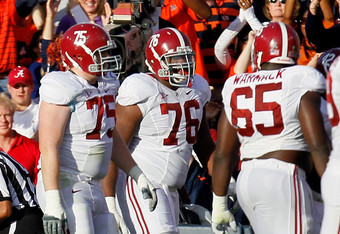 Alabama, 28-yard field goal is good. Alabama 37, Auburn 17. 8:47 left in the 3rd quarter.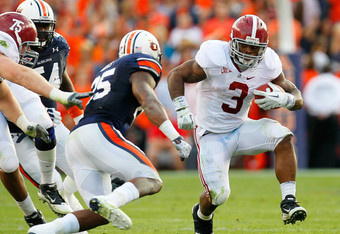 Richardson crosses the 100-yard mark with a 16-yard carry for a first down. That's the eighth time this season, tying the UA record.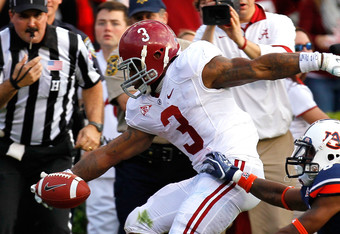 Richardson breaks off a 35-yard run to the left sideline! 'Bama has the first down on the Auburn 34!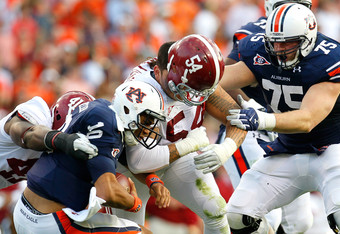 Auburn has one first down in this game, and 14 points.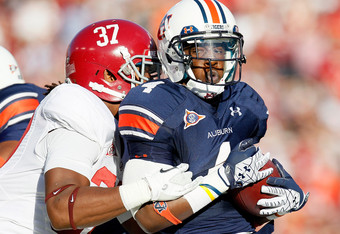 Special teams allows an 83-yard kickoff return for a touchdown. Alabama 24, Auburn 14. 14:49 3rd Quarter.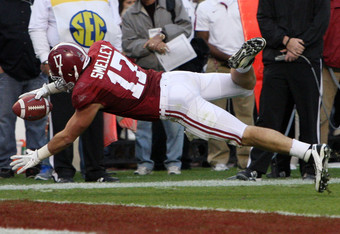 Alabama leading Auburn 24-7 at halftime. Iron Bowl 2011 is off to a great start. The only score by Auburn so far is a fumble recovered in the end zone. The 'Bama defense is doing a great job of making Auburn earn every yard, and the 'Bama offense is doing a great job of picking apart the Auburn D. I'd like to see bigger holes for the running backs, but this is shaping up to be a game that gives us hope for national championship No. 14!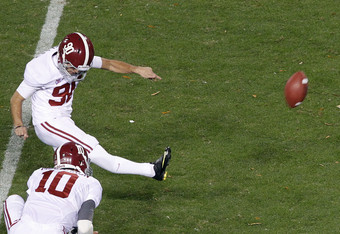 Jeremy Shelley: 30-yard FG. Alabama 24, Auburn 7 1:44 left in the 2nd quarter.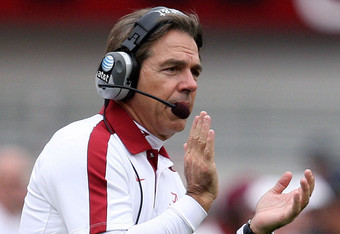 4th and 2 from the 27. Nick goes for it, and is late calling the timeout. 'Bama converts the first down.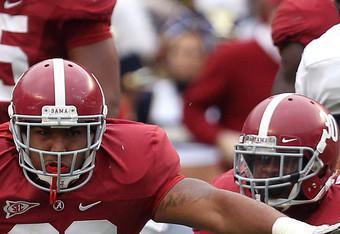 Nico Thorpe is down on the field. Injury time out.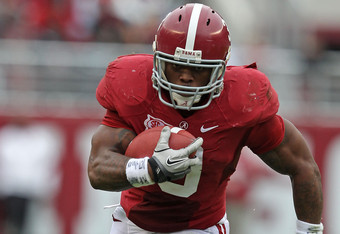 Trent Richardson, five-yard reception for his third receiving TD of the year. TOUCHDOWN ALABAMA!
Alabama 21, Auburn 7 with 9:11 left in the first half.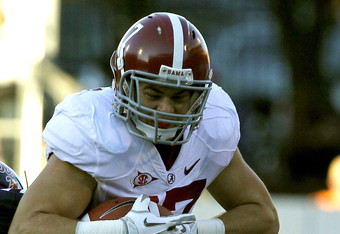 This is what I was looking for! McCarron to whoever is open for short gains, not just throwing to Hanks and Maze! We have critical completions to Bell and Smelley in this game, and it's nickel-and-diming Auburn all day long!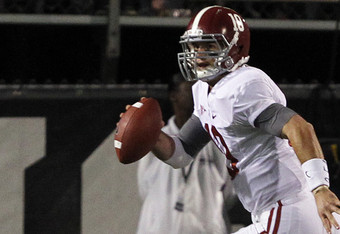 A.J. McCarron sacked; forced fumble. Recovered by Auburn in the end zone for a TD.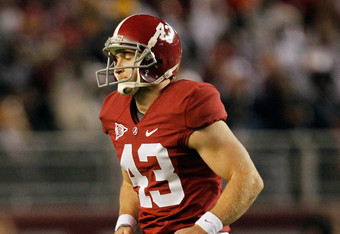 Very short kickoff by Cade Foster. Kicking into 10-plus mph winds is going to make a long day for the kickers.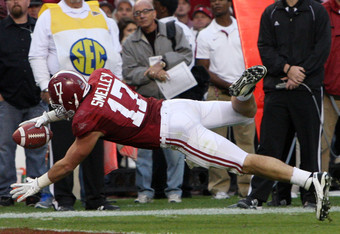 A.J. McCarron to Brad Smelley for a 36-yard TOUCHDOWN ALABAMA!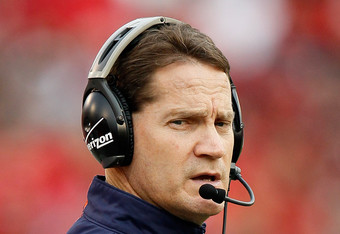 Timeout Auburn, clock at 5:22 in the first quarter.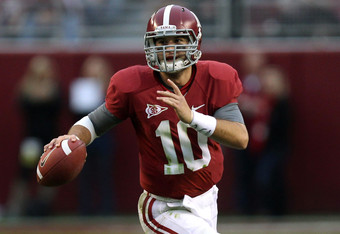 McCarron pass complete to Kenny Bell for 41 yards. TOUCHDOWN ALABAMA!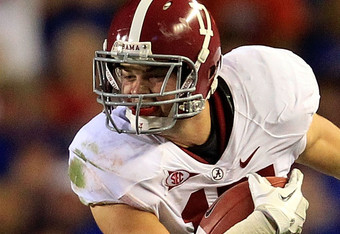 First two first downs of the game go to 'Bama on short passes to Brad Smelley.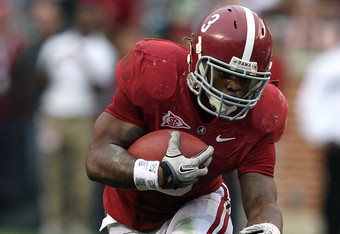 Jordan-Hare Stadium is sitting under a sunny 71-degree sky with winds coming from the SSE at 16 mph. This is a great day for 'Bama to get into the end zone to help the kickers.
Winds coming from the SSE will be crossing the field corner-to-corner toward the north end zone. That's too strong to be attempting any FG's outside of the 25 yard line for 'Bama. The 'Bama offense needs to run the ball down Auburn's throat. Auburn should go down without much of a fight if the 'Bama O-line plays to their standard.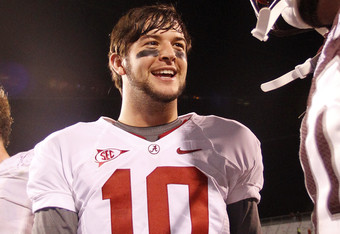 'Bama fans are looking for Saban to make better playcalling decisions, and looking for the offense to step into its early-season form. Trent Richardson will be looking for a Heisman, as this will be his last game to impress voters. 'Bama needs to have a dominating victory to maintain their No. 2 spot in the BCS while they sit out of the games on December 3rd.
Auburn gives up just over 193 yards per game on the ground. Richardson should be able to capitalize on that to the tune of 200-plus all-purpose yards with at least 130 on the ground. McCarron needs to hit his receivers between scrimmage and 25 yards out. The 35-plus yard deep ball has not been his specialty, and we don't need to rack up incomplete passes today.
This article is
What is the duplicate article?
Why is this article offensive?
Where is this article plagiarized from?
Why is this article poorly edited?

Alabama Crimson Tide Football: Like this team?