Tashard Choice Brings Little Value to Buffalo Bills and Fantasy Owners Alike
November 23, 2011
Elsa/Getty Images
Mark Gaughan of the Buffalo News was one person to report today that RB Fred Jackson may be out for the entire year. So, how did the Buffalo Bills respond? 
Well, according to Adam Schefter, they did something desperate.
Wednesday, Nov. 23 at 4:23 p.m. ET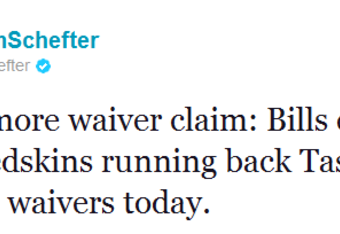 If that move in fact goes through, that would be Choice's third team this season.
So, it begs a few questions.
With Jackson Out, does Choice Have any Fantasy Value?
In a really deep league, maybe. Even then, you can probably stream in better backs. This is a guy who has totaled 82 yards rushing and 72 yards receiving this season. So, if you're thinking about making a claim on him, I would wait until he proves that he can deliver a good game.
Remember that C.J. Spiller is still the likely starter.
As the weather gets cooler, teams will begin to run a little more. That means that better options will be there every week to be claimed.
Will Choice Help the Bills Get Back into Playoff Contention?
In a word, no. The Bills have been fading with Jackson and his loss is only going to make things worse. Running the ball is a must through the Buffalo winter, and the Bills just don't have those guys.
Choice really can't be anything more than an insurance policy for Spiller. Sure, he can come in and have a big play or two, but he certainly doesn't make the team any better.
The Bills have been fading fast in recent weeks. Playing in the AFC East and an overall deep AFC, it's hard to call them a real contender, even if the numbers say that they are.
The Bills are 5-5 right now and would do very well to get to 7-9. With Jackson, it would be a rough road to hoe. Without him, their season is cooked.