Former WWE Divas Ashley Massaro and Sunny Involved in Fierce War of Words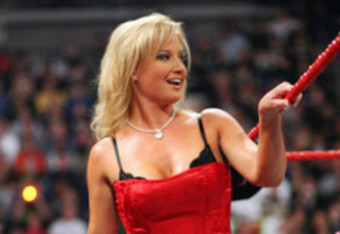 Sunny, mad at Massaro

As Diva-Dirt and other sites have noted, former WWE divas Ashley Massaro and Tammy "Sunny" Sytch have recently engaged in a fierce war of words through their Twitter and Facebook accounts.
The problems from the two apparently stem from Sytch, who was inducted into WWE's Hall of Fame earlier this year, feeling that Massaro did not show her the proper respect when the two attended the same wrestling event over this past weekend. Sytch, angered by what she percieved as the snub from the younger woman, bitterly complained on Facebook: "Ashley Massaro can kiss my hot ass…not once did she introduce herself to me. Not once and she dressed like a stripper."
While Massaro not going up to the veteran Sytch and introducing herself may not sound like a huge deal to most normal people, in wrestling it is the expected etiquette.

Indeed, refusing to adhere to this rule can rub certain older wrestlers the wrong way, as evidenced by the recent furor over former TNA tag team Generation Me not shaking everyone's hands and introducing themselves backstage when they had a try out match with WWE over the summer. WWE later parodied the hand-shaking scandal in a scripted segment with Kevin Nash on Raw.

More recently, current WWE champion CM Punk criticised The Rock for not taking the time to be polite to people in the locker room in his appearances for WWE this year.
For her part, Massaro, who was released from WWE in 2008 for unspecified reasons and has since indicated she is in interested in a return to the promotion, gave a long, rambling response to Sytch on her official Twitter account.

In the response, the former Diva Search winner frequently mocked Sytch's character as well as her struggles with her weight (due to various health problems, Sytch gained considerable weight when she stepped out of the wrestling spotlight after 2000, to the point she was almost unrecognizable from her peak years. She later lost the bulk of her weight):
Just a few words I'd like to share this may be a bit long so bear w me. When I arrived at wwe I ALWAYS greeted every single talent there w the utmost respect and made it a point to shake hands n greet everyone my entire tenure. NOW when some piglet talks smack abt myself n half the divas roster, and then gets bothered by the fact that I did not do same after she bashed myself and my friends, she can go eat another meatball sub n stay the f away from me. Do you honestly think I respect you after the things you said, well I dont n I hope I've made that clear. Mind your own life n ill do the same. You got a problem HIT ME UP! dont cowardly talk about me on ur Facebook or in interviews get a life you beached whale and stop with the jealousy cuz I see right through u. I love my life my fans my punx n my family. Your just pissed cuz the rest of us u tried to throw under the bus haven't gained 70 pounds. So hate on hater, I'll be happy living my life n laughing at ur poor attempts to make others feel bad. You make urself look so foolish talkin bad about others get some self confidence n maybe a diet. Lol
This is hardly the first time Sytch has gotten into arguements or taken shots at other women in the business.
Sytch, who really does need to stay away from her Facebook, has also trashed former TNA Knockout Lacey Von Erich for not earning her spot in wrestling, ranted against former attitude-era diva and longtime enemy Rena "Sable" Mero in 2009 and, in a comment that raised a lot of eyebrows due to Sytch's own past weight issues, slammed current WWE divas the Bella Twins last year for getting "chubby" over the holiday period and not being in shape.