Barcelona FC vs. AC Milan: Barca and Milan Put on Champions League Showpiece
November 23, 2011
Claudio Villa/Getty Images
Barcelona travelled to the awesomely daunting cathedral of Italian football to take on AC Milan at the San Siro. Both clubs came into the penultimate game of the group stages with good records—Barcelona winning three with one draw coming against Milan in a pulsating opener to the campaign that saw Pato silence the Nou Camp within a minute of kickoff with a beautiful solo effort, and Milan with two wins and two draws, the second coming in a surprising result away to FC Bate.
With Barca and Milan sitting first and second in the group respectively with ten points and eight points and FC Bate someway off in third place with two points, Barcelona only needed a draw to top the group, and with the added twist of the ever-controversial Zlatan Ibrahimovic facing up against his frosty old club, fireworks were a foregone conclusion.
Milan looked strong from the off with the only notable exclusion being Pato, so devastating in the first game. Barca would have to work extra hard if they were to dominate possession and from the deafening roar of the crowd towering over them, they must have already felt one man down. 
The first chance of the game fell to David Villa on the fourth minute, as he found himself with a clear strike on goal only to shoot way off target—his expression said it all. Milan knew they had to push forward and try to impose themselves and to their credit looked equally potent up the pitch, but not before Mark van Bommel found himself trying to defend a dangerous cross from Keita and under pressure from Xavi, planting the ball past Christian Abbiati and into the goal—0-1 Barca!
Game on.
It wasn't long, however, before Milan had their first real chance of the game—a clever through-ball from the lively Kevin-Prince Boateng found former Madrid striker Robinho with a tap-in opportunity, only for the diminutive attacker to put the ball over the bar—it should have been 1-1.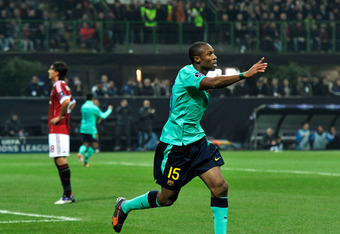 Claudio Villa/Getty Images
Barca pushed forward with with even more intent, now wanting to put more daylight between themselves and Milan, but it wasn't to be. A casually slipped-in ball by Clarence Seedorf found Ibrahimovic who neatly beat the onrushing Victor Valdes to bring the San Siro to its feet.
Messi was looking as sharp at the other end and found himself in a similar position to Robinho earlier and from close range saw his instinctive shot fly over Abbiati and skim the top of the post. The danger signs were present for Milan though, and when Cesc Fabregas was brought down in the box, a 50-50 penalty went Barca's way with Aquilani picking up a yellow card in the process.
Up stepped Messi and after his first attempt was ruled out, he powerfully struck the ball in at Abbiati's left post.
Alessandro Nesta followed up his compatriot with a yellow card for dissent on 30 minutes, while Villa brought a fine save from Abbiati to prevent Barca taking a two-goal lead. At the other end, Valdes was on his toes pulling off a good save from an Ibrahimovic strike. Messi was firing on all cylinders and on the 39th minute tested Abbiati to his fullest.
Boateng, not wanting to be overshadowed by the little Argentinian, brought a rash tackle out of Carles Puyol, who turned away in frustration knowing his name was going in the book.
Milan decided to bring on Pato for the largely ineffective Robinho as the second half got underway.
Messi made a good run on 51 minutes but ran into a difficult angle, hitting the side netting. This game was far from over, however, and an incredible piece of skill saw Boateng bring down the ball before passing it behind his own legs, beating Xavi and blasting the ball past Valdes' near post—Boateng is a big-game player and this was no exception. Unfortunately for Milan, it wasn't to last long as Messi sliced open Milan's back line for Xavi to put Barca back in the ascendancy.
Could Milan pull it back for the third time tonight?
Milan made another change with Daniele Bonera replacing the legendary-but-tiring Nesta and Pep Guardiola bringing on Alexis Sanchez for Villa. Sanchez almost instantly made an impact, bringing another fine save from Abbiati. Milan made their final change on 72 minutes with Antonio Nocerino coming on for former Barca player van Bommel.
Guardiola also decided to make his final change of the night, bringing on Pedro for Fabregas and the game settled into a lower tempo as Barca looked to seal the points.
The final whistle came after four minutes of extra time. Guardiola will now be able to concentrate on the league having secured first place and with a tough run of games going into the winter break including the Clasico trip to high-flying Real Madrid.