Missouri Impressive as CBE Champs, but Must Prove Themselves on Road
November 23, 2011
Jamie Squire/Getty Images
It's pretty simple:  The Missouri Tigers absolutely dominated the past two nights in Kansas City.
Missouri won the CBE Classic on Tuesday night, blowing out No. 18 California by a staggering 39 points.  This came a night after both teams blew out their semifinal opponents.  Cal rolled over Georgia, 70-46; Missouri beat Notre Dame 87-58. 
For Missouri, winning two games against two very good teams by a combined 68 points is probably the most impressive two-game showing by any team thus far in college basketball.  It could very likely launch the Tigers from their current No. 21 ranking all the way into the Top 10.
However, as tempting as it is, don't anoint the Tigers as a Final Four team just yet.  Even with the past two nights' performances taken into account, it will be a while before we learn just how good Missouri actually is.
How long exactly?  At least until Missouri begins playing games outside their home state. 
As much as any team in college basketball—including the likes of Duke, Kentucky, or Kansas—Missouri gets a huge boost from their home (or at least close to home) crowd.  Their vicious defensive pressure-turnover-fastbreak cycle only gets more intimidating for opposing teams when they have to battle the constant crowd noise.
Over the past three-plus seasons, Missouri is a combined 53-5 in regular season games played in the state of Missouri.  They have lost just three games in that time to teams not named Kansas.  It is a very impressive feat, considering the quality and depth of the Big 12.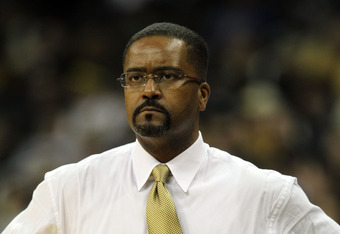 Jamie Squire/Getty Images
However, get Missouri on an opposing home court or a true neutral court (not Kansas City), and the results are significantly different.  Last year, the Tigers won a grand total of two—yes, two—games outside the state of Missouri.  If not for a late season victory at Iowa State, it's very likely their road ineptitude would have kept the Tigers out of the NCAA tournament altogether. 
Instead, Missouri did get in as a No. 11 seed and faced Cincinnati in the Washington, DC pod.  The result was a 15-point loss to the Bearcats and a very quiet exit from the Big Dance.       
If Missouri is going to make a significant push for the Big 12 Championship—which many think they can—they will have to improve their play significantly on the road.  Most of the core of this year's Tiger team was there last year to experience the road struggles.  Seniors Marcus Denmon, Kim English and Ricardo Ratliffe, along with junior Michael Dixon and sophomore Flip Pressey will have to draw off those experiences and make the necessary adjustments to develop some consistency away from the raucous home court atmospheres of Columbia and KC. 
Missouri still has over a month before they have to play a game outside the state.  They play at Old Dominion, never an easy team to play, at the end of December.  Shortly after that they begin Big 12 play, with their first conference road tests coming at Kansas State and Iowa State, respectively. 
After those games, we may learn a little more about where this year's Missouri Tiger team actually stands.  Until then, fans should enjoy the blowout wins, but keep expectations tempered.