Iron Bowl 2011: Will Auburn Burst Alabama's BCS Bubble?
November 23, 2011
Butch Dill/Getty Images
Are the Alabama and Auburn fanbases at the epicenter of the most explosive and fiercest rivalry in all of American sports?
More importantly, as impartial observers and in terms of ferocity spewed forth during radio call-in shows, do you prefer Alabama's or Auburn's most loyal fans for entertainment?
Whatever you believe, the seriousness, closeness and ferocity of this fan-based rivalry is difficult to overstate. There has, however, been more than 100 years of hostility over football between these two schools that are less than a two-hour drive apart.
Most of the respective fanbases are 100 years apart and counting. To me, the Iron Bowl can be counted on as one of the top two most eminent college football rivalries. Alabama leads the series 40-34-1.
There was a 40-year gap (1907-1947) when the teams didn't meet due to antagonism. The now-annual game is named after Birmingham's celebrated role in America's steel industry.
The steely fanbases battle over almost everything, including stadium capacity and entertaining insults. This year's battle on the field will take place in Auburn at Jordan-Hare Stadium. I'll say it's a draw, no winner, in terms of dead-panned yet entertaining insults and antics.
Yes, this is without question the most explosive fan-based rivalry in America. The rivalry is beautiful, but it's so intense that it could be deadly—especially for trees. God forbid someone, a human, gets their brains beaten out.
As Martin Khodabakshian's film: Roll Tide/War Eagle, on  ESPN Films points out, this battle is often like the Israelis and Palestinians. That might be overstating it a bit. After all, no Hezbollah rockets have been launched in Alabama.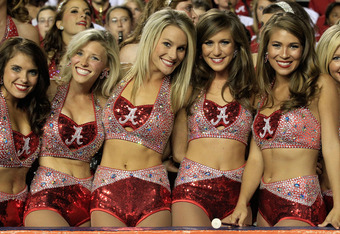 Sam Greenwood/Getty Images
Degrading verbal attacks, though, are consistently launched. The matchup only lasts three or so hours per year on the field. Off the gridiron, however, the enmity and high emotions rage 365 days per year—366 in leap years.
This year's game will feature the No. 2 BCS-ranked team against the defending national champions. While Auburn appears to be out of the running for back-to-back national titles, they'd love to kill Alabama's BCS National Championship Game hopes.
If the Tigers pull off the huge upset, then it would give new credence to what I heard an Auburn fan say to her Tide antagonists as part of the film.
Yelling in a high-pitched, fiery and frenzied tone on the air, she told her enemies to kiss her "blooming orange" you-know-what. State of Alabama accents racked with football heat could make radio airwaves catch fire.
On the other hand, I heard an Alabama fan in the film calmly state Auburn isn't considered 'Bama's little brothers. Instead, the caller claimed, the Tigers are considered Alabama's little sisters when it comes to football. That's not exactly pouring water on the fire.
Another not-so-watered-down caller proclaimed he didn't even care about the possible legal ramifications in the case of his alleged actions against Auburn tradition. You see, apparently some Auburn fans had placed a Cam Newton jersey on Paul "Bear" Bryant's statue after last year's game.
This, of course, could be considered tantamount to blasphemy to some 'Bama braves.
The 'Bama fan, the caller featured in the film, declared he'd retaliated by poisoning two Toomer's trees. When the host pointed out that it was illegal to poison trees, the caller grew even more defiant. That's a 'Bama complex if there ever was one, the now-apologetic caller admitted.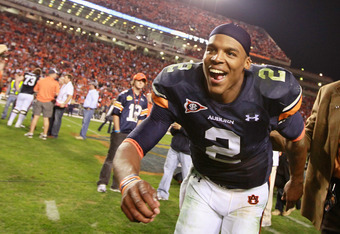 Kevin C. Cox/Getty Images
Interestingly during the film, Charles Barkley said Auburn has to defy their inferiority complex when it comes to Alabama. Barkley is considered, to himself and by Bo Jackson, to be Auburn's No. 1 athlete ever. They're both apparently considered to be little sisters by some Alabama fans.
But Alabama had beaten Auburn nine times in a row before Jackson came on the scene. The little sisters have beaten big brother a lot since then. Further, Bo cheered Newton during last season's national championship and Heisman chase.
While Auburn has three Heisman winners—Pat Sullivan, Jackson and Newton—Alabama has one. Running back Mark Ingram won it in 2009-10. Sadly, for 'Bama fans, Newton probably sewed up the Trophy with that absolutely incredible victory at Tuscaloosa last year.
Now, there is another Heisman Trophy candidate on display in this year's Iron Bowl. Trent Richardson could make sure the game won't lack any awarding moments. Richardson should find room to run much more than he did against LSU.
Auburn, meanwhile, has to get their running game going if they want to be rewarded. Some of the most rewarding games, for fans outside of the state of Alabama to watch came in 1964, 1967, 1981, 1982, 1989, 1994, 2009 and 2010.
And some other very notable names in the rivalry include Joe Namath, Ken Stabler, Jason Campbell, "Cadillac" Williams, Tracy Rocker and Pat Dye.
There is a rocking tradition of the losing school's student government president "dying" by reciting the winning school's fight song. Now, it's time for my prediction on which university will be reciting the other's song.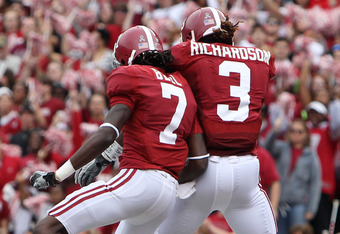 Mike Zarrilli/Getty Images
Prediction:
The "War Eagles" (7-4, 4-3) lost big to LSU, Georgia and Arkansas and by 14 to Clemson. The Roll Damn Tiders, meanwhile, have only lost by the hair of their field goals to LSU.
That being said, past accomplishments won't matter in this game. I believe Auburn will shock the SEC and pull off the victory, thereby bursting the Tide's BCS bubble.
Notes: Auburn won six in a row from 2002-2007 and are 7-3 against Alabama since 2001.
 Contact Lake Cruise: Lakecruise@att.net