Kyle Orton: 5 Teams That Should Be Vying for Denver Broncos QB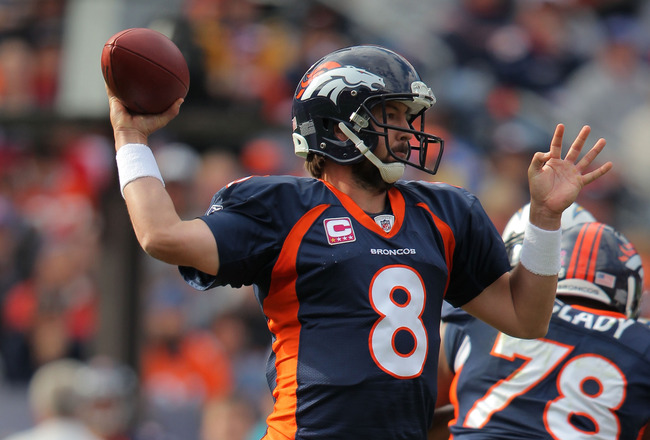 Doug Pensinger/Getty Images
With the recent news of Kyle Orton being released, there is plenty of excitement for teams around the league.
Obviously, teams who already have great quarterbacks in the lineup are going to ignore this news, but there are a few teams that would do some damage with picking him up.
Orton offers a pretty decent talent that was put in an unfortunate spot. His Denver Broncos team struggled for a few games, and the fans wanted to see what Tim Tebow (then-backup quarterback) could do. To Orton's dismay, Tebow performed in a way that brought more wins than he could.
This is not to say that Tebow is great or did a fantastic job, but Tebow did bring in wins that Orton could or did not.
Although Orton is not a John Elway or a Peyton Manning, he does offer pretty good accuracy, decent arm strength and knowledge of the starting quarterback position.
Teams that are in need of a quarterback with those qualifications, look no further.
Chicago Bears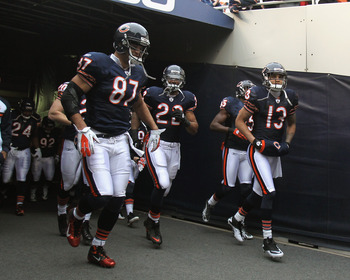 Jonathan Daniel/Getty Images
The simplest choice has to be the Chicago Bears.
Due to recent injury to Jay Cutler, the Chicago Bears are in need of some help. With Orton being a former product of coach Lovie Smith, this looks like the perfect patch job that the Bears were looking for. Whether that was what Orton was looking for or not is questionable.
Overall, Orton was not too bad in his stint with the Bears. In 2008 (his most recent year with Chicago), he threw for 2,972 yards while throwing 18 touchdowns and 12 interceptions. This was in a span of 15 games, which is the same amount of games he played in 2005.
Although the 12 interceptions is pretty high, his performance and resume clearly has more ground than the current quarterback of the Chicago Bears, Caleb Hanie.
If any of the readers are asking, "Who's Caleb Hanie," my response is, "exactly."
Detroit Lions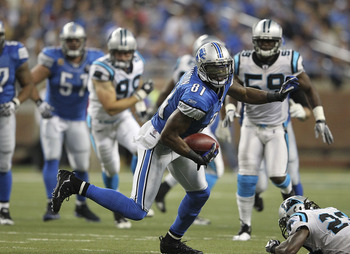 Leon Halip/Getty Images
The Detroit Lions are pretty good on all facets of the game. Defensively, they are explosive, and on offense they have Matthew Stafford and Calvin Johnson.
However, as good as Stafford has been, one of the issues surrounding him is his longevity. Stafford has a tendency to get injured, and once that happens, the offense tends to spiral downwards quickly.
Orton could come in as a reliable backup who would maintain stability on the field. Especially for a team like the Lions, who have the potential to make a serious run into the playoffs as a wild card, losing a game would not help their chances.
Winning the division is looking difficult due to the streaking Packers, but the wild card birth is very plausible.
If Stafford gets injured and they start losing games, it could mean the end of the season for this talented group. Picking up Orton would help secure at least a bid into the playoffs if anything were to happen to Stafford during the regular season.
San Francisco 49ers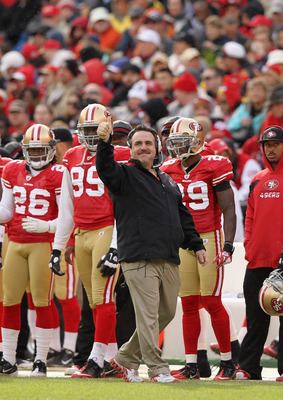 Ezra Shaw/Getty Images
This one is not necessarily for the starting job, because Alex Smith has been doing a pretty good job over there in the Bay Area. However, Kyle Orton to the San Francisco 49ers sounds like a pretty good plan.
Orton allows the coaching staff to have a slightly easier frame of mind when having to deal with the question of "what happens if Smith gets injured?" He would be a pretty good backup, and if anything were to happen with Smith, Orton could put up similar numbers due to the game plan that the 49ers have in place.
We can never know what would happen due to speculation, but Orton seems to be a better option as a backup than the current backups in place in San Francisco (Colin Kaepernick and Scott Tolzien).
Due to the 49ers' excellent season thus far, it is hard to see the coaching staff taking any risks for the future of the season. If they are smart, they will try to pick up Orton to have a reliable backup in the system.
Seattle Seahawks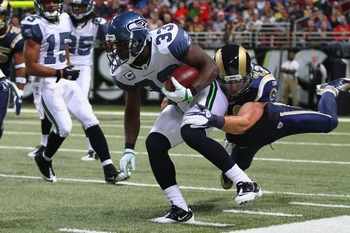 Dilip Vishwanat/Getty Images
Surprisingly enough, the Seahawks are in second place in their division and fighting as an underdog. They picked up some pretty good wins this season, beating the Baltimore Ravens and the New York Giants.
With the exception of maybe Arizona and Cleveland, they have had one of the hardest schedules to play in all of NFL. They have already played San Francisco, Pittsburgh, Atlanta, New York, Dallas and Cincinnati. A schedule like this really does not help a team that is just starting to get its legs underneath them. The quarterback situation is not helping either.
Although the team does have a designated starting quarterback, Pete Carroll made no indication that this was a permanent stay. In times of struggle, he has been known to put in the backups just to see what happens.
The current quarterback is Tarvaris Jackson, followed by Charlie Whitehurst in the second string. Jackson has currently only thrown for 1,921 yards, seven touchdowns and 11 interceptions. Needless to say, he is struggling.
Orton could come in and start for the Seahawks and put up better numbers than Jackson has (in theory). What else do the Seahawks have to lose? Picking up Orton could help them, and maybe he exceeds expectations.
Houston Texans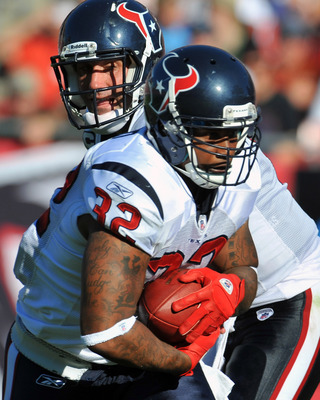 Al Messerschmidt/Getty Images
The Texans recently lost out on their Pro Bowl caliber quarterback Matt Shaub. This is a devastating injury this late in the season, especially with their position in their division.
Now comes Matt Leinart. He was a stud in college, but never managed to make it as a big time NFL quarterback. This will be his first test to silence his critics.
This is his first year with the Texans, and he is really being tested for his money. There is a lot of pressure on him to do well and keep this team in first going into the playoffs. Obviously, there is no guarantee that he succeeds in this feat. However the Texans have hope in him that he will be able to get the job done.
But if Leinart's history tells fans and coaches anything, it is that he will struggle. He has had a tendency to not put in as much work and effort into the position at the NFL level. If this is true and he starts to struggle, it would be nice to have a guy like Orton ready to take over.
Orton is definitely the type of player with a high enough caliber that can come in and maintain a team's success. Especially with a team like the Texans whose receiver core is above average, his transition would not be as hard, where as going to a team such as the Seattle Seahawks might cause a tougher adaptation.
Keep Reading