Alabama vs. Auburn: Who's a Better Prospect, Trent Richardson or Michael Dyer?
November 23, 2011
Kevin C. Cox/Getty Images
This Saturday's Iron Bowl battle between Alabama and Auburn will feature two of the best running backs in college football—Alabama's Trent Richardson and Auburn's Michael Dyer.
Richardson and Dyer have already done enough to earn elite status in the college ranks, and both of them look like they have the potential to be future Top-10 NFL draft picks.
Richardson is the one who has reaped all of the acclaim this season. He's rushed for 1,380 yards and scored 22 touchdowns in his first year in place of former Heisman-winning teammate Mark Ingram.
The powerful junior back is on his way to winning his own Heisman this year. If he decides to leave school early, there's little doubt that he'll be the first running back off the board and end up going somewhere in the Top 10 of the 2012 NFL draft.
Dyer, who is only a sophomore and not eligible for the draft for another year, has put together a strong campaign of his own this season. The 21-year-old has rushed for over 1,000 yards for the second year in a row. What's more, he's doing it behind a very inexperienced and often mistake-prone offensive line.
The talented sophomore looks like he'll be making his own run at the Heisman next year, and it wouldn't be surprising to see Dyer inherit the title of "College Football's Best Running Back Prospect" if Richardson decides to leave after this season.
Yes, there's no question about it, Richardson and Dyer are two special physical specimens that you don't see come along at the running back position very often.
Richardson has the kind of rare blend of size, speed, power and balance that only comes along every few years.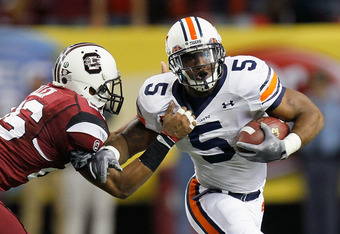 Kevin C. Cox/Getty Images
Dyer, while not as big as Richardson, also possesses that same speed-power-balance combo that you look for in a running back in today's NFL.
Some Auburn and Alabama fans get caught up in debating which back is better, but it's basically pointless. Richardson and Dyer are both special players and both will have their proper time in the sun.
2011 has belonged to Richardson, and he's the one that's going to be showered with praise for the foreseeable future. However, once the junior makes the decision that it's time to move on to bigger and better things, it will then be Dyer who takes over as the king of the SEC.
Sure, he'll have competition for SEC supremacy from the likes of Knile Davis and Marcus Lattimore, but Dyer will also have a more experienced and overall better offense surrounding him at Auburn. That should really benefit him and allow him to shine in 2012.
Right now, it's just impossible to say that any other back in college football can compare to Richardson. That being said, if there's any back that's definitely shown the potential to be as good as him one day, it's Dyer. 
This will likely be the last time these two talented young bulls go at it head-to-head in the Iron Bowl, but don't worry, we'll be seeing plenty of rushing battles between these two in the NFL some day soon.