NFL Meets TV: Which New TV Show Represents Your Favorite Team?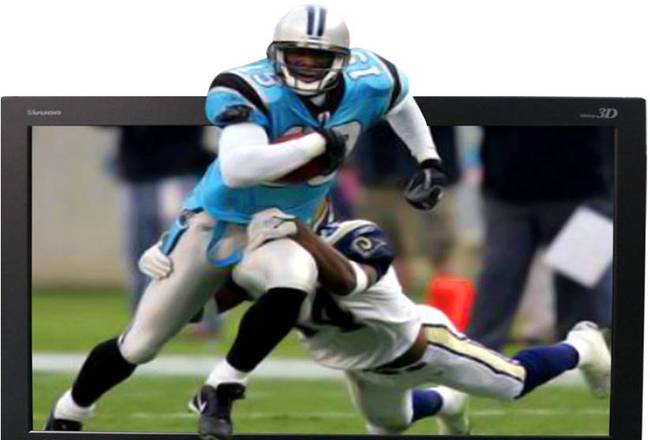 With Thanksgiving a day away, it's time to celebrate the relationship between football and your TV.
You sit in front of it for hours every Sunday and a few more on Thursdays and Mondays. It heats up and gets overworked, but it keeps on ticking because the TV is loyal and it knows how much you need it on Sundays.
But the bond between TV and football goes deeper than just Sundays. Every year as new TV shows get thrown into your weekly schedule, networks pitch them to you like analysts sell their predictions in August. Which shows have the best chemistry, the best framework, the best execution or the true "dominant element."
And just like with NFL teams, sometimes those shows pan out, and sometimes they crash and burn.
So in the spirit of celebrating connections, it's time to see how some of TV's new shows pair up with their NFL counterparts.
Philadelphia Eagles = Terra Nova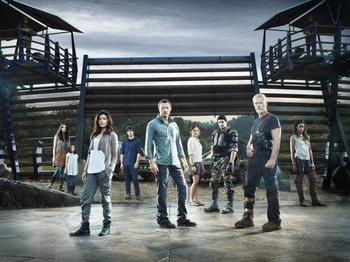 Is this a dream team? Not likely.
It had Steven Spielberg.
It had dinosaurs.
It had guns and time travel.
And it had a family that just didn't work together.
But Terra Nova and the Eagles were pimped so heavily at the beginning of the year. They had everything you could possibly want; all the elements to create a masterful finished product. But something happened on the way to dominance.
It just all didn't go well together.
Whether it was poor writing or terrible casting (both in terms of family members and trying to convince the audience that an offensive line coach could be a defensive coordinator), both juggernauts really missed the mark.
Yet, even as they continue to struggle, people keep trying to convince us that they're just waiting to click and explode. I'm not buying it.
St. Louis Rams = Playboy Club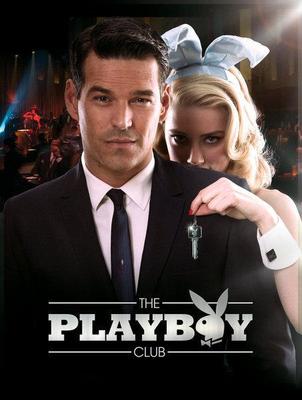 Was this even a show?
Sometimes things are over before they even start.
Such is the case with the St. Louis Rams' hopes in the NFC West and The Playboy Club's chances to stick on NBC. Before anybody could even blink, both were completely gone.
There are occasions where no amount of planning and preparation can overcome major flaws, like a lack of talent in major areas: principal characters or players on the offensive line and in the secondary. It allows everybody to see through the mystique that was created around a product and identify the disjointed mess that it really is.
At least "fans" of The Playboy Club were put out of their misery early.
Chicago Bears = Two Broke Girls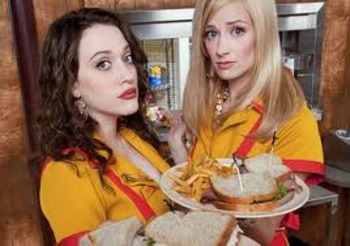 Really, this is a good show? Come on now!
At times, success can boggle the mind. There are some things that just don't seem to add up, that unexpectedly work.
Both Two Broke Girls and the Chicago Bears have one legitimate star: Kat Dennings and Matt Forte, but neither one of them really uses that player to the best of their ability. Why is Kat parading around in an awkwardly fitting, hideously yellow shirt and why is Matt Forte rushing 12 times for 16 yards in ANY game? Yet, both performers find a way to deliver on any given week.
But how the other elements wind up working is shocking to me. How do the Bears compete with a WR corps that consists of Earl Bennett, Johnny Knox, Sam Hurd and Devin Hester, who is really just a return man? They're 17th in the NFL in Offensive Yards and 25th in the NFL in Defensive Yards and they are one of the best teams in the NFL. How does that work?
And have you watched an episode of Two Broke Girls? It's terrible. The acting is suspect, at best. The jokes are forced and the plot lines are often annoying. Yet somehow, it's the number one new comedy on TV.
Somethings just don't have an explanation.
San Francisco 49ers = Revenge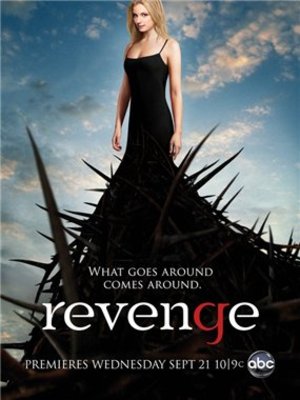 Revenge has come out of nowhere as one of the most watched shows on TV
You don't need to re-write any crazy formula in order to achieve success. Sometimes just sticking with what has worked in years past is the best way to win out in the long run.
It's certainly worked for the 49ers and Revenge. Both have come out of nowhere to achieve pretty impressive success by sticking to the basics: revenge and drama on one hand and defensive and ball control on the other.
There is nothing crazy, nothing innovative and nothing disappointing. As Revenge continues to climb in the ratings and the 49ers continue to rack up wins, it's maybe the best argument for keeping it simple.
Houston Texans = Person of Interest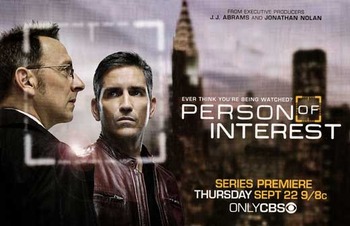 All the elements are there. Sometimes
So close. All the elements are there for success, if they would just come together on a consistent basis there would be no stopping the rise to the top, but it just never seems to work out that way.
Person of Interest has J.J. Abrams, Michael Emerson and Christopher Nolan's brother, Jonathan (author whose short story was the basis for "Memento") behind it, that's more talent than most networks can put together on any full night. There should be no reason that this show doesn't take off. Yet it seems like the parts never seem to match up on a consistent basis. The plot is too heavy or the acting is too forced or the dialogue is too explanatory.
Similarly in Houston, the Texans continue to be met with resistance in their rise to the top despite a crazy amount of talent. First Andre Johnson goes down. Then Mario Williams. Yet, the team still soldiers on. Now, they lose Matt Schaub. There just seems to be something preventing this team from putting it all together at one time.
It's a shame. In both situations.
San Diego Chargers = Up All Night
Is this a good show? I'm actually not sure
Is it successful or terrible? Funny or stupid? Worth keeping faith in or ready to be given up on?
Those are questions every fan asks themselves after watching an episode of Up All Night or a Chargers game.
Both have elements that should work together. Phillip Rivers, Vincent Jackson and a solid running back duo. Maya Rudolph, Christina Applegate and Will Arnett. But in both cases, the results are just never quite there. Even in victories, you're never 100 percent confident that long-term success is at all possible.
People are going to keep believing because of the names attached and their past successes, but maybe it's just not a good thing to put your hope in.
NY Jets = X Factor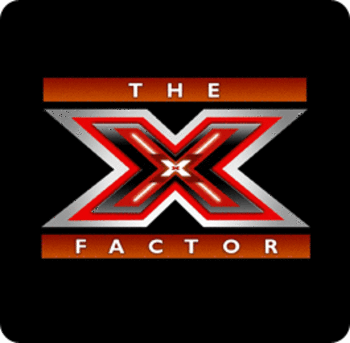 It's in your face. All the time.
No matter where you turn, it's there. It puts itself in your face whether you like it or not. It talks about itself all the time. It tells you how it's going to take over. And it keeps talking despite modest results.
Both the NY Jets and X Factor were preseason favorites. Not so much because everybody deemed that they would be, but because they both told us that it was the case. They had talent, brash confidence and charisma to spare.
But all the confidence in the world can't cover up Mark Sanchez or terrible Pussycat Doll judges and both have limped through the beginnings of their seasons.
Yet, they are still in our faces and they will continue to be until the end because, whether you like it or not, they'll perform just well enough to stay relevant and as long as that's the case, they'll never abandon their claim to the throne.
Cincinnati Bengals = Allen Gregory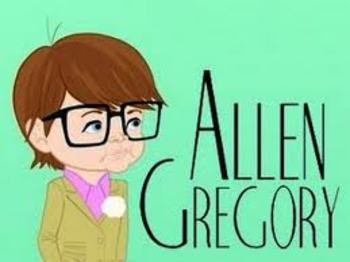 Quietly a successful product
It took a while for anybody to start talking about two of the surprises of the season, yet both Allen Gregory and the Cincinnati Bengals are quietly proving that they have staying power.
Behind the talents of Jonah Hill and Andy Dalton, both products just go about handling their business despite the talent in their divisions. Allen Gregory holds its own against long-time powers like The Simpsons and Family Guy, while the Bengals fight tooth and nail against the Ravens and Steelers.
No, they might not be at that level yet, but they're not getting blown out. They have the pieces to make a long run of success.
Denver Broncos = Grimm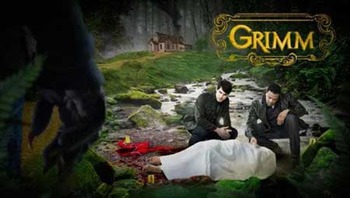 Sometimes you just need good ol' fashioned fun
It's not always pretty to watch and sometimes it makes you embarrassed to admit you're enjoying it, but in the end, isn't success really the only important thing?
Both Grimm and the Denver Broncos can sometimes make you feel ashamed for keeping the TV on. Grimm has some pretty bad acting and plots that you can see coming a mile away. Denver has a quarterback that makes some of the worst throws imaginable and runs an offense that sticks to a pretty basic gameplan.
But in the end, when the screen turns black, you've enjoyed yourself. Even if you're not sure why.
New York Giants = Borgia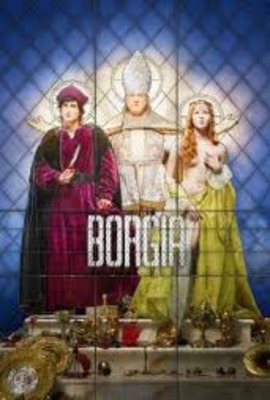 No, the OTHER Borgia
It can sometimes be frustrating to be known as that other team. But that doesn't always have to mean inferiority.
Both the Giants and Borgia were overshadowed this season by more hyped products with the same name. However, both the Jets and Showtime's The Borgias have nothing on the overall talent of their counterparts.
The Giants have seasoned veterans like Eli Manning, Ahmad Bradshaw and Justin Tuck who simply know how to win. Likewise with Borgia, which boasts John Doman in the lead and Tom Fontana as it's creator (also known for "Oz").
Although the Giants live in the shadow of the flamboyant Jets and Borgia is a European-produced show that is only available in the states streaming on Netflix, both products are far superior to their competition.
Sometimes that's all that matters.
Oakland Raiders = the Ringer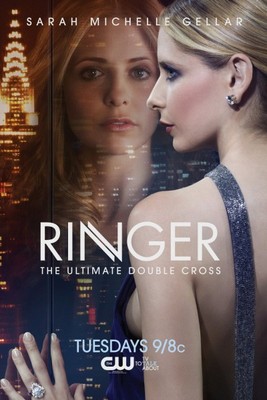 Why am I supposed to believe she's a star?
Despite how often it's said, people still try to teach old dogs new tricks over and over again. Just because something had success years ago, doesn't mean it can still be counted on to carry the load. Yet, there are some people that just won't give up.
Both The Ringer and the Raiders decided to unearth some old "superstars" in order to help lead them to the promised land. Bringing Sarah Michelle Gellar and Carson Palmer back from obscurity and putting them front and center in a quest to achieve success.
Only there is something they forgot: Those two aren't stars anymore and haven't been for a while now. Sure, Gellar dominated TV as Buffy the Vampire Slayer, but that was a decade ago, and Carson Palmer hasn't really been the same QB since Pittsburgh knocked him out of the playoffs.
Yes, they can both still contribute, but if you're counting on them to lead you, you're putting your eggs in the wrong basket.
Detroit Lions = American Horror Story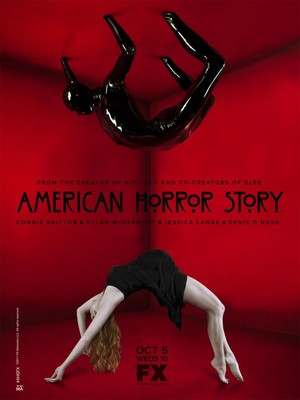 Where did this come from?
Sometimes elements can work together in a way that sets your product off a like a rocket. It takes people by surprise, has them talking and wins over hearts in mere seconds. But that doesn't always suggest staying power.
American Horror Story boasts scares and thrills galore, but it also pushes the boundaries and TV and offers up a really weird character in a black, leather body suit.
The Lions have a fragile QB, a fragile RB, a temper-fueled defense and one solid receiving target. It's been enough to win them games so far, but not enough to make them seem really consistent.
Both products are great stories and really fun to watch, but I'm not really sure if they have the staying power to keep up their love affair with the public throughout the rest of the season.
Cleveland Browns = Whitney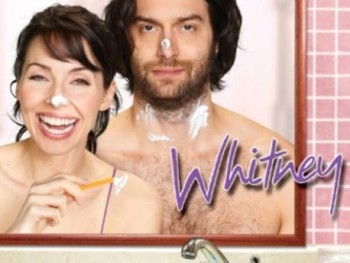 Just awful
I don't know how many times I heard during the summer that these were going to be a success. They had the tools to really make an impact and be breakout stars.
But sometimes you can't talk a turd into being anything other than a turd.
The elements are not there for Whitney or for the Browns. There is simply not enough talent. No matter how much you want to try and talk people into believing that something is going to work, at some point you have to stop talking and deliver. And these two aren't capable of that.
Pittsburgh Steelers = Hell on Wheels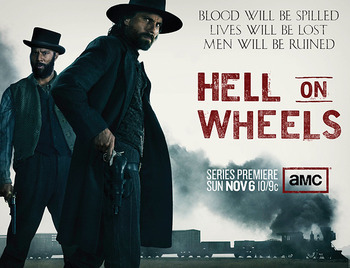 Destined for success
You stumble out of the gate and people are ready to write you off.
You're too old-fashioned. Too slow. A thing of the past.
But as they keep talking, you just keep getting better and better. Then all the sudden, when they shut their mouths for a second, they see that you might not be so bad after all. In fact, you might actually be pretty damn good.
There is nothing innovative about Hell on Wheels or the Steelers. Their products might be a bit old-fashioned and they might not be re-inventing the wheel. But who says you need to in order to be successful. All you need to do is stick to your guns and do what you do well.
Then you quietly rise to the top.
Washington Redskins = Free Agents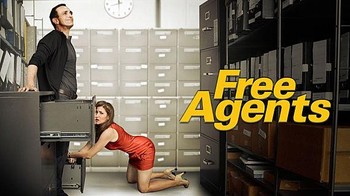 Please, no.
You don't take supporting characters and make them stars.
You don't let Rex Grossman, John Beck and Tim Hightower lead your team.
Who ever actually thought these things were going to work out?
Green Bay Packers = New Girl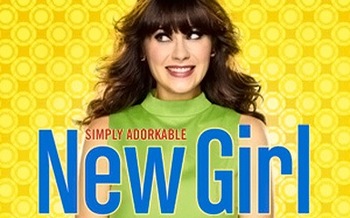 Amazing
Simply the best thing going right now.
Not only does each have one major star, Aaron Rodgers and Zooey Deschanel, but they each boast a supremely talented supporting cast. They can both do no wrong, and I don't see how they get knocked off their respective thrones at any point.
Keep Reading