Green Bay Packers vs. Detroit Lions: Spread Info, Line and Predictions
November 23, 2011
Kevin C. Cox/Getty Images
The Thanksgiving Day game between the Green Bay Packers and Detroit Lions has been circled on calendars for quite some time now.
Detroit got off to a fast start, cooled down, but seems to have found themselves again. The Packers, defending Super Bowl champions, have won 16 straight games dating back to last season.
At 10-0 and out in front of the entire league, Green Bay is talented enough to go unbeaten the rest of the way.
The Lions sport a quarterback who is second in touchdown passes only to the Packers' Aaron Rodgers.
They think they have enough firepower to knock off the Packers and this game should be an exciting one to watch.
Where: Ford Field; Detroit, Michigan
When: Thursday, Nov. 24 at 12:30 p.m. EST
Watch: FOX
Spread: Packers -6.5
They haven't been great against the spread this year but they've been good. At 7-3 ATS they're one of the better teams in the league.
The half point is key right now. Green Bay has had a few wacky scores this year and being able to score a late touchdown, or hold off Detroit from charging for a late score, is a welcomed blessing.
Be thankful for the half point and take the Pack.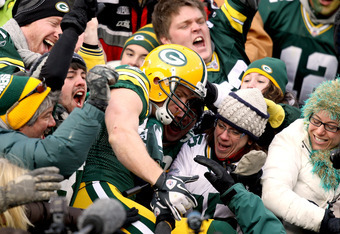 Matthew Stockman/Getty Images
Over/Under: 55.5
Over, over, over. All day. This won't be a defensive struggle. The two quarterbacks have thrown a combined 56 touchdowns on the season and both defenses are susceptible in the air.
Look for this to be a Turkey Day shootout.
Key Injuries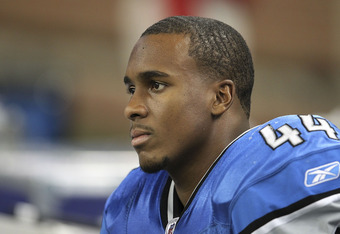 Leon Halip/Getty Images
Packers
Greg Jennings, WR - Probable
Lions
Jahvid Beset, RB - Doubtful
Fantasy Big Plays
Start 'Em - Matt Stafford, QB, Lions
Whether he's up early or charging late, Stafford's play will be key for the Lions' chance for success. Expect him to rise to the occasion and find the end zone a few times.
Start 'Em - Jordy Nelson, WR, Packers
Nelson has quickly become Rodgers' go-to man when defenses focus on Jennings. He used to just be a big-play threat, and still is, but has also become a reliable target for more than a few catches per game.
Sleeper - Kevin Smith, RB, Lions
The Lions don't run the ball very well without Jahvid Best, but they could sneak a few big runs on the Packers defense with the right play calls. He's taken over the role from Mo Morris.
Keys to Packers Win
Aaron Rodgers. As long as he's on the field this team has a chance to win football games. He's been absolutely brilliant so far this year and we shouldn't expect that to change against a less than stellar Lions defense.
Detroit thrives on turnovers and Aaron Rodgers won't give them many opportunities to make something of that.
Keys to Lions Win
Weather the storm. The Packers are going to score points. It is inevitable. The Lions just need to be able to bounce back against it score points of their own.
They'll have a raucous home crowd at their back and it will be up to Stafford to keep Green Bay's defense off balance.
The Lions offense should be able to make plays, they just cannot get overwhelmed early.
Prediction: Packers 38, Lions 28