2012 NFL Mock Draft: Possible Destinations for the Top QB Prospects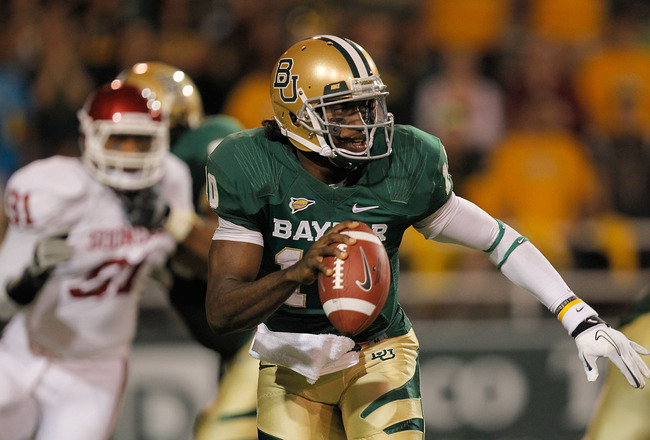 Sarah Glenn/Getty Images
As the NCAA regular season draws closer to an end, the NFL draft combine seems like it's just around the corner.
This season there happens to be a good stock of quarterback prospects, some more pro-ready and talented than others, but many of them have a good shot at making an NFL squad and competing for a job, whether that's as a starter or a backup.
I have stockpiled a list of 10 of the best quarterback prospects out there who I believe will make the biggest impact in the NFL.
We know that Andrew Luck is almost a guaranteed No. 1 pick, but what about everyone else? Where will Robert Griffin III fall after he has proven to be more than just a "fast quarterback?" First round? Top 10?
We shall see.
Andrew Luck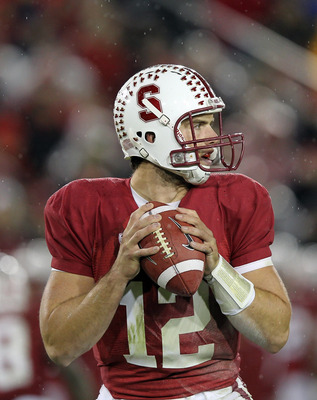 Ezra Shaw/Getty Images
Round: One
Pick No.: One
Destination: Indianapolis Colts
As if there's any doubt that Andrew Luck will be the overall No. 1 pick. The only thing that isn't entirely set in stone is what team will be at the top of the draft (and consequently, at the bottom of the league).
Still winless on the year, it would seem as though the Indianapolis Colts are making a strong case for receiving the first pick. There has been a little bit of controversy over whether or not the Colts would use this pick on Luck, being that they have one of the best QBs in the NFL in Peyton Manning, but I'm not buying into that.
Manning is injured and getting old. Even if he comes back from his injury without any problems, how many really good years does he have left in him? By adding a quarterback like Luck, the Colts would be ensuring their future whether or not Manning is able to stick it out.
Even if the Colts are entirely impervious to the idea of keeping Luck while Manning is still there, drafting him is still the smartest decision. He would become the best trade bait the league has seen in awhile. Teams will be clamoring over Luck, as he figures to be one of the best quarterback prospects the league has seen in years.
There's no doubt that Luck has the ideal size (6-foot-4, 235 lbs) and arm strength to be a great quarterback, but what really impresses me is his decision-making and all-around football IQ. Luck has thrown 31 touchdowns this season to only eight interceptions while completing just over 70 percent of his passes, and he does this without an elite receiving corps.
I would like to see how Luck does at the combine, but I am about 99.9 percent certain Luck will be the most impressive quarterback to come out of this class.
Robert Griffin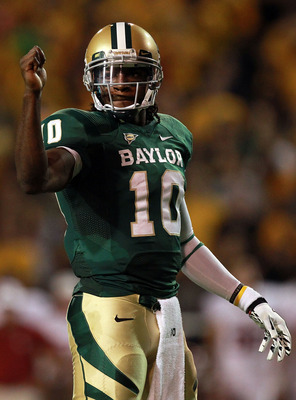 Ronald Martinez/Getty Images
Round: One
Pick No.: Five
Destination: Miami Dolphins
So maybe this is a bit of a reach, as most scouts seem to believe that USC quarterback Matt Barkley is the second-best quarterback prospect in this draft. However, I think what Robert Griffin III has shown this year has proved he has all the intangibles to be a great QB at the next level.
Both Barkley and Griffin III are built similarly (somewhere in the 6-foot-1-6-foo-2, 220-pound range), and both possess strong arms. Griffin III was able to highlight his arm last weekend in Baylor's huge win over Oklahoma, as his receivers continually got open down the field.
What Griffin III definitely has on Barkley, though, is speed. The guy can fly with the best of them. I mean, he wasn't a star on the Baylor track team for nothing. Usually, speed isn't a huge factor when it comes to picking out an NFL star quarterback (see: Peyton Manning and Tom Brady); however, quarterbacks like Michael Vick and Cam Newton have made speed and running ability a hot commodity.
After missing out on Luck, the Dolphins should have their pick of the litter, and I can see Dolphins owner Stephen Ross and head coach Tony Sparano maybe wanting to try something different. Chad Henne hasn't exactly won anybody over with his play, and while backup Matt Moore has shown signs of life since he has replaced him, Griffin III could put a new spark into a team that desperately needs it.
Matt Barkley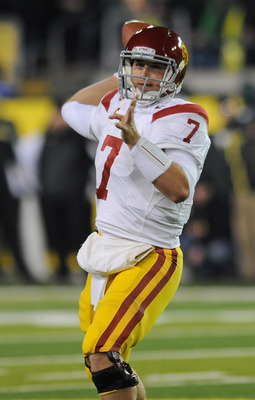 Steve Dykes/Getty Images
Round: One
Pick No.: Six
Destination: Washington Redskins
Mike Shanahan will be happy that a quarterback like Matt Barkley is still on the board at No. 6, but he will secretly be envious of the Miami Dolphins. There's no doubt he would love a guy like Griffin III on board.
Still, the Washington Redskins will wind up with a franchise quarterback in Barkley, who, along with Griffin III, may have made the biggest improvements of any prospect over the course of a year.
With one game left to play in the 2011 season, Barkley has already thrown for 3,105 yards, 33 touchdowns and only seven interceptions. All of his stats are up significantly from last season, including his completion percentage rating, which hopped up five points to 67.6 percent.
Remember the USC vs. Stanford game this season? Remember how great it was to watch the Barkley and Luck go head-to-head? Sometimes in that game, it was hard to determine which one was actually the top QB prospect.
Luckily, we will likely get the opportunity to watch these two play head-to-head again for many years in the NFL.
Landry Jones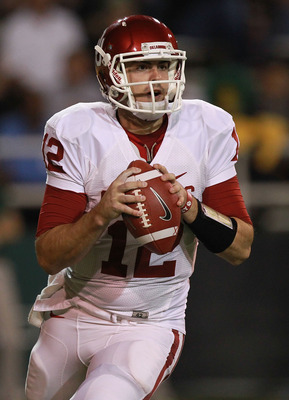 Ronald Martinez/Getty Images
Round: One
Pick No.: 10
Destination: Seattle Seahawks
Could there really be four quarterbacks taken in the Top 10? It sure is starting to look that way. Pete Carroll would love to see Oklahoma quarterback Landry Jones still available at No. 10, because, let's face it, after Jones, the prospects become a bit more questionable.
However, Jones has his fair share of question marks around his draft status and actual talent, as well. Like Griffin III and Barkley, Jones is a draft-eligible junior who has a choice to make at the end of the NCAA season.
If Jones were to stay another year at OU, his draft stock may climb even higher, as there's a good chance he would be the No. 1 quarterback in next year's class. Another year at OU would benefit Jones remarkably, as he is still consistently underwhelming against pressure and rarely throws an accurate deep ball.
Jones has been a product of an offensive machine at OU, and with all the talent he has surrounding him, there's a reason he continually averages gaudy numbers. However, for anyone who has actually taken the time to watch him play an entire game against a good defense, it is clearly noticeable where he needs to make the biggest improvements.
Still, his size and mostly accurate arm make him a great prospect, especially if he's put into an offense with a strong offensive line.
Unfortunately for Jones, the Seahawks have given up the second-most sacks in the league this year (34), only trailing the St. Louis Rams (37). If Sam Bradford, who possessed way more ability than Jones upon being drafted, is suffering in St. Louis due to a faulty offensive line, then things aren't looking so good for Jones.
Ryan Tannehill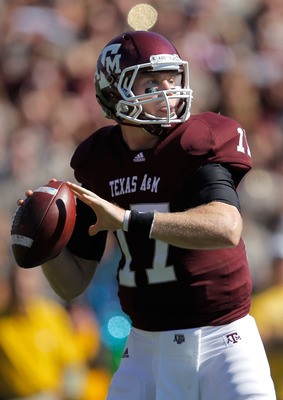 Sarah Glenn/Getty Images
Round: Two
Pick No.: 42
Destination: Kansas City Chiefs
Ryan Tannehill's draft stock has been steadily climbing throughout the season. There have been some scouts who even believe he is now a late first-round talent, and he is currently the No. 31 prospect on Scout Inc.'s Top 32.
However, teams that will be drafting at the end of the first round are not going to need to take a chance on a guy who has only started 17 games at quarterback. With that being said, Tannehill has certainly shown big improvements for only being a quarterback for a short amount of time, and his progress is surely going to keep trending upward.
Even though Texas A&M has had a disappointing season, Tannehill has been posting pretty solid numbers: 3,415 yards passing with 28 touchdowns; 296 yards rushing with four touchdowns.
Tannehill has the build and the arm strength of a quality NFL starting quarterback, but he'll need to work on both his accuracy and decision making to perform at the next level.
The Chiefs would be a great fit for Tannehill, as he would likely get to compete for the starting job from Day One, but if he had to play the backup role for awhile, he would probably benefit from that, as well.
Matt Cassel has been a bust in KC, and even though the Chiefs just acquired Kyle Orton off of the waiver wires, there's no guarantee he'll be sticking around as the franchise quarterback.
Brandon Weeden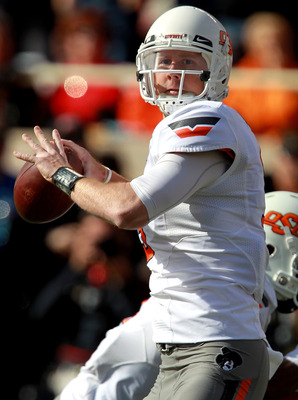 Ronald Martinez/Getty Images
Round: Two
Pick No.: 49
Destination: Denver Broncos
Why not? Brandon Weeden is more pro-ready than both Landry Jones and Ryan Tannehill (possibly even Barkley and Griffin III, as well), and it's become clear that John Elway and John Fox are not set on Tim Tebow being the future of their organization.
Weeden has the ability to be a first-round talent, but his draft stock will fall due to his birth date, as he is currently 28 years old. His age is most-assuredly going to scare off plenty of teams looking for a franchise quarterback, but the Broncos are likely just looking for somebody who can throw at this point.
That's not to discredit Tim Tebow and the job he's done while being a starter for the Broncos, because all he seems to do is win games. However, Weeden is clearly the more prototypical every-down quarterback that the NFL has been known for, and he would be ready to step in from Day One and run the offense.
Like Landry Jones, Weeden thrives from being a part of a high-octane offense. His stats are beyond ridiculous: 4,111 yards and 34 touchdown, but what separates the two has to be decision making. Weeden has a high football IQ that helps him make quick decisions with the ball in his hands.
He is completing 73 percent of his passes this season, and for a guy who has thrown nearly 500 times, that's a pretty nice stat.
Nick Foles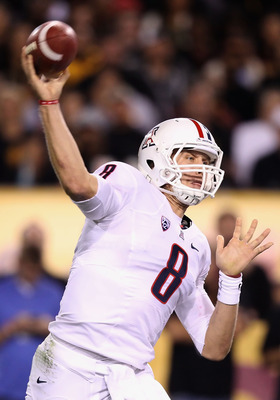 Christian Petersen/Getty Images
Round: Three
Pick No.: 66
Destination: Chicago Bears
Nick Foles has everything you'd ever want in a quarterback when it comes to size and arm strength. Foles measures in at 6-foot-5 and 240 pounds while possessing a rocket for an arm.
He doesn't possess any sort of running game whatsoever, but, as previously stated, many quarterbacks have thrived in the NFL with virtually no running ability. As long as he goes to a team that possesses a strong line, he will be more than okay.
The Chicago Bears would be a great team for Foles to start a career with. Even though it seems like current Bears quarterback Jay Cutler is constantly getting sacked, the Bears are actually in the middle of the pack this season, allowing 23 sacks all together. If they continue to improve upfront, Foles may be set once he gets the chance to start.
If Cutler sticks around, Foles would likely be the backup for at least the first season, but that would be okay for both Foles and the Bears. Cutler has proven to be a tough, determined winner this season, but it seems like he gets hurt at least once a year. With Foles on the roster, Chicago would have a decent backup to relieve Cutler in times of need.
Foles might feel at home playing on a team like the Bears because, like his Arizona Wildcats, there aren't too many options to throw to. If the Bears can land a stud wide receiver, whether that's in this draft or during free agency, their offense would be close to complete.
Kirk Cousins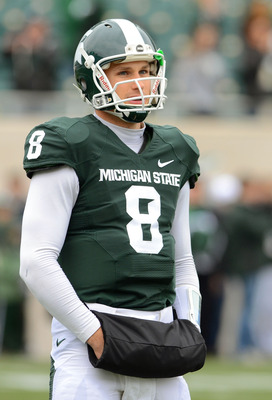 Mark A. Cunningham/Getty Images
Round: Four
Pick No.: 104
Destination: Cleveland Browns
There's a really good chance that Kirk Cousins won't fall this low in the draft, but if he does, I'd have to imagine that the Cleveland Browns would feel very okay about picking him up.
Even though the Browns seem gung-ho on Colt McCoy, it's never a bad idea to add some competition to the lineup. It's not entirely McCoy's fault that the Browns have gotten off to a 4-6 start to the season. Peyton Hills has been injured, his best wide receiver is a rookie, and so on, and so on ...
The Browns could definitely use an upgrade at almost every position, which they will surely address with their other six picks in the draft. Seneca Wallace is currently McCoy's primary backup, but Cousins could very well surpass him during training camp and challenge for McCoy's spot right away.
There's nothing too flashy about Cousins' all-around game, he's just a really solid quarterback and a really solid leader. I like to think of him as a poor man's Brandon Weeden, but if Cousins played in an offense like Oklahoma State's, then there's no telling what his stats would look like.
He has only thrown five interceptions this season, and he has a high quarterback rating of 146.9. In a lot of ways, Cousins and McCoy are a lot alike, especially the "being a leader" aspect of their player traits.
McCoy is a better runner, Cousins may have the better arm ... it would be a fun competition, to say the least.
Case Keenum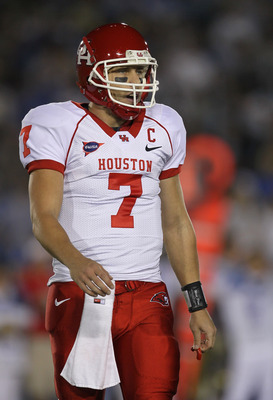 Stephen Dunn/Getty Images
Round: Five
Pick No.: 150
Destination: Dallas Cowboys
By round five, the Dallas Cowboys will have hopefully addressed their priority positions, which mostly fall in the secondary. Now it's time for the Cowboys to take a leap of faith and draft a quarterback that will automatically be a better backup than Stephen McGee.
Case Keenum may not be around by the time pick No. 150 rolls around, but if he is, the Cowboys have to snatch him up. He would be the perfect backup for Tony Romo, and he would be a great franchise quarterback, assuming he will be able to pan out.
There has been a long-going debate in Dallas on whether or not Romo will ever be capable of winning a Super Bowl. They've had the talent, but every year the Cowboys fall short of their goal. Most of the blame has been put on Romo, but he consistently puts up good numbers year after year.
Romo is currently 31 years old, so adding Keenum, a mature 23-year-old, might be a good idea. Keenum has absolutely destroyed his competition during his stint at Houston, and he is currently the NCAA's All-Time passing touchdowns leader, as well as the All-Time career completions record holder.
Keenum has had a pretty decent year so far, leading his Houston Cougars to a 12-0 record while throwing for 4,726 yards, 43 touchdowns and only three interceptions. I don't care if he is playing in a lousy conference, the guy is really talented.
Hopefully he'll perform well enough at the combine to garner enough attention to get him drafted before round five, but the Cowboys would love to see him fall in their lap.
Dominique Davis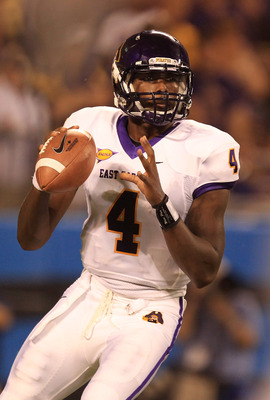 Streeter Lecka/Getty Images
Round: Six
Pick No.: 172
Destination: Buffalo Bills
Dominique Davis out of East Carolina is a guy who I think won't get very much attention until he is allowed to perform at the combine.
He had a monster junior year, throwing for just under 4,000 yards and 37 touchdowns, but his senior year has been remarkably more quiet: 2,940 yards and 22 touchdowns. This is likely due to two reasons: He has thrown almost 160 less passes than last season and his Pirates just aren't very good.
Davis has all the intangibles to be a good pro, though, and I think that he is going to prove to a lot of people what he can do at the combine. Davis could likely start at a majority of major Division One schools. Even though A.J. McCarron has done a decent job running the helm of Alabama's offense this season, I can't imagine that Davis wouldn't even make that team better than they already are.
There are quite a few decent quarterback prospects in this year's draft, including some that didn't even make this list (Kellen Moore, Russell Wilson, Ryan Lindley, etc.), but I like Davis' upside and I think it would be a wise decision for the Bills to spare a sixth-round pick on him.
Current Bills starting QB Ryan Fitzpatrick was certainly playing like a franchise quarterback at the beginning of the year. However, like his team, Fitzpatrick has cooled off, and has started looking like the quarterback we have all seen in previous years.
Davis would be a good addition to the Bills roster. He would be a nice backup to Fitzpatrick until he was able to get his feet wet. After that, he may be a nice franchise quarterback.
Only time (and opportunity) will tell.
Keep Reading