Green Bay Packers: 5 Young Players Who Need to Take the Next Step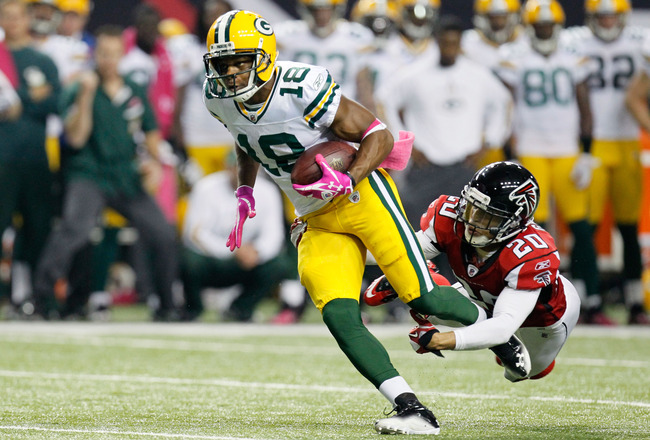 Kevin C. Cox/Getty Images
As the class of the NFL, the Green Bay Packers have an almost unfair amount of talent throughout their roster. The scariest part for the rest of the league is the number of young players that are contributing to the team.
While the veteran core of Aaron Rodgers, Charles Woodson, Greg Jennings and Tramon Williams has fueled the Packers to their 10-0 start, there are a number of younger guys making their presence known.
The future is looking quite bright in Green Bay, despite the winter months quickly approaching, due to the mix of young players among the veterans. If these young players can take the next steps in their development, the talk of a Packers dynasty may be right around the corner.
Mike Neal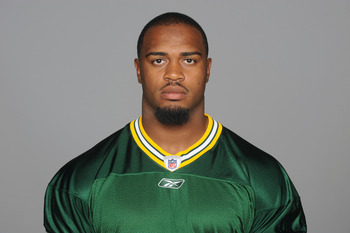 Handout/Getty Images
Coming into the season, expectations were sky-high for Mike Neal. After a preseason injury set Neal back, many wondered whether or not Neal was becoming the newest edition of Justin Harrell. Neal is finally easing his way back into the lineup after playing between 15-20 snaps against the Tampa Bay Buccaneers.
When healthy, Neal has showed potential unlike most players on the Packers defensive line. Going forward this season, the Packers need Neal to get healthy and further develop in order to increase the amount of pressure the Packers front seven gets.
For Neal, injuries have been the biggest roadblock from him taking the next step. The Packers need Neal, who is getting healthier by the day, to take that next step and help out up front.
Sam Shields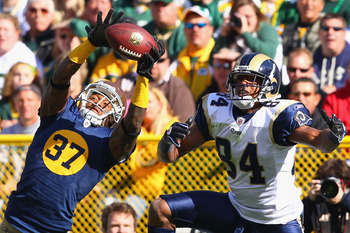 Dilip Vishwanat/Getty Images
After a spectacular rookie season, Sam Shields has struggled at times this season with his coverage, but mostly with tackling. Shields has been criticized for his tackling for a while now, but has failed to improve this aspect of his game.
The lack of an offseason may have hurt Shields more than any other player on the Packers roster. With as much talent as Shields has shown over his first season-and-a-half, he needs to improve his fundamentals.
If he is able to do this, the Packers secondary will become that much better and could limit the amount of yardage given up.
B.J. Raji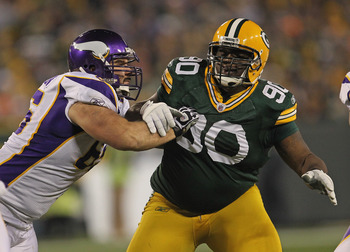 Jonathan Daniel/Getty Images
After breaking onto the national scene with his domination upfront last season, B.J. Raji has struggled at times this season. Other times, he has shown that domination and destroyed offensive lines standing in his way.
The Packers need Raji to be more consistent at getting pressure. Part of the struggles this season have been a shift on the line placing Ryan Pickett at the nose and Raji further outside.
If Raji can do a better job of getting consistent pressure, it would help free up other pass rushers like Clay Matthews and others. More pressure upfront would do wonders for the Packers secondary and helping to limit the effectiveness of opposing quarterbacks.
James Starks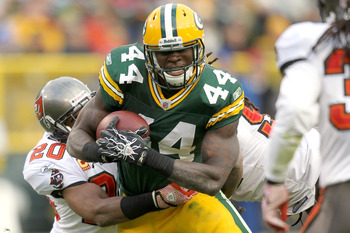 Matthew Stockman/Getty Images
Before getting hurt last week against the Tampa Bay Buccaneers, James Starks has slowly started to become the force that many thought he could be following his breakout performance in the postseason last year. Sharing carries with Ryan Grant, Starks has definitely been the better of the two backs and has made more of the opportunities he has been given.
Starks has shown enough to get the majority of carries in the fourth quarter with the Packers looking to close out games. On his 120 carries this season, Starks has averaged a very solid 4.5 yards per carry.
While Starks has continued to grow, there are still improvements that need to be made. There are plenty of times in space that Starks does a little too much dancing instead of pounding forward and getting the guaranteed yardage. With more carries and opportunities, Starks has every opportunity to improve.
Randall Cobb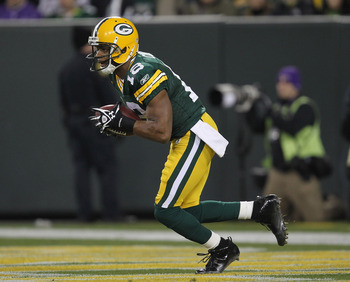 Jonathan Daniel/Getty Images
Randall Cobb is more than explosive. On his 108-yard kick-off return touchdown and his 80-yard punt return touchdown, Cobb displayed the type of threat he can be for the Packers on special teams. His contributions haven't ended there with 15 catches 234 yards and a touchdown.
Despite the explosiveness and success on both on special teams and offense, Cobb has lost three fumbles through 10 games. This number is definitely too high and shows a lack of focus by the rookie wide receiver.
By taking the next step and cleaning up the muffed kicks, Cobb will become the biggest threat the Packers have had in a returner in a very long time. The potential is right there for Cobb and steady improvements could make Cobb a very dangerous weapon for years to come.
Keep Reading

Green Bay Packers: Like this team?