Arsenal FC: 20 Best Moments in Gunners History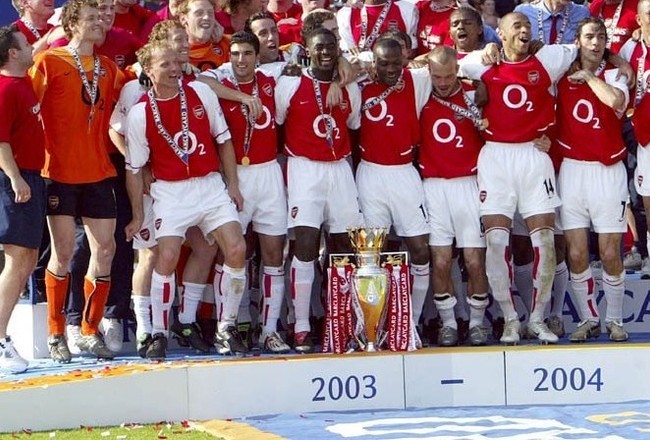 Since Arsenal Football Club was first formed in 1886 as Dial Square, it has risen from its humble beginnings to become one of the biggest clubs in England.
The Gunners, as they are affectionately known, have gathered a huge fan base around the world, and this season they celebrate 125 years of existence.
It is hard to single out a certain moment as being greater than another during the rise to prominence of a football club.
So here is a look back at the 20 greatest moments, in chronological order, of Arsenal football history.
1886: 'Royal Arsenal' Formed in Woolwich

Woolwich Arsenal footage - 1897

A football club known as Dial Square was formed in 1886 by workers at The Royal Arsenal in Woolwich, London.
Despite having no kit and nowhere to play, the club played its first game in December 1886 and beat Eastern Wanderers 6-0.
Shortly after the team was renamed to Royal Arsenal, and then again to Woolwich Arsenal, before settling with the team name we know today, Arsenal.
1913: Club Moves from Woolwich to Highbury

Woolwich Arsenal - 1911

With the club's finances in dire straits, the decision was made to move Arsenal to a new ground at the end of the 1912-13 season.
Not just out of necessity, but also as a statement of the ambition of the club, Arsenal moved to their new home of Arsenal Stadium in Highbury, where they would stay until 2006.
The move took them close to another club, Tottenham, which would spark a rivalry which ranks among the most famous in all of football.
1919: Arsenal's Top-Flight Return

Arsenal back in the First Division - 1919

An interesting moment in Arsenal history was their promotion back in to the First Division in 1919.
Despite finishing fifth in the Second Division that year, the league dubiously decided that Arsenal should return to the top flight because of their service to the league, at the expense of rivals Tottenham.
The Gunners have never looked back, and currently hold the record for the longest time spent in the top division.
1925: Herbert Chapman Appointed Manager

Herbert Chapman with his Arsenal team

The appointment of Herbert Chapman as Arsenal manager in 1925 was one the defining moments in Arsenal's history.
Chapman, on the back of his success with Huddersfield Town, quickly turned Arsenal into title contenders.
He served as Arsenal boss for nine years before his sudden death in 1934.
1930: Arsenal Win Their First Major Trophy

Arsenal's FA Cup Semi and Final - 1930

Arsenal finally clinched its first major trophy by winning the 1930 FA Cup final against Huddersfield Town.
The match was the first cup final in which both teams entered the pitch side-by-side, in honour of Arsenal manager Herbert Chapman, who had also managed Huddersfield.
Arsenal went on to win 2-0 in front of over 92,000 at Wembley Stadium.
1931: Arsenal Win Their First League Title

Arsenal in action - 1930-31

Following on from their maiden FA Cup success, Arsenal won the First Division in the 1930-31 season to claim their first ever league title.
A dominant season saw the Gunners win the league by a comfortable seven points over Aston Villa.
Five years into his reign at the club, Herbert Chapman had turned Arsenal into a dominant force of English football.
1935: Arsenal Clinch a Hat-Trick of Titles

Arsenal in dominating form - 1930s

By the mid-1930s, Arsenal had firmly entrenched themselves as the best club in English football.
After Herbert Chapman's death in January 1934, George Allison took over from the legendary manager and led Arsenal to their third league title in the 1933-34 season.
Ted Drake was a key figure for the Gunners. He scored 42 goals in the league, which is still an Arsenal record for a single season.
1971: Victory at White Hart Lane Secures Eighth Title

Arsenal win the league at White Hart Lane - 1971

Arsenal, trailing first place Leeds by one point, faced old rivals Tottenham in the final match of the 1970-71 season.
A win was needed to ensure the title would head back to Highbury, and over 50,000 crammed into White Hart Lane.
Ray Kennedy's headed goal was enough for a 1-0 Arsenal win, and secured the Gunners their first title in 18 years.
1971: Arsenal Do the Double for the First Time

1971 FA Cup Final - Arsenal vs Liverpool

Shortly after their title triumph, Arsenal headed to Wembley Stadium for the 1971 FA Cup Final attempting to win the double for the first time.
In one of the most memorable finals ever, Arsenal came out on top 2-1 after extra time.
The Gunners fell behind early in to the added half hour, but goals from Eddie Kelly and Charlie George clinched Arsenal the double in dramatic fashion.
1979: Arsenal Win Thrilling FA Cup Final

1979 FA Cup Final - Arsenal v Manchester United

As good as the 1971 FA Cup Final was, the 1979 version was probably even better.
Arsenal were cruising along with a 2-0 lead against Manchester United with only five minutes remaining, before United struck twice in two minutes to stun the Gunners.
But just as quickly as they had gone behind, Arsenal were back in front, thanks to a goal from Alan Sunderland, and the FA Cup was theirs.
1989: Arsenal's Remarkable Title-Sealing Win at Anfield

Arsenal win the league at Anfield - 1989

The late goal in Arsenal's win over Liverpool to secure the 1988-89 title is widely regarded as the single most memorable moment in the club's history.
After leading the league, but then fading late in the season, Arsenal were left needing a win by two goals away to Liverpool to win the title.
Alan Smith scored for Arsenal shortly after halftime to give the Gunners hope, and then, in the second minute of stoppage time, midfielder Michael Thomas scored one of the most dramatic goals in Arsenal history to clinch the title.
1991: Arsenal Secure Tenth Title

Arsenal in dominant form - 1991

Just two years on from that dramatic title win in 1989, Arsenal were again crowned league champions.
It marked the 10th time that Arsenal had won England's First Division, and they did so in some style.
Despite not shaking off the challenge of runners-up Liverpool until the final day of season, Arsenal racked up an impressive goal difference of plus-56.
1993: FA Cup Semi and Final

1993 FA Cup Final - Arsenal vs Sheffield Wednesday

Arsenal's 1993 FA Cup run culminated in a victory in the final over Sheffield Wednesday.
However that cup run is more fondly remembered for the Gunners' 1-0 defeat of arch-rivals Tottenham in the semifinal.
Captain Tony Adams was the hero, as he scored with a header from a Paul Merson free kick with just 10 minutes remaining.
1996: Arsene Wenger Appointed Manager

Arsenal fans love Arsene Wenger

When Frenchman Arsene Wenger came to Highbury in 1996 most fans had no idea who he was.
Fifteen years later, Wenger is ranked up alongside Herbert Chapman as Arsenal's greatest manager.
Wenger has led the Gunners to three league titles and four FA Cups, and has brought an attractive style of play to English football.
1998: Arsenal Win Title in Wenger's First Full Season

Tony Adams and Arsenal wrap up the title - 1998

Arsene Wenger wasted no time in building a squad capable of winning the league.
In his first full season in charge at Highbury, Wenger's men wrapped up the title with an emphatic 4-0 win over Everton.
A moment that will live long in the memory of Arsenal fans is that of veteran centre-back bursting forward onto a Steve Bould pass and ramming home the fourth goal.
1998: Wenger Completes His First Double

1998 FA Cup Final - Arsenal vs Newcastle United

Arsene Wenger's start to his Arsenal career just got better and better, as the club secured the double with a 2-0 win over Newcastle United in the 1998 FA Cup Final.
Goals from Marc Overmars and Nicolas Anelka, both Wenger signings, saw Arsenal lift the FA Cup for the seventh time.
The match was sweet revenge for Arsenal, who had lost to Newcastle twice previously in FA Cup finals, in 1932 and 1952.
2002: FA Cup Glory Once Again

2002 FA Cup Final - Arsenal vs Chelsea

Two classic strikes were the highlight of Arsenal's 2002 FA Cup victory over Chelsea.
The all-London affair at the Millennium Stadium in Wales was won 2-0 by the Gunners.
It was wonderful goals from Ray Parlour and Freddie Ljunberg that ensured the win for Arsenal.
2002: Wiltord Goal Clinches the Double

Sylvain Wiltord's goal at Old Trafford - 2002

Four days after their FA Cup triumph, Arsenal headed to Old Trafford needing at least a draw against Manchester United to secure the double.
Frenchman Sylvain Wiltord was to be the hero, as he scored what turned out to be the decisive goal, and the third double in the club's history was complete.
2004: 'Invincibles' Clinch Title at Tottenham

Arsenal win the league at White Hart Lane - 2004

In April 2004, Arsenal were cruising to yet another league title when they headed to White Hart Lane to face their familiar foes, Tottenham.
The Gunners were unbeaten in 33 games and securing the title was just a matter of time.
They needed a point against Tottenham to wrap it up and, after leading 2-0, fought out a classic 2-2 draw which was enough as Arsenal were able to celebrate their league triumph on their rivals own turf.
2004: Arsenal Go 49 League Games Unbeaten

Arsenal - The Invincibles - 2003-04

Between May 2003 and October 2004 Arsenal set a remarkable new unbeaten league record.
In that time they played 49 matches, winning 36 and drawing 13.
The squad of that time earned themselves the title of "The Invincibles," and will go down in history as the most famous group of players to ever play for Arsenal.
Keep Reading

Arsenal: Like this team?