One Thing Every MLB Team Has to Be Thankful For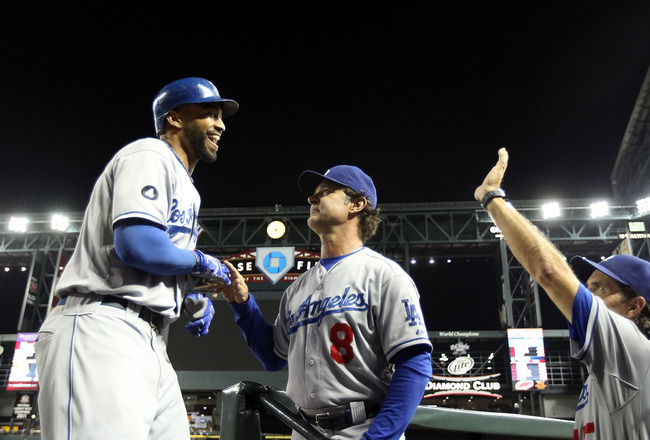 Christian Petersen/Getty Images
As sportswriters, myself and others are called to write about controversy, battles and the like. After all, it's exciting to see what the latest Red Sox-Yankees series means, or what the latest thing Ozzie Guillen said was.
However, with Thanksgiving upon us, it is a time for reflecting, and it is a time for us to remember what we are thankful for, not just in our own lives but as fans of our teams. Likewise, teams must do the same.
The following is what every team has to be thankful for. I tried to keep things current, but there is some history thrown in there.
Baltimore Orioles: Camden Yards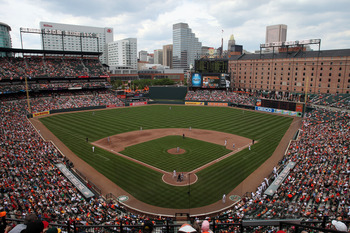 Rob Carr/Getty Images
It's been a while since the Baltimore Orioles have been relevant in the tough AL East despite having a decent payroll.
Still, they play in one of the best parks in the country in Oriole Park at Camden Yards.
Built 20 yards ago, it consistently ranks near the top in ballpark list, and those that are ranked higher based their design off it.
It's a ballpark I would love to get to, and I hope the team appreciates it.
Boston Red Sox: Recent Success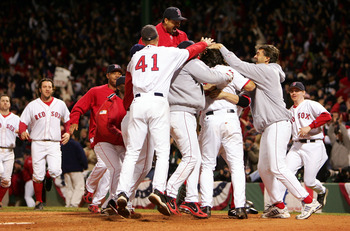 Jed Jacobsohn/Getty Images
It's easy to complain if you're the Boston Red Sox about the collapse at the end of the regular season last year and how they should have made it to the World Series.
Not even 10 years ago, the Curse of the Bambino was still heavily intact, and Red Sox fans were hoping for it one day to be over.
It finally happened in 2004 with one of the greatest LCS matchups ever, and the Red Sox have been going strong ever since.
New York Yankees: Storied History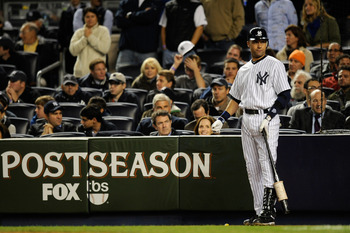 Patrick McDermott/Getty Images
The New York Yankees have 27 World Series titles, way more than any other team.
Many of the best players of all time spent most or all of their careers in New York, and by having the biggest bankroll, they can acquire star after star.
Heck, when it comes to what the Yankees and their fans have to be thankful for, that could be a slideshow in and of itself.
Tampa Bay Rays: Identity Shift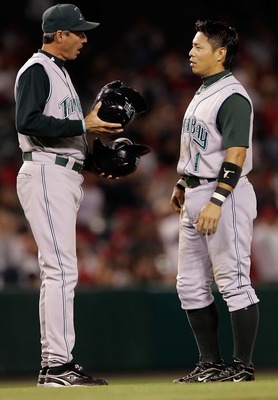 Jeff Gross/Getty Images
Perhaps this one is silly, but once the Tampa Bay Devil Rays shortened their name, they suddenly became good.
Yes, they had Carl Crawford and many others, but those players left this past season, and they were still able to excel.
Whether it's the core group of starters, Evan Longoria, Joe Maddon or the identity shift itself, the Rays are definitely thankful that they can be on the same level as the Red Sox and Yankees, who have far greater payrolls.
Toronto Blue Jays: Jose Bautista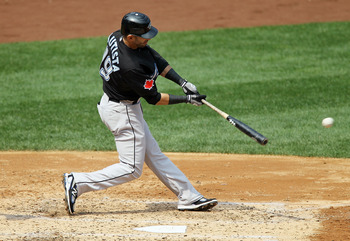 Jim McIsaac/Getty Images
The Toronto Blue Jays are trying to become a rising power in the AL East, as tough as it may be.
As long as Jose Bautista keeps playing the way he is, it will be that much easier.
After he was picked up from the Pirates, Bautista turned into a star the past two seasons, and since he's signed for a few more years, he's someone the team can build around and hopefully make a playoff run with.
Chicago White Sox: Paul Konerko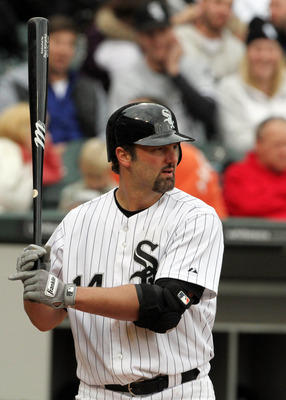 Tasos Katopodis/Getty Images
The Chicago White Sox's win-loss record has fluctuated greatly in the past decade, and they had a lot of highs and lows with now-former manager Ozzie Guillen.
Within that all, the one constant has been Paul Konerko, a part of the team since 1999 and someone who has played great baseball year after year.
Cleveland Indians: Trades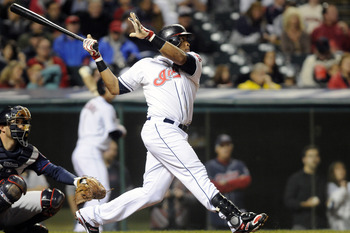 Jason Miller/Getty Images
The Indians have a low payroll and are fairly poor at drafting, so they are definitely thankful for their trades, which in the past 20 years have turned out good far more often than bad.
The core of the Indians' roster is based on trades—Asdrubal Cabrera and Shin-soo Choo came from Seattle, Carlos Santana from the Dodgers, and Justin Masterson from Boston, to name a few.
Detroit Tigers: Justin Verlander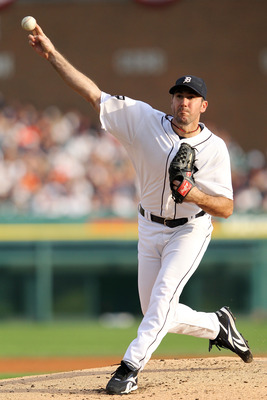 Leon Halip/Getty Images
Not that many years ago, the Detroit Tigers were pretty much the laughingstock of the American League.
They rebounded from that, and since the 119-loss season in 2003 they made the playoffs twice and look to get even better.
Of course, it helps when you have a pitcher good enough to win MVP on your team in Justin Verlander, who seems to get better every year he's on the mound.
It's always great to be able to bring up an ace through your own farm system.
Kansas City Royals: Solid Young Hitters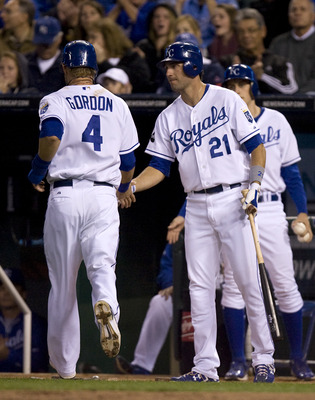 Ed Zurga/Getty Images
The Kansas City Royals may not have much, especially on the pitching end, as they've struggled to become relevant again for some time.
What they do have is a nice core group of hitters such as Alex Gordon, Billy Butler and others who have turned the Royals into an underrated hitting team.
If the pitching can be remotely good, they should be a lot better.
Minnesota Twins: The Offseason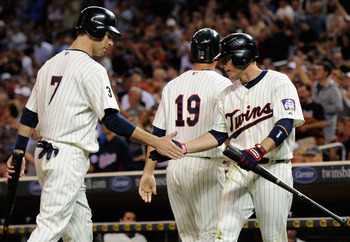 Hannah Foslien/Getty Images
I'm still trying to wrap my head around how a team could do so well for most of the past decade and then play so badly this year.
Injuries only explain a part of that.
Either way, a long offseason means that the team should be healthy next year, which means the Twins should be able to bounce back.
Los Angeles Angels of Anaheim: Jered Weaver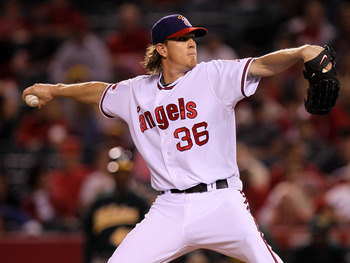 Stephen Dunn/Getty Images
Before the 2010 season, Jered Weaver was perhaps one of baseball's best-kept secrets.
Now, he's established himself as a great ace, and he's a player that the Angels have been able to build around, acquiring Dan Haren to complete a one-two punch come playoff time.
Oakland Athletics: Young Rotation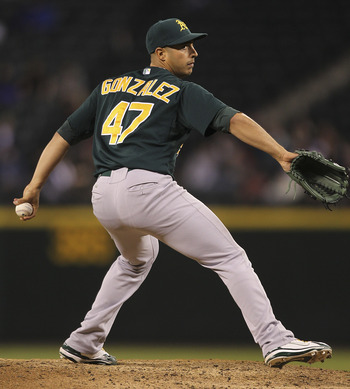 Otto Greule Jr/Getty Images
For the past decade, the Oakland Athletics have been able to rotate out great pitcher after great pitcher, and while most of them don't do well elsewhere, they pitch great here.
Currently, they have the duo of Gio Gonzalez and Trevor Cahill, both of whom are establishing themselves as great pitchers and could be a valued part of the A's rotation—or perhaps another rotation—in the coming years.
Seattle Mariners: Felix Hernandez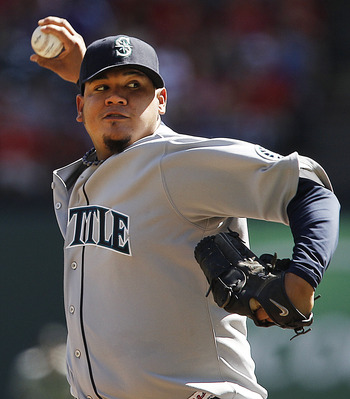 Brandon Wade/Getty Images
The Seattle Mariners are struggling due to a lack of pretty much any hitting whatsoever, even from Ichiro this past season.
That being said, how many other teams can claim to have a 25-year-old Cy Young winner?
None besides the Dodgers, so the Mariners have a great gift.
Texas Rangers: Pennants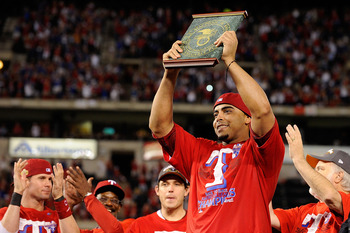 Kevork Djansezian/Getty Images
The Texas Rangers may have fallen just short of the World Series the past two years, but they were able to win the first two pennants in their team's history.
The pennants are well-deserved, even if they did not win the grand prize in the end.
Atlanta Braves: Youth Movement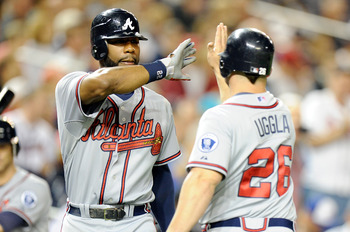 Greg Fiume/Getty Images
With the recent retirements of Billy Wagner and Bobby Cox, with Chipper Jones potentially doing the same soon, the Braves are bringing up young players, and they are showcasing talent from those under 25.
Instead of struggling in the rebuilding move, the Braves are still playing great baseball and nearly made the playoffs last year.
Jason Heyward, Freddie Freeman, Jair Jurrjens and the entire bullpen provide one of the most solid foundations in baseball.
Miami Marlins: Rebirth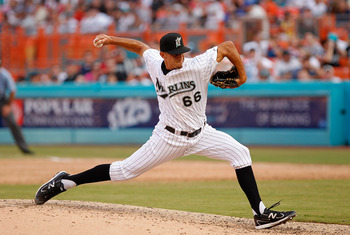 Mike Ehrmann/Getty Images
Despite winning two World Series in their short existence, the Marlins were low on attendance and payroll, and things didn't seem to be working.
Now that they are part of Miami—complete with a new stadium—they can be not only buyers on the free agent market, but I would be surprised if attendance didn't jump as well.
New York Mets: 1969 Team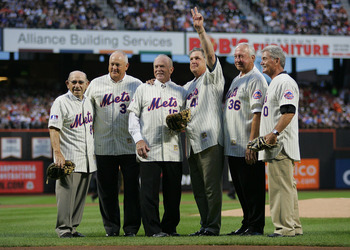 Jared Wickerham/Getty Images
In recent years, the Mets have admittedly had little to be thankful for.
While that may be true, they still have memories of the 1969 team, which may be one of the best stories in MLB history.
It's old news, sure, but it's Mets news, and it's far better than what they have to deal with now.
Philadelphia Phillies: Starting Rotation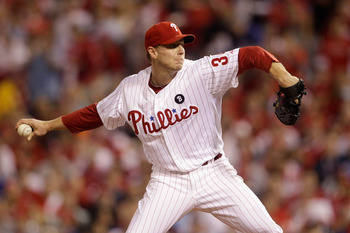 Rob Carr/Getty Images
The Philadelphia Phillies may have been unable to win a World Series this year, but right now they easily have the best starting rotation in baseball and one of the best in history.
Roy Halladay, Cliff Lee, Cole Hamels, Roy Oswalt and Vance Worley give a string 1-5 group while adding in a couple pitchers who can contend for the Cy Young Award most years.
Washington Nationals: Strasburg and Harper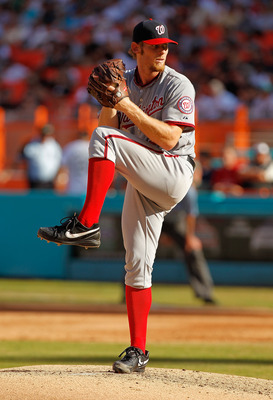 Mike Ehrmann/Getty Images
It's not often that a team lands the greatest prospect in recent memory two years in a row, and not only that, but we will definitely see Stephen Strasburg on the mound in Washington next year, and what we've seen has been great.
Bryce Harper may be a year away, but both he and Strasburg look destined for stardom.
Chicago Cubs: Loyal Fanbase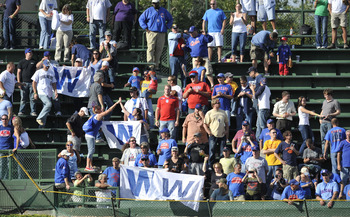 David Banks/Getty Images
The Cubs have not won a World Series since 2008, and they seem to sign bad contract after bad contract.
Despite this, attendance is always good, and Wrigley Field is great for the fans as well.
Factor in the long delay for a ring and you have a very passionate fanbase.
Cincinnati Reds: History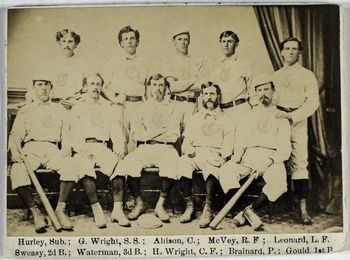 The Reds have a great foundation to win on despite struggling this past year, and they are ready to rebound.
Instead of focusing on that, though, perhaps it is best for them to remember where they came from.
The Cincinnati Red Stockings were the first real professional team, establishing themselves in 1869, so they are the ones that got the ball rolling and made the game what it is today.
Houston Astros: Bagwell and Biggio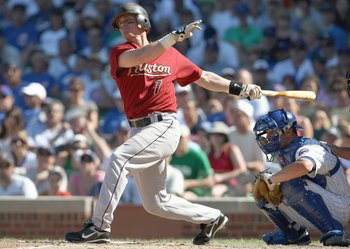 Jonathan Daniel/Getty Images
In the modern era of baseball, it's rare to see players who are clear Hall of Famers spend their whole career on a low-payroll team.
The Houston Astros were lucky enough to have two.
Jeff Bagwell and Craig Biggio were the key components of the Astros teams throughout most of the past 20 years.
It's a duo that any team would love to have—even if they didn't win any rings.
Milwaukee Brewers: Ryan Braun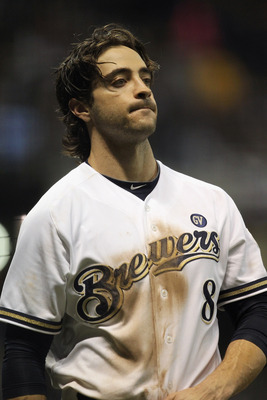 Jonathan Daniel/Getty Images
It's one thing to bring in established stars, but to get them, you have to have stars in place that you were able to groom.
Needless to say, Ryan Braun helps, as he's the reigning MVP who has many great years in Milwaukee left.
Pittsburgh Pirates: PNC Park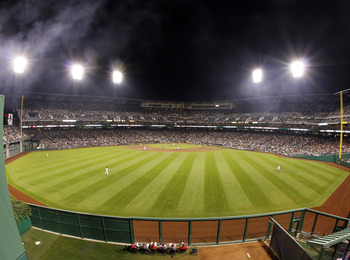 Justin K. Aller/Getty Images
When I talked about Camden Yards and mentioned better parks that based their designs on it, PNC Park comes to mind.
It opened in 2001 and has since become very highly regarded.
The Pirates may not have had a winning season in forever, but at least the ballpark is nice to go to and play in.
St. Louis Cardinals: World Series Titles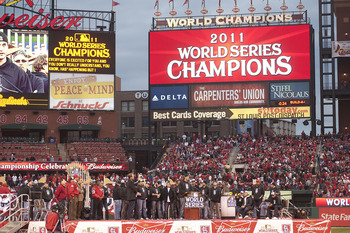 Ed Szczepanski/Getty Images
As easy as it would be to make Albert Pujols this slide, he has not re-signed with the Cardinals, so it wouldn't fit.
Instead, the Cardinals should be thankful for their storied history.
Not only did they win the World Series this past season, but they have 11 in all, the best number by any team not named the Yankees.
Most teams would love to have even half of those.
Arizona Diamondbacks: One-Two Punch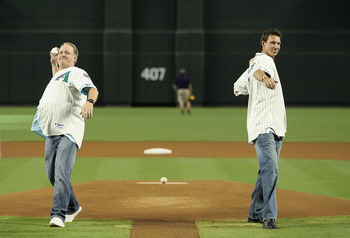 Christian Petersen/Getty Images
The Arizona Diamondbacks have only been around since 1998, and yet they've had more than one duo of pitching greats that any team would love to have in their history.
Ian Kennedy and Daniel Hudson look like they can be this if they maintain their stats from this past year, but I of course mean the duo of Randy Johnson and Curt Schilling, who were able to bring a World Series ring to Arizona in short order.
Colorado Rockies: Great Hitting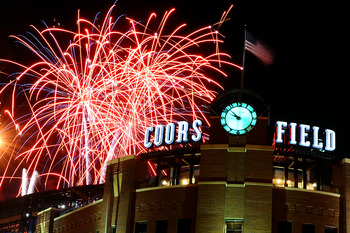 Garrett Ellwood/Getty Images
This slide could be about great hitting or Coors Field, and in a sense they are one and the same.
The Colorado Rockies have been a power-hitting team since their inception, and due to their location, they probably always will be.
Now that the steroid era is over and we are moving back to pitching, it's still nice to have a team that's going to have great hitting numbers, especially since they sign their good players to very long-term deals.
Los Angeles Dodgers: New Ownership Soon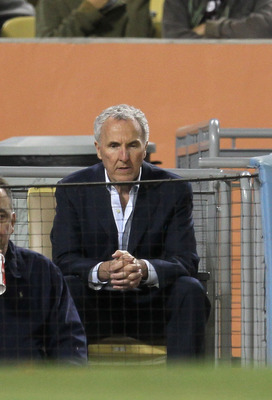 Stephen Dunn/Getty Images
With all the drama surrounding the Frank McCourt bankruptcy and divorce situation, the Dodgers will be happy when it's over.
In 2012, they can get back to playing baseball.
They have the Cy Young Award winner in Clayton Kershaw and the guy who should have won MVP in Matt Kemp, so once the ownership drama is over, the Dodgers could be a team to watch next year.
San Diego Padres: Great Pitching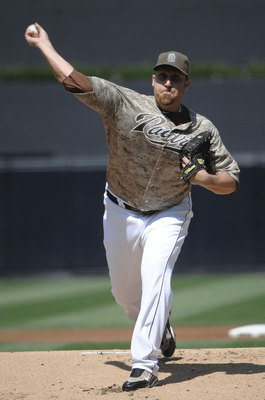 Denis Poroy/Getty Images
Much like Colorado is the place to go when you need to rebound as a hitter, San Diego's where you go as a pitcher.
As a result, the team may have hitting problems, but if you want to see pitcher's duels, then it's the team to follow.
Aaron Harang's 14-7 season after Cincinnati tossed him is a prime example of what San Diego likes to have and is usually consistent in offering
San Francisco Giants: Great Rotation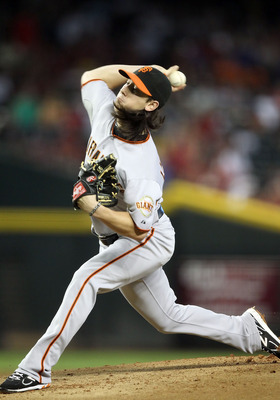 Christian Petersen/Getty Images
While the Padres may have great pitching stats, the Giants have great pitchers period.
For as much as the Phillies' rotation was talked about, it's tough to look past Tim Lincecum, Matt Cain and Madison Bumgarner.
Even Ryan Vogelsong looked great last year after coming out of nowhere, so they will likely continue to finish in the top three in ERA for years to come.
Keep Reading