West Virginia and Pittsburgh: Backyard Brawl Now and Always
November 28, 2011
Jared Wickerham/Getty Images
It couldn't have ended any other way.  
There was no blowout, no air raid theatrics that allowed the Mountaineers to hang sixty points on Todd Graham's Panthers.  The game, in every single way, lived up to the rivalry's namesake.  
Whether you were a fan or a player, everyone had a sore throat and went to bed exhausted Friday night.  The excitement, the tension and the build up was all palpable for one obvious reason:  The Backyard Brawl may never happen again.  
It still hasn't fully registered—not in my mind, anyways.  How can a rivalry this intense, this defining of two programs, be paused indefinitely?  
It makes me go back to the basic maxims of being a Mountaineer:
1. Hate Pitt
2. Rich who?
3. Mario's fishbowl is a national landmark
4. Hate Pitt
5. Hate Pitt
You get the point.  
While the mutual dislike for one another knows no bounds, it's also bewildering to imagine a game schedule on which Pittsburgh is absent.  
I'm a firm believer that great teams have great rivalries, it's a necessity.  
Alabama has Auburn, Georgia has Florida, Michigan has Ohio state, Texas has Oklahoma and West Virginia, since 1895, has had Pittsburgh.  If there's a sense of panic present here, I think it's wholly justified.  
There's something inherent in a rivalry that helps to compose a program's identity.  
The Big 12 is full of teams we've never once met or, if we have, it's been on the rarest of occasions.  Oklahoma may turn into an interesting matchup, seeing as how they were completely blindsided in the 2008 Fiesta bowl.  
Oklahoma State might also prove to be a good series, based on it being Holgorsen's last stop before landing in Morgantown.  But West Virginia doesn't share a border with Oklahoma and Baylor has never derailed a national title run.  
This is why the rivalry with Pittsburgh is, at its core, a vital part of the West Virginia program.  
It's a fight over a region full of proud, hard-nosed people who love their football and love where they are from.  It's about West Virginia emerging from Pitt's shadow to become a legitimate power in its own right.  
It's about 70 miles, 104 games and December 1st, 2007.  
It's unfair that it would end, now, when both schools are led by new head coaches with their own personal rivalry.  Dana Holgorsen and Todd Graham would have you think that the tension has been edified and they hold nothing but respect for one another.  
They're both horrible liars.  
This rivalry was already an ever-restless powder keg—add in Graham's and Holgorsen's history and you have a nuclear bomb with an unpredictable trigger.  
The football gods were at least kind enough to give us a thriller before the series was locked in the cellar.  What looked like a Pittsburgh takeover turned into a West Virginia defensive clinic, and a one-point lead that was under a real threat down to the last second.  What more could you ask for in a rivalry game's swan song?
So what does the future look like now that Pitt and West Virginia are venturing beyond the backyard for greener pastures?  The nature of conference exits is messy, as we have all been witnessing recently.  
West Virginia is getting the brunt of the Big East's wrath and, unless Oliver Luck can successfully navigate around the league's 27-month rule, West Virginia would likely remain in the Big East for another year.  As far as scheduling goes, this would make things easier for the two teams to meet again.  
With WVU not jetting out to the Southwest and Midwest, there could be room for a 105th brawl at Heinz Field in late November.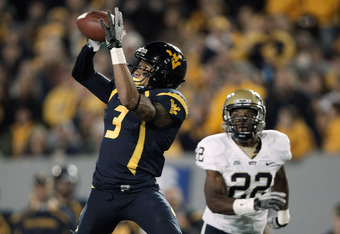 Jared Wickerham/Getty Images
Should that not play out, one thing is certain: Pitt and West Virginia will reunite at some point.
The rivalry and its legacy is too deeply ingrained in both programs and their fan bases.  More importantly, I think there is a real need for rivalries in general and games with a historic foothold to be allowed to continue regardless of the continual shift in conference topography.  
The Backyard Brawl, the Iron bowl, Bedlam—these games matter on a larger scale than just a grudge between two schools.  It's about how football can define a region and polarize the people within it.  
As the Backyard Brawl gets shelved until a yet-to-be-determined date, it's important to know that a common thread will be severed.  A thread that unites complete strangers and can help shape a person's earliest memories of sports.  It's a thread that will one day be re-sewn and that day can't come soon enough.  
West Virginia will settle into its new home in the Big 12 and—as traditions have a habit of doing—new rivalries and new traditions will be formed.  While I've lamented about no longer having Pitt on the schedule, know that I'm as excited, if not more excited, than anyone about our jump to the Big 12.  
The opportunity for West Virginia to expand and strengthen as a football powerhouse is incredible to say the least.  The same goes for Pittsburgh as they prepare to take on the best of the ACC.
But, as a Mountaineer, I hope that Pittsburgh falls flat on their face as they walk into the door of their new conference.  
I hope they lose every game by double digit margins and that Miami, Boston College and Virginia Tech take their turns running the score up on the Panthers.  When the time does come and West Virginia and Pitt once again stare at each other from across the sidelines, I hope only that they bring everything they have.  
No lazy jabs or eye gouges: It better be a melee and a frenzied mass of bruised and utterly exhausted assailants.  
This is a brawl, after all.  
There's no room for half-heartedness or apprehension, and it should always be that way, no matter how long the intermission between rounds.