Iowa State vs. Oklahoma: TV Schedule, Live Stream, Radio, Game Time and More
November 23, 2011
Ronald Martinez/Getty Images
The Iowa State Cyclones have beaten one major Oklahoma school, and they'll be looking to beat another when they take on the Oklahoma Sooners on Saturday.
This is a game the Sooners can't afford to lose if they want to win the Big 12 and make it to the Fiesta Bowl. They would seem to be the clear favorite in this game, but we were saying the same thing about Oklahoma State this time last week.
As for the Cyclones, they have nothing to lose. They played spoiler against the Pokes, and they'll look to do the same against the Sooners.
Let's take a closer look at this matchup.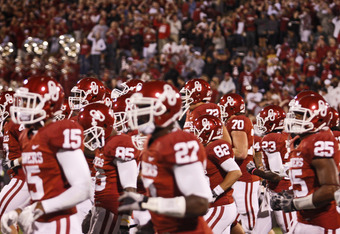 Brett Deering/Getty Images
Where: Oklahoma Memorial Stadium
When: Saturday, Nov. 26 at 12:00 p.m. ET
Watch: FX
Listen: Live audio streaming on Cyclones.com and SoonerSports.com; Cyclone Radio Network for Iowa State radio, Sooner Sports Network for Oklahoma radio. 
Betting Line: Oklahoma -28, according to Bodog.
Key Storyline
The Sooners' BCS title hopes went up in flames as soon as Baylor's Robert Griffin III uncorked a game-winning touchdown pass in the final seconds against them this past Saturday, but they are still alive in the chase for the Big 12 Championship. To get it, the Sooners must win out, and that means winning this game before hopefully prevailing in Bedlam on Dec. 3.
Who Might Not Play for Iowa State
Per the USA Today, wide receiver Josh Lenz left early in Friday's game against Oklahoma State, and guard Ethan Tuftee was held out despite being expected to play after recovering from knee surgery. Both are considered questionable for Saturday's game.
Additionally, offensive lineman Brayden Burris (leg) and wide receiver Albert Gary (personal) are also questionable.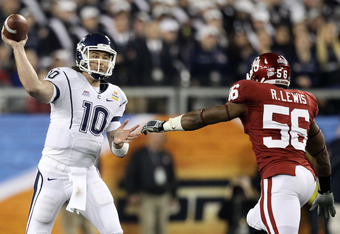 Christian Petersen/Getty Images
Who Might Not Play for Oklahoma
Also per the USA Today, Sooners star defensive end Ronnell Lewis has a sprained MCL in his left knee and is expected to miss both of Oklahoma's final two regular-season games.
In addition, kicker Jimmy Stevens (quad) and defensive back Javon Harris (ankle) are considered questionable.
BCS/Top 25 Poll Implications
The Sooners are currently No. 9 in the BCS standings, and they need a win in this game to keep pace. A win alone won't elevate them in the rankings, but a loss would cause them to plummet. 
What They're Saying
Whatever you do, don't think the Cyclones are going to lower their guard after their huge win over Oklahoma State. According to the Ames Tribune, the first thing Iowa State's coaches did this week was point out things the Cyclones could have done better.
For example:
The Cyclones dropped eight passes last week, including five in the first quarter. Offensive coordinator Tom Herman thought quarterback Jared Barnett, who threw two interceptions, wasn't accurate enough—especially on some short, easy throws.
There's always room to improve. If the Cyclones make all the proper adjustments in time for Saturday's game, another upset could be in the cards.
Meanwhile in Norman, Travis Haney of The Oklahoman had some harsh things to say about Oklahoma's pass defense against Baylor. As he saw it, the Sooners made it too easy for opposing receivers, which is something they've done a little too often this season.
Wrote Haney:
It's become an all-too-familiar sight for Oklahoma and its fans this season, an opposing receiver running free down the middle of the field against the Sooners.

Typically, though, it's something that happens once or twice a game. It's a blip more than anything.

But that wasn't the case here Saturday night. The exception became the norm in Baylor's 45-38 upset of OU—from start to finish, literally.
The good news for Oklahoma is that Iowa State doesn't have any receivers quite as talented as the ones Baylor has. The bad news is that this won't matter if Oklahoma's defense continues to slack off.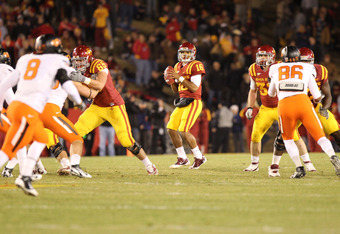 Reese Strickland/Getty Images
Iowa State Player To Watch
There are a number of options to pick from here, but it has to be Jared Barnett. The redshirt freshman was asked to do an awful lot against Oklahoma State, and he delivered. He will be asked to do a lot against Oklahoma, too, and the Cyclones will make a lot of people in Norman nervous if he delivers.
Oklahoma Player To Watch
Assuming his balky ankle doesn't keep him out of action, Javon Harris is the guy you're going to want to keep an eye on. He did not have a good game against Baylor, and no doubt many Sooners fans are not going to forget it any time soon. If Harris can bounce back against Iowa State, though, his seat should cool down a little.
Key Matchup
Oklahoma's secondary will have to up its game, but the bigger question for me is how Iowa State's own secondary will hold up against Landry Jones. He is every bit as good as Brandon Weeden, and he'll be looking to bounce back from a game in which he did not throw a single touchdown pass. Jones will be out for revenge against the Cyclones, and the pressure will be on them to stand in his way.
On the Hot Seat
The entire Sooners football team. Simple as that. They saw what the Cyclones did to the Pokes, and they can't afford to suffer the same fate. If they do, this season will go into the books as perhaps the most disappointing season of Bob Stoops' tenure.
Prediction: Oklahoma 35, Iowa State 21
Iowa State could pull off two straight gigantic upsets, but I don't think it will. The Sooners have too much riding on this game to lose it, and I think they'll end up winning it rather easily.