BCS Rankings: Who's Overrated, Who's Underrated?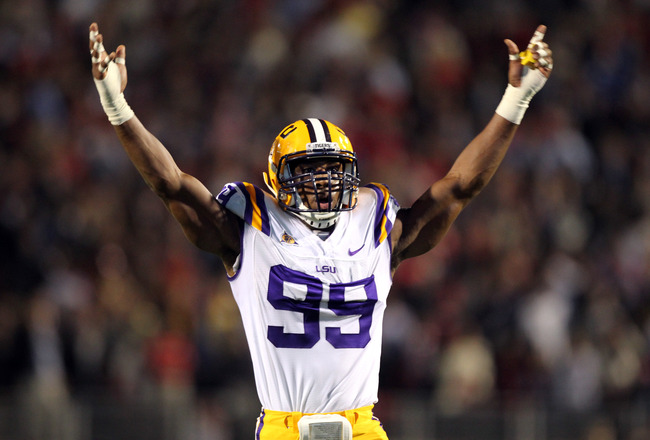 Joe Murphy/Getty Images
After the most unpredictable weekend of the 2011 college football season, some teams were helped by a number of upsets, while others saw their hopes of securing a spot in the BCS Championship vanish entirely.
The release of the BCS Rankings Sunday night revealed a clearer picture of what could possibly shape out to be one of the most controversial college football postseasons of the BCS era.
Some teams in the Top 10 of the BCS Rankings could move up in the coming weeks, while others have everything to lose.
What teams are overrated in the BCS? Who is flying under the radar? Are there any squads that are deserving of their current ranking? Find out in this week's BCS Overrated/Underrated...
1. LSU Tigers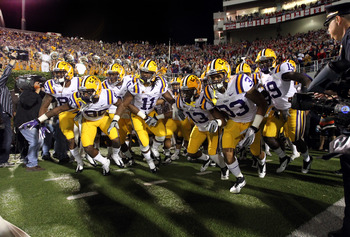 Joe Murphy/Getty Images
The Tigers have consistently performed at a high level throughout the entire 2011 season, and are unquestionably deserving of the top spot in the BCS Rankings given their impressive resume.
After pounding Ole Miss on the road to improve their record to 11-0, LSU faces their last test of the regular season against No. 3 Arkansas. LSU is clearly the better team on paper, and if the Tigers are able to defend their turf against a red-hot Arkansas team, they will have beaten three teams ranked in the Top 3 this season.
All that will be left standing in their way of a trip to the national title game will be an SEC Championship matchup they will be expected to win.
Overrated/Underrated: Just Right
2. Alabama Crimson Tide
Mike Zarrilli/Getty Images
Alabama received some much needed help from Iowa State over the weekend, and once again, Nick Saban's squad finds themselves holding down the No. 2 spot.
The debate over whether or not LSU and Alabama should square off for the national championship in January is already in full swing. In any event, such a matchup would once again provide ammunition for opponents of the current BCS system.
The Crimson Tide just want another shot at their SEC West rival.
Overrated/Underrated: Just right
3. Arkansas Razorbacks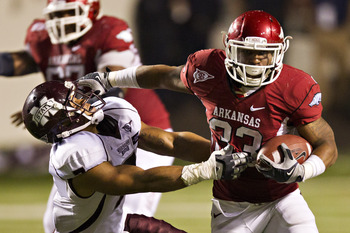 Wesley Hitt/Getty Images
Arkansas has crept up in the BCS Rankings over the last few weeks, and now Razorback fans find their team right behind their division rivals with one more regular season game to play against LSU.
The Razorbacks, led by junior quarterback Tyler Wilson, boast the best offense in the SEC, yet struggled to put points on the board earlier in the year against Alabama.
While Alabama is statistically better on defense than LSU, the Tigers' defense is nonetheless one of the most intimidating units in the country, and the atmosphere in Baton Rouge may be too much for Arkansas to handle on Friday afternoon.
Overrated/Underrated: Overrated
4. Oklahoma State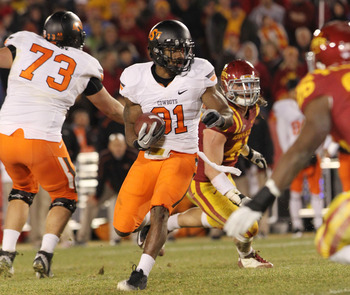 Reese Strickland/Getty Images
With no official conference championship game for the Big 12 this season, all the Cowboys had to do was defeat a mediocre Iowa State squad and then utilize the home-field advantage to take down Oklahoma on Dec. 3. Clearly, that was easier said than done.
The Cowboys were shocked by the Cyclones in a double-overtime thriller, and now must rely upon LSU and Auburn to win this weekend if they wish to get back into the title hunt.
Not to mention, the Cowboys still have to play host to Oklahoma. Both teams will desperately need a win to clinch a BCS berth, and even though there is no official conference championship, it will essentially have that type of atmosphere during championship weekend.
Nonetheless, Oklahoma State has the tools and personnel to overcome the stunning loss to Iowa State, and they could possibly find themselves at No. 2 with a one-loss season.
Overrated:Underrated: Just Right
5. Virginia Tech Hokies
Geoff Burke/Getty Images
Despite playing in one of the weaker AQ conferences, the resilience of the Virginia Tech football team deserves attention.
Many expected the Hokies to be towards the top of the ACC as the conference championship picture became more clear. However, a Top 5 ranking was out of the question for some at the beginning of the season.
Sophomore quarterback Logan Thomas has done a relatively good job stepping into the spotlight this season, and he leads the team in rushing touchdowns. The defense, ranked 12th nationally and second in the ACC, has given the offense some room for error as they have tried to find their rhythm.
However, a few things are working against Virginia Tech.
The most notable weakness is their strength of schedule. The Hokies have only played two ranked teams all season, and have struggled against opponents they should not have (i.e. Duke, Miami, East Carolina).
Virginia Tech may very well capture the ACC crown by defeating Clemson in a rematch, but the Hokies are lucky to find themselves ranked as high as No. 5.
Overrated/Underrated: Overrated
6. Stanford Cardinal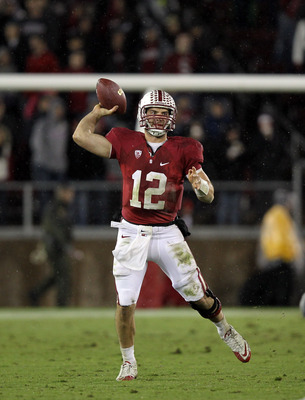 Ezra Shaw/Getty Images
Andrew Luck wishes his defense could find some consistency.
Against their toughest opponents of the season (USC, Oregon, Cal), the Cardinal defense has allowed an average of 43 points.
With Notre Dame coming to town on Saturday night, both teams should be ready for a shootout. Luck is perhaps the most consistent quarterback in the country, and Stanford's defense seems to be running out of gas down the stretch.
Even with a win against the Irish on Saturday, there would need to be some notable shifts in the Top 5 for Stanford to sneak back into the national title debate.
Overrated/Underrated: Overrated
7. Boise State Broncos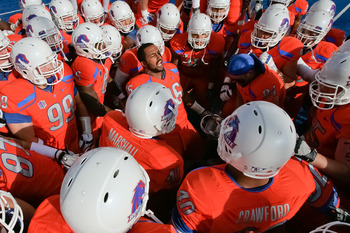 Otto Kitsinger III/Getty Images
After just one loss, all the talk about a potential national title game featuring Boise State came to a complete halt.
Nevertheless, the Broncos are led by one of the top quarterbacks in the country in senior Kellen Moore, and given their track record under head coach Chris Petersen, the team with the funny-looking field can prepare for a game just as good as anyone else.
Boise State may still be selected as an at-large team to compete in a BCS game, but they probably won't move much higher than their current ranking given their conference and strength of schedule. Scheduling one game against a team from an AQ conference still doesn't garner much respect.
Overrated/Underrated: Overrated
8. Houston Cougars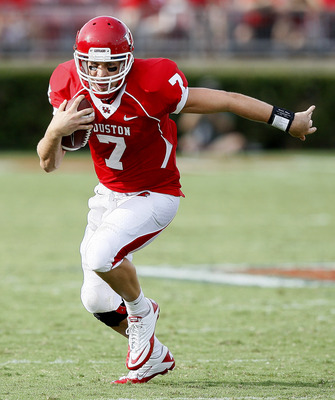 Bob Levey/Getty Images
Senior quarterback Case Keenum has rewritten several notable records during his 2011 Heisman campaign.
But he wants the polls to notice that his team is currently undefeated and deserves attention.
Keenum is averaging over 388 yards per game through the air, and he is being complemented by a formidable run game as well. Sophomore running back Charles Sims is averaging 8.5 yards per carry, and has averaged more than nine yards a carry four times this season.
The defense may not be the bright spot of the team, but it is doing its part, holding opponents to 21.4 points per game. And when your offense can put up over 51 points each game, it makes playing defense much easier.
Houston has yet to be tested by a quality opponent, but if they run the table, they will certainly get their shot in a BCS game. Even with an undefeated record, however, it probably won't be against the No. 1 team in the land.
Overrated/Underrated: UNDERRATED
9. Oklahoma Sooners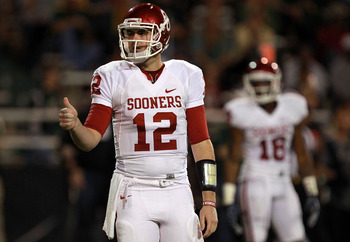 Ronald Martinez/Getty Images
Prior to Oklahoma's shocking loss on Saturday to Baylor, many college football analysts were under the impression that the Sooners still had a chance to play for a national title, despite their devastating loss to Texas Tech earlier in the year.
Unfortunately, that was prior to Saturday's game.
Now the only hope Oklahoma has of making it to the BCS is with a road win against an Oklahoma State squad that will be fired up to end an eight-game losing streak to their rivals that dates back to 2003.
Even with two losses, however, Oklahoma is still sixth in the country in scoring offense, and with the help of junior quarterback Landry Jones, the Sooners are averaging over 550 yards per game.
Like so many other instant classics that have emerged from conference play in the Big 12 this season, the Oklahoma-Oklahoma State game on Dec. 3 will likely be another shootout.
Overrated/Underrated: Underrated
10. Oregon Ducks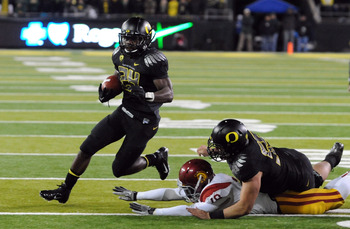 Steve Dykes/Getty Images
Oregon's hopes at a BCS title were practically erased after their first loss of the season.
Nevertheless, Ducks head coach Chip Kelly has done an excellent job rallying his squad and giving opposing defenses headaches with his wide arsenal of offensive weapons.
On the road at Stanford on Nov. 12, the Ducks amassed 232 rushing yards en route to a 53-30 victory over the then No. 4 team in the country.
However, Oregon hit a road block last week with a loss against USC in which they almost made a miraculous comeback in the fourth quarter and had a chance to send it into overtime until a missed field goal as time expired.
Even with the loss, Oregon only needs to beat Oregon State on Saturday to punch their ticket to the inaugural Pac-12 championship game. With USC unable to participate in the Pac-12 Championship, the Ducks will likely face UCLA, which should be an easy win guaranteeing their spot in the Rose Bowl against the Big 10 champion.
Overrated/Underrated: Underrated
Keep Reading