Texans vs. Jaguars: 5 Keys for a Houston Victory
November 24, 2011
Ronald Martinez/Getty Images
It's almost time to stop speculating about how he will do and finally get to see the Matt Leinart-led Houston Texans take the field in Jacksonville.
After almost two weeks of depression, denial, acceptance and hope, Texans fans are chomping at the bit to see if their 7-3 football team can continue their dominance over the AFC South division and remain unbeaten.
Nothing in the NFL is easy or a given, hence the phrase "Any Given Sunday." So regardless of how bad the Jags looked last week, this is by no means a gimme game for Houston. But if they follow these five keys to victory, they should run their win streak to five in a row this Sunday.
Matt Leinart Doesn't Have To Win the Game
I've heard more about the Texans in the national media in the last 10 days than I have in the previous 10 weeks. It's sad that it takes something really unfortunate to happen to the team and their starting quarterback for that to happen, but it is what it is. But for all the talk, most of it has been negative in regards to this team and their ability to have Matt Leinart win a game for them.
But that's just the thing—he doesn't have to. All Leinart has to do is play smart, hit short passes when they're needed and hand the ball off while not turning it over. With the defense as stout as it has been this season, all Leinart has to do is not lose the game for them.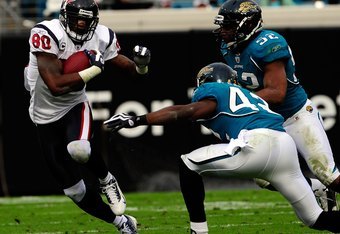 Sam Greenwood/Getty Images
Andre the Decoy
After what seems like a millennium, Andre Johnson will be returning to the starting lineup this weekend. If anything, this is yet another reason I think the Texans offense will be okay with Leinart. As I've mentioned in earlier articles, Johnson is good enough that he doesn't need an elite quarterback throwing him the ball. The guy did lead the league in receptions when David Carr was throwing him the ball one year. Get it in his vicinity and 80 will come down with it more times than not.
But even if Kubiak doesn't try to go down the field with Andre, he will at least be used as a decoy to keep the safety from stacking the box. It doesn't matter if it's Leinart or Dave Ragone out there, Johnson is always going to demand a double-team.
The Offensive Line Needs To Come to Work
I don't have very many bad things to say about the Texans offensive line. In fact, it's arguably the best in all of football and numerous guys should make the Pro Bowl roster. But they need to continue this habit Sunday in Jacksonville.
With a guy who hasn't started an NFL game in two years out there, I expect there to be several blitz packages coming his way. So the protection from the offensive line, especially Eric Winston who will be guarding the blind side now, will be huge in keeping Matty Light comfortable in the pocket.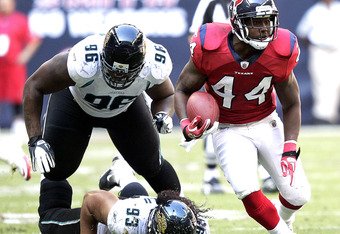 Bob Levey/Getty Images
Run. The. Ball.
I always say that if it isn't broke, don't fix it. And the Houston running attack is anything but broke. In the past three games, Houston has run the ball 123 times against just 68 pass attempts. This has concluded with three straight decisive victories.
That kind of success is the ultimate cushion to easing Leinart back into the speed of the game and with Johnson keeping the defense honest, I think it would be a safe bet to run Ben Tate and/or Arian Foster out on all of your fantasy teams.
Play Sound Defense
Something that Houston has done consistently this season is get heat on the quarterback opposition. One thing that Blaine Gabbert has proven in his rookie season is that he doesn't play well under those kinds of conditions.
The defense for Houston has been more sound than it has in the 10-year history of the franchise and they're holding much better offenses than the one they'll see this Sunday to low point totals and yards. If they play their game on offense and run the ball, Jacksonville will be lucky to find the end zone, much less score enough to win.
Mike Kerns is a featured columnist for the Houston Texans at Bleacher Report. Feel free to follow him on Twitter at @Zepp1978 and catch his latest Texans podcast at State of The Texans.