NFL Power Rankings Week 12: Bengals and More Mediocre Teams Ready to Rise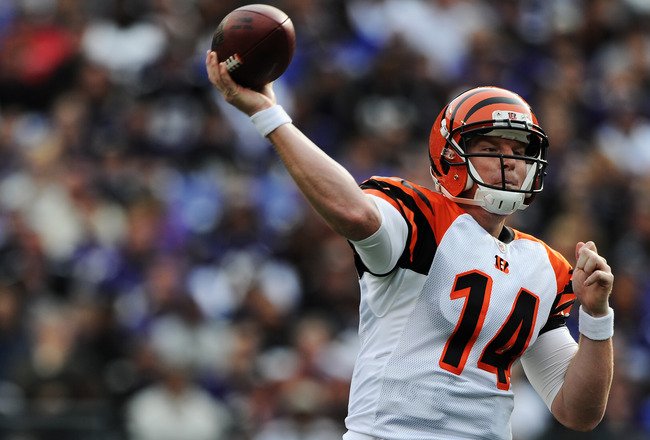 Patrick Smith/Getty Images
The Cincinnati Bengals are for real.
They may have lost two games in a row to AFC North rivals Pittsburgh and Baltimore, but they had a shot to win in each game in the fourth quarter.
Why?
Andy Dalton.
The rookie has poise. It's the highest compliment you can give a QB thrown into the fire like Dalton. He may make mistakes, but the lack of repeating those misfires is what separates him from the rest.
He has led two second-half comebacks that were a play away from tying up the game against two of the top five defenses in the NFL.
He has two more opportunities to beat the big brothers, and the Browns, Texans, Rams and Cardinals on the slate. That means if he can beat the big brothers once, he will have a 11-win rookie season. Who would have ever guessed?
Here are two other teams with average records on the rise for the rest of the season:
12. Denver Broncos- (5-5)
Now that Caleb Hanie is in charge for the Bears, the Broncos schedule is cake (Chargers, Vikings, Bears, Bills, Chiefs) with only a home game against the Patriots looking like a loss.
Regardless of how you feel about Tim Tebow, he is 4-1 and has beaten the Raiders and the Jets.
Who Finishes With The Most Wins?
As the offense continues to evolve around Tebow, the rest of the team will only get more comfortable running it and new wrinkles will continue to be installed.
With the way Von Miller, Elvis Dumervil and the rest of defense has been reborn, the Broncos are serious contenders to win the AFC West.
13. New York Jets- (5-5)
The Jets really aren't that great of a football team, but the schedule finally opens up for the green and white.
The next three games are against the Bills, Redskins and Chiefs…with the Dolphins looming at the end of the year.
Those are all games where the Jets will be favored in and assuming QB Mark Sanchez has some sort of confidence, should blowout.
The pass defense is good enough to win against the likes of Rex Grossman, Tyler Palko and Matt Moore either way.
Eric Ball's Week 12 NFL Power Rankings
1. Green Bay Packers (10-0)
2. San Francisco 49ers (9-1)
3. New Orleans Saints (7-3)
4. Baltimore Ravens (7-3)
5. Pittsburgh Steelers (7-3)
6. Detroit Lions (7-3)
7. New England Patriots (7-3)
8. Houston Texans (7-3)
9. Atlanta Falcons (6-4)
10. Oakland Raiders (6-4)
11. Cincinnati Bengals (6-4)
12. Denver Broncos (5-5)
13. New York Jets (5-5)
14. Chicago Bears (7-3)
15. Dallas Cowboys (6-4)
16. New York Giants (6-4)
17. Tennessee Titans (5-5)
18. Tampa Bay Buccaneers (4-6)
19. Philadelphia Eagles (4-6)
20. Seattle Seahawks (4-6)
21. Miami Dolphins (3-7)
22. Buffalo Bills (5-5)
23. Kansas City Chiefs (4-6)
24. Cleveland Browns (4-6)
25. San Diego Chargers (4-6)
26. Jacksonville Jaguars (3-7)
27. Washington Redskins (3-7)
28. Carolina Panthers (2-8)
29. Arizona Cardinals (3-7)
30. Minnesota Vikings (2-8)
31. St. Louis Rams (2-8)
32. Indianapolis Colts (0-10)
This article is
What is the duplicate article?
Why is this article offensive?
Where is this article plagiarized from?
Why is this article poorly edited?