Kansas City Chiefs: Is Kyle Orton to Coming to Kansas City?
November 22, 2011
Jamie Squire/Getty Images
The Denver Broncos waived Kyle Orton today, and there could be a frenzy to claim him off waivers. Could the Kansas City Chiefs, who are still in playoff contention in the AFC West, make a claim for Orton?
The first question is if the Chiefs would even have a high enough waiver pick.
Their current standings place them 23rd in the NFL, thus they have few teams to compete with. Most of the teams ahead of them, the Cardinals, Jags, Vikings, and so on, are all fairly entrenched at quarterback. 
Miami is the most interesting, as they were linked heavily to Orton in the preseason and up until a few weeks ago, would have been the by and large favorite to target him after Chad Henne's injury.
Now Matt Moore is playing exceptionally, and the Dolphins are riding a three-game winning streak with him. While I wouldn't be shocked to see them claim Orton, I definitely think it would come as a surprise with Moore playing this well. 
It's probable that the Chiefs will be in a good position to put in a claim on Orton.
What do the Chiefs stand to gain from his services? 
Orton is an interesting quarterback. He was drafted by the Bears and played there until 2009, when they traded him and a pick to the Denver Broncos for Jay Cutler.
Orton steadily improved his play from his time as a rookie to his third year, increasing his completion percentage from 51.6 percent to 58.5 percent. He topped that off with his best season as a Bronco, throwing for 61.5 percent, 21 touchdowns, and only 12 interceptions. 
Is he better than Matt Cassel? The best answer is yes and no. Cassel, statistically, has definitely had a better career than Kyle Orton. Cassel is better at taking care of the football, and has better decision making in general.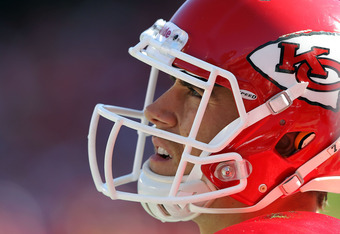 Jamie Squire/Getty Images
Orton is a superior downfield thrower, but he also takes more gambles.
Neither quarterback excels in the face of pressure. It's clear that Orton would not be the quarterback of 2012 if the Chiefs took him off waivers. They are committed to Cassel, rookie Ricky Stanzi, or any quarterback they might draft next year. 
There is essentially three reasons the Chiefs would claim Orton. 
First, they think he gives them a chance to make the playoffs. Orton could provide a spark for the Chiefs at this point in the season.
Tyler Palko looked like a backup quarterback on Monday Night Football. He's not good enough to start consistently, and he's only there to hold the team over for a few games. Orton gives the Chiefs a chance to take advantage of the pile of weapons the Chiefs have acquired on offense. 
Second, Orton could be used as either a starter or as a backup next year. I doubt Orton would be willing to be a backup for a former division rival to a quarterback he is roughly equivalent to.
I do not think the Chiefs have given up on Matt Cassel. They could start looking at other options, especially on a talent like Matt Barkley in the next draft, but they will not just flat out give away Cassel's starting position to a guy who has had roughly the same success. 
Third, the Chiefs could take him, sign him to a short-term deal, play him this year, and then trade him.
With the weapons the Chiefs have, he could put up some solid numbers. There is always a demand for quarterbacks in the market, and the Chiefs could easily flip him for a third-rounder.
That would only be possible if he signed a contract that extends to next season, and if he thought he had a chance to start for the Chiefs next year. It's unlikely, but it's a possibility. 
Orton has a distinct possibility of ending up in Chiefs red. I could see the Chiefs being much more competitive with Orton at quarterback.
Sometimes change just helps a team.