Auburn Football 2011: Alabama Must Now Come to the Plains
November 22, 2011
Al Messerschmidt/Getty Images
The 2011 edition of the Iron Bowl between Auburn and Alabama has again grasped center stage in the college football world. The stage is set in Auburn, Alabama this year, where fans will give the Tigers a home-field atmosphere that none of the current Alabama team has ever faced in their college careers.
After a foolish spectacle in Tuscaloosa last season, where Alabama officials welcomed Auburn star Cameron Newton by playing classless and insulting songs, while Alabama fans hurled verbal insults, racial slurs and fake money, Auburn fans are ready for their pound of flesh. "Intense" is not a strong enough word to describe what the on-field atmosphere will be like for this game.
Much has been said about the two teams. In this game, all of that can be thrown out the window. No sane analyst or prognosticator can feel confident in a prediction of the results in this game for either team. It has been said that historically the best team usually wins. In this case the "team" truly includes much more than a football team.
Alabama will arrive in Auburn with a quarterback that has not been tested under these road conditions. Their offensive line has yet to try communication under such dramatically intense scrutiny. Their receivers have not attempted to decipher on-the-line play changes in these conditions.
Auburn has a road-weary team that has been forced to face five of the current Top 25 BCS teams on the road this season. Alabama will be the sixth Top 25 BCS team, but they must face Auburn in the friendly confines of Jordon-Hare Stadium.
This has been a rebuilding and reevaluating year for Auburn. They are preparing for what most think is a legitimate chance to contend for the BCS Championship in 2012. They are young, and the majority of this team will be around to travel to Tuscaloosa, Alabama next season.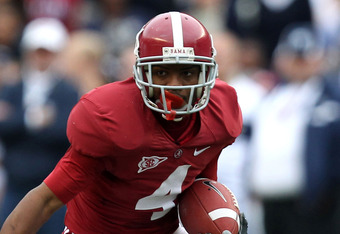 Mike Zarrilli/Getty Images
This is likely the last chance Alabama will have to contend for a few years. They will lose many key components on both offense and defense for next season. After having their hopes dashed at home by LSU earlier this season, the flames were once again fanned after a bizarre weekend of upsets.
The entire season comes down to this game for both teams. Auburn finally has the opportunity to play a top team at home. Their last home loss was to Alabama in 2009. Alabama has a good chance at getting another shot at a better LSU team if they can simply repeat that 2009 performance.
Alabama leads the SEC in many statistical defensive categories. They lead South Carolina by three yards per game in pass defense and Georgia by seven yards per game in rushing defense. They lead no statistical defensive category by an overwhelming amount that would separate them from the pack in an overwhelming sense.
The Alabama defense depends on communication and constant changes at the line of scrimmage. They bring blitz pressure from every direction. They are a very good defense loaded with future NFL players.
The Auburn defense has improved at an individual player level this season. They have competent defensive playmakers at every position, and are reasonably deep. Often this season, these playmakers have been left out of position or at a disadvantage to make plays by poor defensive play-calling.
The Alabama defense will face an Auburn offense that is streaky. They execute well at times, and look incompetent and lost at other times. Turnovers have been a marked problem in recent games.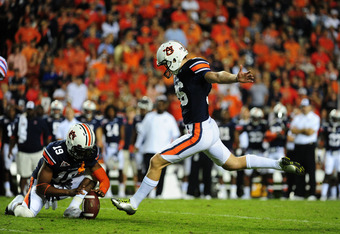 Scott Cunningham/Getty Images
The Auburn defense will face an Alabama offense that is largely one-dimensional and not very explosive. They have little chance of recovering if their opponent gets a substantial lead.
There will be several key factors to watch in this game. Auburn can field sweeps and options with freshman quarterback Keihl Frazier. This would force the Alabama defense to play disciplined, assignment football. They did not defend this type of rushing attack well in their game with Georgia Southern last week.
Alabama must get and sustain a high level of pressure on the Auburn quarterback. Given time, Auburn will be successful in their passing game. This would put the Alabama defense in a very undesirable position.
Alabama must pass the football successfully. If they do not pass successfully, they will not have the success they need with the rushing attack. If they can make Auburn respect the pass, it could give them the tools they need for victory.
The success or failure of the passing attack will likely decide the outcome of this game for both teams. Success does not have to be spectacular, but it must be effective.
Special teams is the wild card that could really impact this game if it is close. Both teams have had their successes and failures in this area this season. Auburn does appear to have the advantage in this area, but that is deceptive. A good performance by Alabama's special teams could give them a decisive edge.
Auburn can win this game no matter how well Alabama plays. They have both the talent and tools needed for success. Alabama should win this game, as they have played better all season long.
In games like this, experience is usually the decisive factor. Alabama has a huge advantage in this area, but lacks experience in several key positions. Alabama is also somewhat beat up, while Auburn is as healthy as they have been all year.
The team that wants this game the most will likely persevere. It is anyone's guess as to which team that might be this year.