Texans vs. Jaguars: TV Schedule, Live Stream, Radio, Game Time and More
November 22, 2011
Bob Levey/Getty Images
There really shouldn't be much intrigue for this battle AFC South game with the Houston Texans visiting the Jacksonville Jaguars.
After all, Houston is out in in front of the division race at 7-3 and the Jacksonville is on its way to another losing season at 3-7.
But there are a lot of things going on in this game, and a lot of them have to do with the Texans.
Houston's superstar receiver, Andre Johnson, is going to see his first action since Week 4 and usual No. 2 quarterback Matt Leinart is going to make his first start since 2009.
If Houston can't beat Jacksonville on the road with Leinart, they'll be extremely hard-pressed to win a potential postseason game.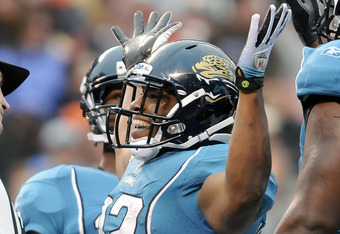 Jason Miller/Getty Images
Where: EverBank Field; Jacksonville, Florida
When: Sunday, November 27 at 1 p.m. EST 
Watch: CBS. DirecTV 704. 
Listen: Texans - Sirius 138. Jaguars - Sirius 127
Betting Line: Texans -3.5
What's At Stake?
The Jaguars would have to win out and hope for a miracle to even get a shot at the postseason. The Texans, on the other hand, need to take advantage of weaker opponents like Jacksonville if they want to finally break into the postseason.
A loss here will be a huge amount of pressure on Matt Leinart, and there is no telling if or when Matt Schaub is going to start to again.
Texans Injury Report
Matt Schaub, QB - Out
Mario Williams, DE - Out
Andre Johnson, WR - Probable
Danieal Manning, S - Questionable

Jaguars Injury Report
Rashean Mathis, CB - Out
Aaron Kampman, DE - Questionable
Clint Session, LB - Questionable
Fantasy Start 'Em, Sit 'Em, Sleeper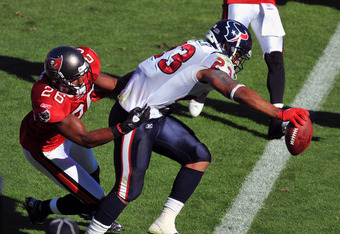 Al Messerschmidt/Getty Images
Start 'Em: Arian Foster, RB, Texans
The Texans are going to have to lean on Foster and No. 2 back Ben Tate in Leinart's first start. I don't expect them to baby the sixth-year pro, but getting Foster on track early will go a long way toward helping them win earn another W.
Sit 'Em: Marcedes Lewis, TE, Jaguars
He's been a disappointment all season long. The Texans, whose defensive is one of the best in the league this year, doesn't give up a lot of points to any offensive players, let alone one in one of the most inept offenses in the league.
Sleeper: Andre Johnson, WR, Texans
In his return to the lineup it wouldn't be surprising to see him and Leinart hook up a few times against this defense.
What They're Saying
The Houston Chronicle writes:
A visitor at Leinart's locker observed that the sixth-year veteran seemed at peace with himself. The quarterback agreed, revealing that he was relaxed during the bye, whether it was playing with his son and visiting with friends. The goal was to free his mind from football, a brief rest from the inevitable strain/grind of what might amount to a six-week or longer starting gig.

Having accomplished all of that, he says he's ready.

"I fully expect to play at a high level," Leinart said. "My teammates and coaches do, too. If you prepare and study, you should be able to go in the game and transfer that… We'll see. There may be some things here and there, but I should be able to get into a rhythm and execute, you know, which I feel good doing."
The Florida Times-Union writes:
It was interpreted like Del Rio was questioning the calls, but Del Rio said Monday that wasn't the case. In fact, Del Rio said he liked the final two plays Koetter called (two pass plays, both of which had a chance of scoring a touchdown) and thought they were well designed.

"That was never an issue," Del Rio said today. "I just said if you want to get into specifics, you know I let my guys call the game. Talk to them. I think that kind of got played up a little bit more than it deserved yesterday. I was being honest.

"... I liked our play. I think everybody would have liked our play had we scored. Any time you don't make it happen, that's a natural question. I certainly understand."
Texans Player To Watch: Matt Leinart, QB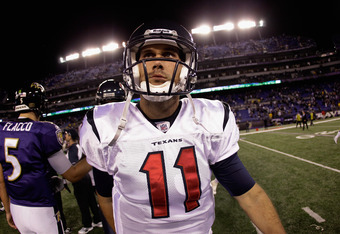 Rob Carr/Getty Images
His first start since 2009 at least comes against a defense he should be able to put up numbers against.
The former Heisman Trophy and national championship-winning No. 10 pick in the 2006 draft has struggled throughout much of his career.
He turned opportunities to go elsewhere this offseason to return to Houston as a backup. Now he'll have the chance to start and possibly go to the postseason all in six games.
If Leinart can't put things together quickly with the Texans, they'll run the risk of missing the playoffs again.

Jaguars Player to Watch: Paul Posluszny, LB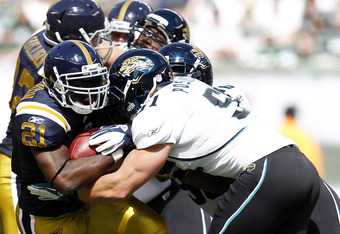 Jeff Zelevansky/Getty Images
The Jaguars are going to need to shut down Foster and Tate if they are going to have any chance at success against this team.
Offensively, the Jaguars aren't going to win any games, but they can stay involved long enough defensively for something to happen.
A lot of that hinges on what Posluszny can do in the middle. He's not only going to have to deal with Foster and Tate on the run, but also out of the backfield.
On the Hot Seat: Jack Del Rio, Jaguars
This is likely Del Rio's final season, barring any crazy turnaround. Judging by his team's offensive performances so far this season, that is unlikely to happen.
Key Matchup: Texans' running backs vs. Jaguars' front seven
As stated in the Posluszny section, this game will be won or lost with how the Jaguars handle Foster and Tate.
The Texans are going to want to run the football to help make things easy for Leinart early in the game. If he can get comfortable the Texans will have a chance to open things up and make some plays downfield in Johnson's return to the lineup.
If Jacksonville stifles the run and forces Leinart to win the game, they could actually have a chance. If they fall behind early they'll have no shot.
Prediction: Texans 24, Jaguars 7