Notre Dame vs. Stanford Football: How the Fighting Irish Can Beat the Cardinal
November 22, 2011
Jonathan Daniel/Getty Images
Notre Dame's final game before bowl discussions will put the Irish up against the Stanford Cardinal—one of college football's elite teams.
In order for the Irish to come out of Palo Alto with a victory, Notre Dame will have to play its finest game of the season. The team will need to be firing on all cylinders—offense, defense and special teams.
Stanford had a close call in a triple-overtime contest against the University of Southern California, but the Cardinal's only loss of the year came against Oregon in a high-scoring affair. 
To beat Stanford, Notre Dame should emulate Oregon's approach. The Irish will need to play fast, get a ground game going early and constantly pressure Andrew Luck.  
As the season has progressed, Brian Kelly has been urging his team to play uptempo. In Notre Dame's game last week against Boston College, Kelly was seen on the sidelines giving hand motions indicating he wanted the offense to speed up. 
While no Irish fan wants the team to be dominated in time of possession, a quick pace will be crucial in keeping the Stanford defense on its toes. And after a poor offensive outing against Boston College, a quick-hitting attack could spark the Irish offense.
Of course, that would leave Luck on the field to pick apart the defense. The Irish probably won't be able to cause as many turnovers as Oregon did (five), but if Notre Dame can get some pressure on Luck, the defense might be able to create a few.
Notre Dame's defense has played its best when it hasn't relied solely on the defensive line to create pressure. Bob Diaco will need to call an excellent game. He should call well-disguised blitzes, and he should dial up pressure more often than he has so far this season.
Jonathan Daniel/Getty Images
Luck spreads the ball around to a multitude of receivers and tight ends, so everyone on the Irish defense will have to cover. Putting pressure on Luck will help out those in coverage, but if he has time to sit in the pocket, then it will be a long day for the Irish defense. 
The Irish should try to play quickly, but that doesn't mean that they can't run effectively.
Oregon's quarterback, Darron Thomas, only threw the ball 17 times, and he completed 11 passes for 155 yards and three touchdowns (no turnovers either).
Tommy Rees needs to be careful with the ball (especially in the red zone), and Kelly should limit his attempts. Fans can expect more than 17 attempts because Oregon runs a different run-based spread offense, but Rees shouldn't throw over 25 passes. 
Like always, Oregon lost the time-of-possession battle against Stanford (34:25-25:35), but the Cardinal saw an extremely heavy dose of runs. Altogether, Oregon ran the ball 40 times. That includes seven runs by Thomas, but LaMichael James got the lion's share with 20 carries.
Now that half of Notre Dame's two-headed running attack is injured, the Irish will have to turn somewhere else for supplemental production.
While the two freshmen backups, George Atkinson III and Cam McDaniel, must be looking forward to impacting the running game, it might be smarter for the Irish to turn to someone with experience.
Eric Hansen of the South Bend Tribune is reporting that Theo Riddick could be set to replace Jonas Gray. While Hansen calls the move "more possibility than probability at this point," he goes on to quote Kelly as saying "We'll look at all those possibilities" when referring to moving Riddick.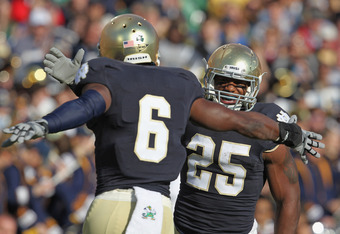 Jonathan Daniel/Getty Images
Riddick would have to be healthy, and if not, it will be McDaniel's and Atkinson's turns to take some handoffs.
One thing that Oregon didn't do but Notre Dame certainly should—let Gray give the pregame speech. 
As Gray sat there with tears welling in his eyes last week after the devastating knee injury had occurred, fans saw Gray's teammates and members of the staff walk up to the departing senior one by one showing the immense respect he had earned throughout the season. 
No one would be able to motivate the Irish more than Gray this week—not even Rudy Reuttiger (the ultimate underdog who is now a motivational speaker).
Emotion alone won't propel the Irish to a victory over one of the nation's top teams, but if Notre Dame follows its game plan, a boost from Gray could give Notre Dame just what it needs—inspiration.