5 UFC Fighters You Should Not Expect to See on FOX This Year

UFC signed a huge agreement with Fox in 2011.
The UFC agreed a landmark deal with Fox on August 18th, 2011. They will get to show four events for free every year. The deal is looking to bring a lot of new fans to the UFC.
As a kind of preview for the deal, the UFC put on UFC on Fox 1. The fight's headline was Cain Velasquez facing Junior Dos Santos for the heavyweight title. The fight would only last just over a minute.
Just one week later, UFC 139 would take place and the main event—Shogun vs. Henderson—was viewed by many as the best fight ever! Many people asked Dana whether he regretted not putting this fight on Fox.
Dana stated that he was happy as it would have led to complaints, and that they needed to ease fans into UFC. This suggests Dana will keep certain fighters off the Fox channel for while. This slideshow will look at the fighters I don't expect to see on Fox.
Nate Diaz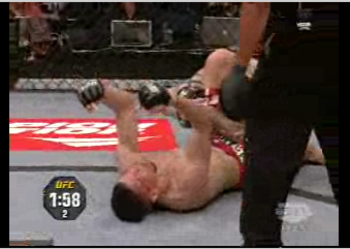 Nate Diaz flashing the finger to fans!
Nate Diaz the younger brother of welterweight number one contender Nick Diaz. He is also one of the top lightweights in the UFC. The UFC have schedule him in a big fight with Donald Cerrone at UFC 141. His skill set while not as good as his brother is similar with his Boxing and Brazilian Jiu-Jitsu style.

However while the UFC don't want to put anything likely to cause complaints on FOX, Diaz will not be shown. It is too much of a risk for the UFC, Diaz is known to do some crazy things. For example when he locked in a triangle choke on Kurt Pellegrino he stuck his middle fingers in the air. He is also synonymous with the Strikeforce Nashville Brawl not the proudest moment in MMA history.
Chris Leben

Chris Leben going into zombie mode after getting hit with a clean shot!

The Crippler is one of the longest serving UFC fighters having 19 fights within the company, with only Matt Hughes and Tito Ortiz having more fights on the current roster. He is a gatekeeper of the division, losing to fighters such as Anderson Silva, Mark Munoz and Brian Stann but beating fighters like Akiyama and Wanderlei Silva.

Fans love Chris Leben because of his aggressive style. He is a brawler, willing to take punches to land his own. He is often known for his steel chin, going into 'zombie' mode after taking a shot (as in the video). Dana White will be looking to get away from any fighter likely to lead to complaints. Will people complain if Chris Leben goes into zombie mode? There is a chance and for that reason I don't think we will see Leben on FOX.
Roy Nelson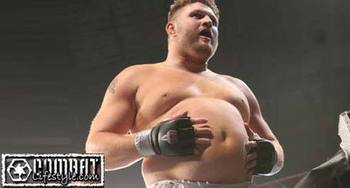 Roy Nelson celebrating a win by rubbing his infamous belly.
Roy Nelson is ranked a middle tier heavyweight. Wins over Kimbo, Cro
Cop, Struve and Schaub have been offset by losses to Arvloski, Mir and
Junior Dos Santos. Nelson won the Ultimate Fighter series 10 and was
the first and last IFL heavyweight championship. The curly haired
fighter with an iron chin is a Brazilian Jiu Jitsu black belt. The UFC
use him as a gate keeper testing which heavyweights are ready to step
up too the next level.

Dana White is looking to promote MMA as a sport. Not a freakshow like
the early days but a sport with fully trained athletes. Roy Nelson
does not fit into the image Dana White is trying to promote. The big
belly and celebratory belly rub was a fun novelty to begin with but
really it is insulting how little Nelson seems to care when some guys
work really hard to get into the UFC. Dana will not be looking to have
Nelson's infamous belly on FOX..
Diego Sanchez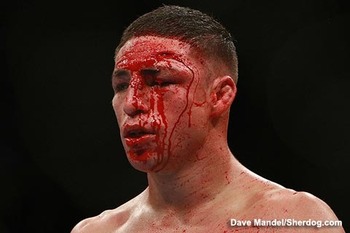 Diego Sanchez has had some terrible cuts!
Diego Sanchez is a former lightweight title contender and a top ten
ranked welterweight. He is scheduled to face Jake Ellenberger at UFC
on Fuel TV 1. A fan favourite who loves to stand but is a good
submission artist. He has wins over Florian, Guida, Kampmann and
Thiago. His four career losses all came in the UFC, against Fitch,
Koscheck, Hathaway and Penn. Sanchez is usually in good fights having
four fight of the nights award.

However Sanchez is possibly the bloodiest fighter currently in the
UFC. His fights with B.J. Penn and Martin Kampmann led to gruesome
cuts. The Penn cut was especially gruesome with a three-inch
laceration only a few inches above his left eye. The blood has the
potential to turn off some Fox viewers or stop children from watching
it due to the graphic content of the sport.
Jon Fitch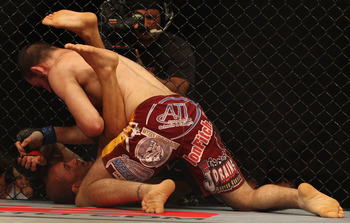 Jon Fitch is disliked by many fans for his 'boring' style.
Jon Fitch is rated by most publications as a top three welterweight
fighter and a top ten pound for pound fighter. In Fitch's last 26
fights he has a record of 24-1-1. The loss was at the hands of
welterweight champion Georges St Pierre while the draw came to the
legendary B.J. Penn. Jon Fitch is a top class wrestler with wins over
Alves (2), Thiago, Pierce and Sanchez and scheduled to fight Jonny
Hendricks at UFC 141.

Jon Fitch has a problem though. It is the reason he has only had 1
title shot in all his time with the UFC. He has a 'boring' style. He
is known for his lay 'n' pray. Dana White is looking to use Fox in
order to generate more fans and 15 minutes of Jon Fitch laying on top
of someone without much action is hardly likely to entice new fans
into watching the sport.
Keep Reading