Miami Dolphins Bully the Buffalo Bills: This Week's News and Notes
November 22, 2011
Marc Serota/Getty Images
Buffalo Battered in Third Straight Win
Miami's dominant 35-8 win over AFC East rival Buffalo improved their record to 3-7.
Having conceded a field goal on the Bills' opening drive, the Dolphins then reeled off 28 straight points with touchdowns from Anthony Fasano (one-yard pass), Reggie Bush (five-yard run), Charles Clay (12-yard pass) and Davone Bess (four-yard pass).
Another field goal from Buffalo ended the half, but Miami secured the victory with a blocked punt return for a touchdown. Chris Clemons charged down the punt and Lex Hilliard recovered the ball in the Bills end zone for the score.
Daniel Thomas was tackled in the end zone for a safety to conclude the scoring, and the Dolphins registered their third straight win and second straight home win.
Offensive Weapons Finally Firing
Another excellent showing from Matt Moore helped Miami to victory, as he threw three touchdowns and no interceptions. The backup quarterback has exceeded all expectations, but it is the Dolphins' high-profile weapons who have been vital to their recent success.
Anthony Fasano, having spent most of the year helping Marc Colombo in protection, has finally become the red-zone threat Miami needs, and now leads the team in touchdown receptions.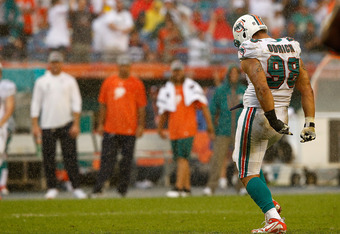 Mike Ehrmann/Getty Images
Brian Daboll has also found a role for Reggie Bush in the offense, and he is proving to be a very dangerous weapon, now that Miami seldom uses him to run between the tackles.
Charles Clay, the flexible rookie H-Back, is also beginning to make an impact, catching three passes for 69 yards and one touchdown this weekend. He is showing his worth as a receiver, displaying soft hands and is also improving as a blocker.
The sixth-round pick out of Tulsa is certainly looking like a good selection by the Front Office.
Defensive Unity Translating Into Strong Performances
The Dolphins' defensive togetherness has been evident all season, even after disappointing losses, but now their play is matching their confidence. Their intensity is breeding success, and they are enjoying themselves on the field too.
Miami hasn't allowed a touchdown in three games and made another successful goal-line stand this Sunday.
Karlos Dansby has been outstanding as of late, and Kevin Burnett looks to have finally settled in to Miami's defense too. Tyrone Culver has impressed at free safety, Jason Taylor continues to make sacks and Jared Odrick is becoming a real force on the defensive line.
The secondary are finally forcing turnovers too, with two interceptions coming from tipped passes this Sunday. Nolan Carroll and Yeremiah Bell made the picks and left Miami with excellent field position in the Bills' red zone.
What followed is becoming an inevitability.
Matt Leaves Fans Wanting Moore?
Backup quarterback Matt Moore hardly had high expectations when he took over for the injured Chad Henne. Instead, he has surpassed all his expectations, and surpassed Henne's level of play.
Moore is throwing touchdown passes at will, playing aggressive, showing good poise in the pocket and coverting red-zone possessions into touchdowns.
He's arguably been the second-best QB in the AFC East this year.
Miami can't ask for more from Moore, but fans are beginning to wonder whether their backup can be their starter next year. This talk is a little premature, but he could be a serviceable starter while the transitional period to a rookie occurs. Moore has shown that with solid protection, he is a more than capable quarterback, and he deserves to compete for the starting role next season.
Offensive Line Improvement Coincides with Victory
Moore's good play is largely a result of the offensive line's improvement. Their run-blocking has been solid, but pass protection has improved hugely since the season's opener. Moore has been given the time to make plays, and he has held up his end of the bargain too.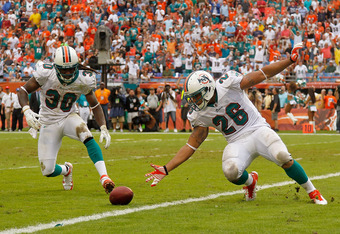 Mike Ehrmann/Getty Images
Matt Moore is no longer running for his life, and Vernon Carey is beginning to show promise as a pulling guard. Mike Pouncey is a stud and is proving to be a terrific pick.
Even Marc Colombo has been solid these past two games.
The improved line-play is partly a result of opponents' poor pass-rush, but Miami are finally playing like a unit. It does, however, beg to question if Chad Henne would have played better if he wasn't constantly running for his life in his four starts this season.
The offensive line will face DaMarcus Ware this week, and then we can all see how much they really have improved.
The Beast Ready to Be Unleashed
Brandon Marshall has been held to one catch for five yards against the Bills, and had a touchdown reception reversed. Expect the Beast to see a bit more of the ball against the Cowboys.
He doesn't like to be ignored.
Improved Playcalling Delivering Results
Brian Daboll has found ways to use Charles Clay, Reggie Bush and Anthony Fasano. The wildcat is making a slow re-emergence in the offense too, but is being used sparingly.
On defense, Mike Nolan has found ways to disguise blitzes. The plays are less predictable, and Miami are getting to the quarterback and forcing turnovers.
Both men have made good adjustments to their calls and the results have justified their decisions.
Special Teams
The constant roster-churning from last season is gone, and the special teams' play has improved ten-fold as a result. Miami blocking a punt for a touchdown? Unheard of.
Jeff Ireland deserves credit for recognising the roster-churning was an issue, and the coaches deserve credit for improving the special teams' play.
Next Up: Thanksgiving in Dallas
Sparano and Ireland return to their old stomping grounds in Dallas, as they face the Cowboys in the second Thanksgiving game.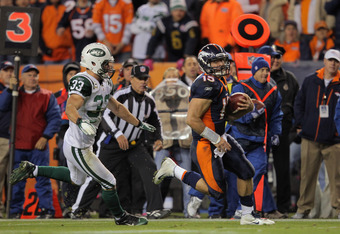 Doug Pensinger/Getty Images
The two deciding factors in the game will likely be how Miami contains tight end Jason Witten, and whether the offensive line can contain Dallas' pass-rush.
The Dolphins will be fired up, and hope to show the world that they should not be taken lightly on national television.
Personnel Changes
Dan Carpenter has an injury, so veteran kicker Shayne Graham has been signed as cover. Cornerback Jonathon Wade was waived as a result.
2011 Draft Class Promising a Bright Future?
Mike Pouncey looks like a great pick, Daniel Thomas—although limited by injury lately—has impressed at times this year. Charles Clay is beginning to make an impact too.
Even seventh-rounder Jimmy Wilson has made plays and shows potential.
Only wide receiver Clyde Gates hasn't made an impression yet, but coming from a small-school, he needs time to adjust to the NFL.
Overall, it's looking like a very solid draft class from 2011, and the young team looks to have bags of potential.
2012 Draft Targets
Andrew Luck is the Colts' now. Forget about "Suck for Luck". He won't be coming to Miami bar an incredible trade.
As a quarterback is still the likely pick, this week's college football gave scouts a lot to think about.
Matt Barkley threw for 323 yards, with three TDs and one interception against the Oregon Ducks, who last week made Luck look human, picking him off twice in Stanford's first defeat. Barkley is looking very impressive as of late, and is starting to cement his place as the second quarterback in the draft class.
Miami will definitely be interested in him.
Brandon Weeden's stock took a big hit, as Oklahoma State lost for the first time this season. He threw three interceptions in a shock defeat. Expect the 29-year-old rookie to be a mid-round pick.
A fall back option, but an unlikely first choice for the Dolphins.
Baylor played Oklahoma, as Robert Griffin III met Landry Jones. Both impressed, but it was RG3 who came out of the contest the winner, after an incredible game-winning drive in just 50 seconds saw him throw the winning 50-yard touchdown pass with eight seconds left.
Jones threw for 447 yards with one interception and no touchdowns. Oklahoma used the running game to capitalize on good field position. However, RG3 easily outplayed him with 479 passing yards, four touchdowns and 72 rushing yards. He is athletic, exciting and deadly accurate when passing.
Expect his draft stock to rise a lot following the win, and expect him to be in the conversation when Miami are on the clock.
Griffin's lack of experience in a pro-offense is a worry, but after you watch him play, it's very difficult not to want to see him in Dolphins' uniform next season.
Around the AFC East
The Patriots dominated Kansas City on MNF in a 34-3 win. Tight end Rob Gronkowski did the damage with two touchdowns—what a red-zone target he is.
New England are now leading the division comfortably with a 7-3 record. They should easily win the division, bar a catastrophic meltdown.
Elsewhere, the Bills obviously lost to the Dolphins and fell to 5-5. Injuries are mounting, and there doesn't look to be any way back for Buffalo. Having paid Ryan Fitzpatrick as their franchise quarterback, he's struggled ever since and Matt Moore easily outplayed him on Sunday.
Sexy Rexy's vomit-green cheating machine were in disarray after a Thursday night embarrassment at the hands of Tim Tebow and the Broncos' read offense. They fell to a 5-5 record.
Having dominated Tebow for 55 minutes, King Tim led a 95-yard game-winning touchdown drive in the final five minutes, capped by his run for a 20-yard touchdown. Beautiful.
On the run, cornerback Antonio Cromartie made very little effort to shed his block and watched Tebow walk into the end zone. This said a lot about the Jets' team spirit. Contrast this with the resurgent Dolphins and their effort and intensity, and you see all that is wrong with Rex Ryan's team.
Mark Sanchez struggled again, and his position as the Jets' franchise quarterback is coming under more scrutiny every week.
On top of this, Rex Ryan is likely to pick up a hefty fine for his foul-mouthed outburst at New England.
All in all, not the best of weeks for the Jets then. Yes, you can afford yourselves a little smile.
Around the NFL
LeGarrette Blount is a beast. That touchdown run against Green Bay was incredible. Undrafted from college and dumped by the Titans last year, the Bucs found one hell of a player.
Would have loved to see him in the Dolphins' backfield.
Insult Tebow all you like, but he's a winner and a leader. He finds a way to win, and you can't criticise him for that, no matter how horrible his mechanics are.
Following the release of No. 15 Jesus shirts, wouldn't you love to see him grow his hair and beard long?
DeShaun Jackson is going to be a free agent this season. In the words of Deion, "someone pay the man." Immature, arrogant and infuriating, but what a talent. (Miami fans should back off though, not sure the money is there for D-Jax, and I doubt coaches want to have to deal with him and Brandon Marshall!)
San Francisco 49ers safety Dashon Goldson punched a man still wearing a helmet as revenge. Seriously?
One More Thing
How much do you love Jared Odrick's Pee-Wee Herman Dance?