Tennessee Titans: 5 Ways Titans Can Make Playoffs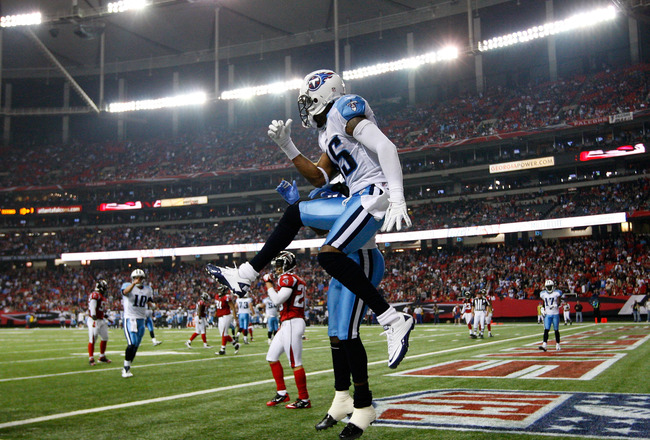 Kevin C. Cox/Getty Images
The Tennessee Titans slipped back to .500 after Week 11's loss to the Atlanta Falcons.
They just can't seem to hang on to a winning record, and their 2011 season is quickly slipping away.
With just six games of the regular season remaining, the Titans need to get on a winning roll as soon as possible.
Tennessee is still a legitimate playoff possibility. Here is a look at five ways it can get there.
The Houston Texans Capitulate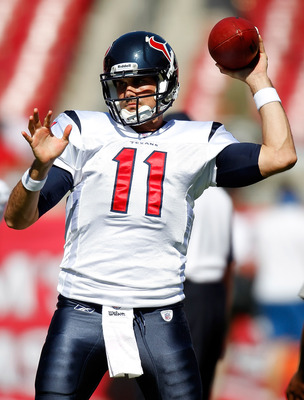 J. Meric/Getty Images
With a record of 7-3, the Houston Texans are well on their way to securing their first-ever AFC South title.
But it might not be a smooth ride now that quarterback Matt Schaub is likely lost for the season.
Backup Matt Leinart is now in charge of steering the Texans to the postseason, and the Tennessee Titans will be hoping that he doesn't settle in quickly.
However, the Texans have a relatively straight-forward run home, and they would need to probably lose at least four of their last six games for the Titans to get past them.
But, as solid as the Texans have looked this season, the fact remains that they have never been to the playoffs since they joined the NFL in 2002.
Until they make a postseason appearance, that will be a monkey on the franchise's back.
They Claim an AFC Wild Card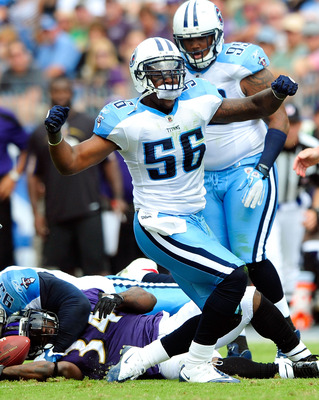 Grant Halverson/Getty Images
A more realistic playoff chance for the Tennessee Titans is as an AFC Wild Card.
Currently in the AFC, the wild-card spots belong to the Pittsburgh Steelers (7-3) and the Cincinnati Bengals (6-4) from a strong AFC North.
There are then several teams, including the Titans, with 5-5 records.
For the Titans to grab a wild-card spot, they will need at least four wins from their last six games.
Luckily for the Titans, they face only two more teams with winning records (New Orleans and Houston), so they have a very good chance.
Their other remaining games are against Tampa Bay, Buffalo, Indianapolis and Jacksonville, which are all very winnable.
Matt Hasselbeck Leads Them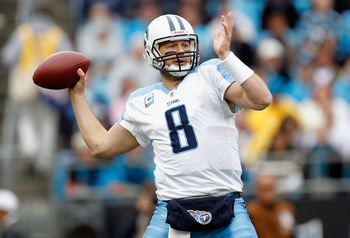 Streeter Lecka/Getty Images
So, with the Titans' potential path to the playoffs explained, just how they plan to get there remains the big question.
With Chris Johnson virtually non-existent at running back, it seems the team will be leaning heavily on veteran quarterback Matt Hasselbeck.
Hasselbeck has been solid this season, and an injury suffered over the weekend looks unlikely to keep him out for any games.
His winning experience, which includes leading the Seattle Seahawks to the playoffs six times, will be crucial.
Jake Locker Leads Them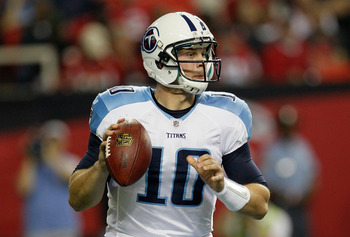 Kevin C. Cox/Getty Images
If Hasselbeck's injury is worse than feared and he is unable to play, the Titans have a talented young rookie waiting in the wings.
Jake Locker stamped his mark in the Week 11 loss to the Atlanta Falcons and nearly led the Titans to an improbable comeback.
The rookie threw for 140 yards with two touchdowns after taking over late in the third quarter.
Although he is still very much untested, he has shown glimpses of his talent and leadership, and he looks ready to step in if required.
The Young Defense Leads Them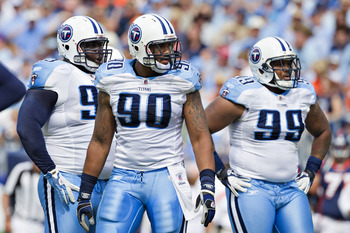 Wesley Hitt/Getty Images
Another way the Titans can make a playoff run is on the back of their talented young defense.
The starting Titans defense has an average age of just 25, and it has impressed many this year with its efforts.
The Titans defense is ninth in the league in points allowed per game (19.5), and it's capable of helping the team win games—as long as the offense can do its part and moves the chains a bit more consistently.
The defense is young and still learning, and with that comes inconsistency. It's been blown out in a couple of games, but it's showing signs of improving.
The Titans defenders' best football as a unit may come a couple of years down the track, but there is no reason they can't help their team make a playoff run this year.
Keep Reading

Tennessee Titans: Like this team?