Carolina Hurricanes vs. Philadelphia Flyers: Live Updates and Analysis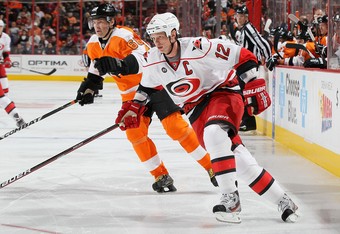 Jim McIsaac/Getty Images
Tonight's battle in Philadelphia is a tale of two opposites.
The Philadelphia Flyers are riding high, sitting atop of the Eastern Conference standings with an 11-5-3 record as the 2011-12 season nears the quarter mark.
New offseason additions Ilya Bryzgalov (8-4-2, 2.65 GAA) and Jaromir Jagr (six goals, 17 points, plus-seven) have sparked Philly and helped them earn 14 points in their last nine games.
On the other end of the rink are the Carolina Hurricanes, who have done nothing but struggle through their autumn so far. The 'Canes stand second to last in the East with a dismal 7-11-3 mark, including just four points in their last nine.
Jeff Skinner's eight goals and 20 points in 21 games have remained a bright spot, but the slumps of Eric Staal and newcomers Alexei Ponikarovsky and Tomas Kaberle have left the team reeling.
In addition to their on-ice players, both head coach Paul Maurice and general manager Jim Rutherford have faced questions of job security of late.
The two teams have faced each other twice this year with predictable outcomes in both matchups—the Flyers won 5-1 at home on Oct. 29 and 5-3 on Nov. 14 in Raleigh.
Stay tuned for up-to-the-minute updates—and more importantly, analysis, stats and thoughts on the inner workings of the game—through Bleacher Report's unique, one-of-a-kind live blog feature.
Final game stats:
Score: Carolina 4, Philadelphia 2
Shots: Philadelphia 32, Carolina 31
Powerplays: Carolina 2/4, Philadelphia 1/4
Hits: Carolina 36, Philadelphia 32
Faceoffs: Carolina 40/68, Philadelphia 26/68
Blocked Shots: Carolina 20, Philadelphia 11
As we noted, 'Canes come out with the victory in Philly to get a huge confidence boost heading into their upcoming Thanksgiving homestand. Good night, and thanks for following!
For the Flyers side, the stat line didn't have quite as many highlights. Van Riemsdyk picked up a goal and an assist; Matt Read also scored for Philadelphia. Other than that, nobody registered a point. 10 players fell into the minus category, including Lilja, Meszaros and Timonen, all of whom had rough outings on defense.
Claude Giroux, the NHL's second-leading scorer, found little luck against the 'Canes, too, despite 23:44 of ice time. Youngsters Sean Courturier and Zac Rinaldo saw the ice little, on the other hand, with both failing to record seven minutes of TOI.
Cam Ward stopped 30 of 32 shots in the Hurricanes' second win in a little over 24 hours. The offense was fueled by Alexei Ponikarovsky's best game yet in the red and white; Poni registered two goals in addition to an assist with three shots and a plus-one rating. Chad LaRose also put a trio of points on the box score, with one goal and two helpers.
Jokinen had a duo of helpers, while Jeff Skinner picked up a goal to add to his team-leading 21 points. Jamie McBain's plus-two rating was his best in 14 games.
Hurricanes offensive pressure doesn't result in an empty-net goal during the final minute, but does kill off the clock and secure their victory. That's their first win in Philadelphia in 1,088 days, or just under three years -- as FS Carolinas pointed out, their last victory was on Nov. 28, 2008.
Final Score: Carolina Hurricanes 4, Philadelphia Flyers 2
Icing taking by Tim Gleason with 1:25 to go. Philadelphia is down 4-2 and has their goalie Ilya Bryzgalov on the bench.
Patrick Dwyer spawns a partial breakaway after cutting between the Philly defense, but it trickles just wide. Carolina's aggressive strategy is stumping Philadelphia right now, as the clock ticks below three minutes remaining.
Long offensive possession for Philly is defended nicely by the Jokinen-Ponikarovsky-LaRoes line, 5:13 now remaining. 4-2 Hurricanes on the Wells Fargo scoreboard.
Awesome save by Ward on an unexpected shot by Jakub Voracek. Tlusty looks unlikely to return tonight with an unknown injury, but the Hurricanes are just playing defense anyway. Philadelphia is finally mixing up their offensive scheme, we'll see how effective it is.
Tomas Kaberle takes a lazy shift after some good efforts earlier on. He's actually made some of the passes that he's known for, at last. He'll be an interesting one to watch over the last 9:41 of this game and over the final stretch of november.
Hurricanes completely forgetting about the slot. Nobody is staying home between the faceoff circles, and the Flyers had two Grade-A opportunities some the same spot in a 20-second span. 'Canes ice the puck but eventually get a line change.
Poor play from Justin Faulk trying to get too fancy results in a decent chance from Philadelphia, but to no avail. Flyers succeeding in blasting some rockets from the point, but they can't seem to find the rebounds and deflections afterwards. All in all, the Hurricanes have been strong defensively to begin the 3rd period and hold their two-goal edge. Just about 13 minutes to go.
Fairly quiet opening three minutes of the 3rd period for the Flyers and 'Canes. Mediocre chances for both sides...
Stats at the second intermission:
Goals: Carolina 4, Philadelphia 2
Shots: Philadelphia 25, Carolina 23
Powerplays: Carolina 2/4, Philadelphia 1/4
Hits: Philadelphia 22, Carolina 19
Faceoffs: Carolina 28/50, Philadelphia 22/50
Blocked Shots: Carolina 13, Philadelphia 7
Two key stats lie in the faceoffs and blocked shots, two areas where the Hurricanes have struggled this season but look good through 40 minutes. Both teams have won some crucial draws, but faceoff wins have set up both man-advantage goals for the 'Canes. Blocked shots were 7-1 Hurricanes in the 2nd, including some vital ones on the PK.
Hurricanes go into the second intermission with a 4-2 lead in Philadelphia, and shut down a strong burst of Flyer momentum with that late score.
Goal: Powerplay goal by the Hurricanes credited to Alexei Ponikarovsky, his second of the night, but got some help from Andreas Lilja who tipped Ponikarovsky's whack at the airborne puck over Bryzgalov. Kaberle took a smart shot from the point that got the puck lose in the paint, he's actually looked quite viable tonight.
Carolina defense needs to work on the offsides trap. Philadelphia has entered the zone without difficulty over the second half of this 2nd period. It's 3-2 Hurricanes with under two minutes in the 2nd. Justin Faulk gets high-sticked during a Flyers rush, fortunate turn of events from the Carolina standpoint as they get a powerplay.
Hurricane defense has lost their speed completely, fell apart completely directly off the faceoff to give up a ridiculously easy breakaway. Ward held the boat, however. Wells Fargo Center crowd back into the game, though, and the Flyers are winning all puck battles now. Still 5:23 to survive until the second intermission.
Goal: Matt Read scores on the final seconds of the Philadelphia powerplay, cuts the Hurricane advantage to 3-2. Youngster Justin Faulk makes a rookie mistake by caving in and totally forgetting the open slot.
Brandon Sutter, who's been Carolina's best killer this year, gets several quality chances while shorthanded. Brygalov was slow to get down and almost paid for it on Sutter's wraparound, his reaction times have been below average in general so far.
We jinxed Brent, he just took a bad penalty after getting beat along the low boards. Mistakes mounting for Carolina; conversely, their PK has held up well.
Five shot blocks help the Hurricanes fend off four consecutive minutes of shorthanded time, although the Flyers finally discovered the side-to-side passing gaps near the end of their PP time. Tim Brent made some fantastic plays, he's been quietly solid in limited action today.
Very close offsides call on the Flyers powerplay. Still a minute to go.
Seconds after Tuomo Ruutu exits the box following a strong kill from Carolina, LaRose takes an equally dumb hooking infraction on a rather unchallenging offensive rush. Philadelphia has a huge attempt to reclaim the momentum here; Carolina has to be deflating somewhat despite the lead.
Hurricanes giving the Flyers lots of opportunities for cross-ice passing across the offensive zone, but Philly is being quite conservative on the PP so far.
This article is
What is the duplicate article?
Why is this article offensive?
Where is this article plagiarized from?
Why is this article poorly edited?

Carolina Hurricanes: Like this team?