Bowl Projections: Which at-Large Teams Will Survive BCS Scramble to Get Bid?
November 21, 2011
Christian Petersen/Getty Images
The Week 13 BCS Rankings reflect the chaos that has ruled over college football's last month. The only constant has been the undefeated LSU Tigers; everyone else has either fallen prey to an upset or moved into the rankings from the outside, with few alternative endings.
With many upsets come uncertainty over who will win each of the power conference bids, even this late in the season. 
Truly, much remains to be hashed out just to determine who will be an automatic qualifier to the BCS.
The way things are shaping up at this moment, the BCS will possess eight automatic qualifiers this year: LSU/SEC Champion, Oklahoma/Oklahoma State, Cincinnati/Big East Champion, Wisconsin/Penn State/Michigan State, Oregon (likeliest Pac-12 team), Clemson/Virginia Tech and Houston and Boise State, should they win out. 
With 10 total BCS bids, that leaves only two at-large slots to be snatched up by a handful of hungry teams. Right now, it's looking like No. 9 Oklahoma/No. 4 Oklahoma State, No. 6 Stanford and No. 11 Kansas State are the most deserving and well-positioned for those bids. If Virginia Tech loses to Clemson in the ACC title game, they will be included among that group as well.
With the body of information available at current, it's impossible to say which of those teams will get the at-large BCS invites two weeks from now.
So, in order to make valid projections, we must play out the rest of the games, predict outcomes and use process of elimination to determine which two teams will enjoy big BCS paydays.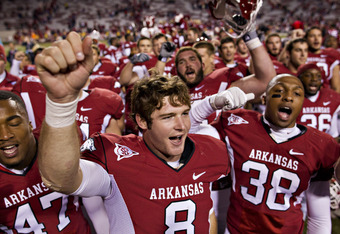 Wesley Hitt/Getty Images
Let's look at the Week 13 games with BCS implications to begin.
No. 1 LSU vs. No. 3 Arkansas 
Let's assume that the rankings hold and LSU survives the late-charging Hogs in Baton Rouge this Friday. LSU strengthens its grip on No. 1, while Arkansas falls between two and five spots. Arkansas is eliminated from AQ contention and the SEC Championship, leaving it at the mercy of other BCS contenders to determine its bowl destiny.
Remember, the BCS prohibits any conference from gaining three BCS bids in the same bowl season, meaning that Arkansas likely would be shut out despite having a ranking worthy of the BCS.
Game prediction: LSU 24, Arkansas 19
No. 16 Wisconsin vs. No. 19 Penn State
The winner of this game will represent the Leaders Division in the inaugural Big 10 Championship game against Michigan State. The loser will fall out of the top 20 and be relegated to a December bowl game.
The stakes could not be higher for either team. 
Amidst all the turmoil in State College, the Nittany Lions have held it together on the field just enough to keep their BCS hopes alive. Their play has declined the last few weeks, having barely survived Ohio State and Illinois and falling at home to Nebraska. That loss turned Saturday's showdown with the Badgers into a win-or-go-home proposition.
Wisconsin would be positioned for the National Championship if not for two Hail Mary losses in the final minute of consecutive tilts with Michigan State and Ohio State. They look as strong as ever to me, rolling three straight weeks to get back on track. At home in Camp Randall Stadium, I think the Badgers win convincingly to set up a rematch with the Spartans next weekend.
Game prediction: Wisconsin 44, Penn State 17
If those Week 13 outcomes hold true, none of the at-large hopefuls will experience noticeable help or harm to their current positions. 
Week 14 has one marquee matchup with huge implications.
No. 4 Oklahoma State vs. No. 9 Oklahoma
The Bedlam Game on Saturday night in Stillwater will lend a big hand toward sorting out the bigger BCS picture, because the winner of this game will secure the Big 12's automatic bid. Either Oklahoma will move up a few spots and join the BCS with a win, or the Sooners will unquestionably be eliminated with a loss. 
A Sooner win muddies the pool even more, because a two-loss Oklahoma State team would be right on the fringe of the BCS top 10. I feel that situation is likely to play out on Saturday night.
Game prediction: Oklahoma 52, Oklahoma State 42
If Oklahoma State falls, they won't get much consideration for the at-large bid because one-loss Stanford and two-loss Kansas State (likely No. 10 or 9 after the week's games) will more rightly deserve the two projected bids. You can't, with very few exceptions, lose your last game and remain in the BCS. 
After Week 14, if all likely outcomes hold, Stanford and Kansas State will have the inside track to be the at-large BCS winners.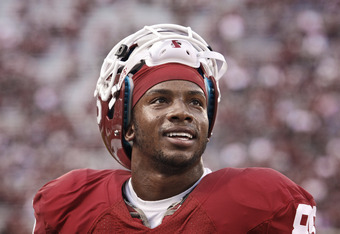 Brett Deering/Getty Images
Week 15 is Championship Week. The only game with potential to shake up the rankings is in the ACC, with Clemson likely pitted against Virginia Tech. All other championship games will result in one automatic qualifier and no at-large contenders. Put succinctly, the winner will be in the BCS, and the loser will be out (with Georgia-LSU in the SEC as the lone exception).
No. 17 Clemson vs. No. 5 Virginia Tech
These teams played in Blacksburg on October 1 in the middle of Clemson's meteoric rise into the BCS picture. Playing as well as they did all season, Clemson walked into Lane Stadium and collected a punishing 23-3 victory. In that game, a clash of styles played strongly to Clemson's advantage, as they overwhelmed the Hokies with their explosive downfield attack.
Virginia Tech has nary another blemish on its record and has amassed an impressive six-game win streak while peaking at the right time. Clemson has stumbled twice, buckling under the pressure of its No. 3 ranking and experiencing struggles. 
Still, I don't see Virginia Tech, no matter how well the Hokies are playing, overcoming the contrast in styles that Clemson enjoyed in October. Clemson knows what is at stake in this game and has a lot of firepower in QB Tajh Boyd, WR Sammy Watkins and RB Andre Ellington that Virginia Tech only wishes to possess.
Game prediction: Clemson 38, Virginia Tech 24
Virginia Tech bloats the pool of at-large eligibles to three teams playing for two spots: Stanford (likely No. 4 by then with a win over Notre Dame), Kansas State (likely No. 10 or 9 with an Oklahoma State loss) and Virginia Tech with two losses to Clemson. 
We can reasonably predict Stanford to grab one of those bids without much discussion. More difficult is deciding between Kansas State and the Hokies, both two-loss teams who will probably be ranked around 10 in the BCS. 
We've done the work whittling this crowded scene down to two teams and one precious at-large BCS bid.
Now it's your turn to predict: Who will get that bid? Kansas State, Virginia Tech or another unexpected challenger?